The award recognizes legislators for their support of Tennessee's job creators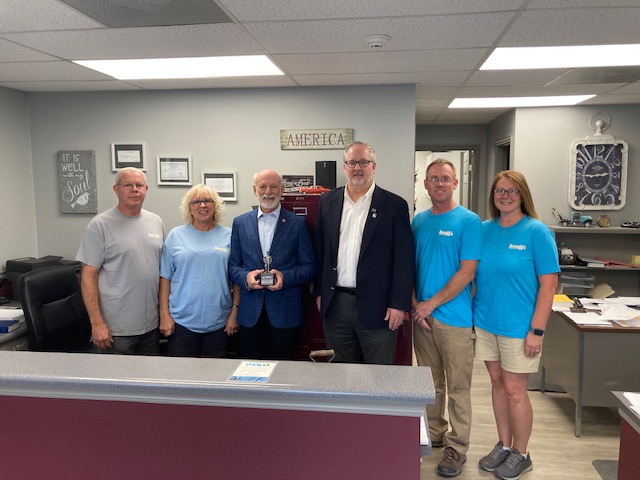 The Tennessee office of NFIB, the state's leading small business advocacy organization, today presented its coveted Guardian of Small Business award to State Rep. Jerome Moon (District 8). Representative Moon had a perfect NFIB Voting Record in 2021-2022, joining only 20 other legislators in the Tennessee General Assembly with that distinction.
The Guardian of Small Business award is the most prestigious honor that NFIB bestows on legislators in recognition of their efforts to support small business. The NFIB Tennessee Leadership Council, an advisory board comprised of NFIB members, voted to present the award to Representative Moon for his outstanding leadership on small business issues. NFIB member Chris Boruff with Boruff's Auto Body and other area leaders joined NFIB State Director Jim Brown in making the presentation in Maryville this afternoon.
"Jerome Moon is one of the best advocates for Tennessee small businesses in our legislature," Brown said. "His leadership as chair of the Cities and Counties Subcommittee and as a member of the Commerce, Local Government, and State Government committees have been instrumental in creating a stable, predictable business environment in Tennessee. He is an exceptionally strong advocate for small businesses who is passionate about protecting entrepreneurs in his district."
"I'm deeply honored to receive the NFIB Guardian of Small Business award," Moon said. "When I first ran for state representative, I promised I would do everything I could to remove excessive burdens on our small businesses and keep taxes low. I pledge to continue to work hard and fight for our small businesses in every way that I can so they can have the opportunity to grow and hire more workers in our district."