New York congressional candidate, Marc Molinaro, visited GNH Lumber, an NFIB member, last week to discuss the issues that are impacting small, independent businesses.
Molinaro, who is running in the NY-19 special election on August 23, spent more than an hour with Genn Howley, John Ingalls, and Ed McQuillen, owners of GNH Lumber, as well as several staff members, touring the facility and listening to the challenges facing all small businesses, including inflation, supply chain delays, the high cost of fuel and energy, lack of skilled labor, and the never-ending regulations, mandates, and taxes that drive up the cost of doing business in New York. He pledged to be an advocate for small businesses across the district, citing his experience as Dutchess County Executive and as a former New York State Assemblyman.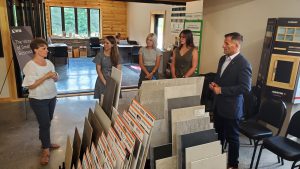 GNH Lumber is a fourth generation, family-owned business that employs more than 50 New Yorkers across three locations. As an independently owned small business they are seeing ever-increasing costs and are seeking regulatory and tax relief both in Congress and New York State. Molinaro discussed his desire to get things done, speed up the wheels of government, and lower the cost of doing business for Main Street and job creators.