NFIB New Jersey's' 2022 Small Business Day, hosted virtually on March 11th, was "standing room only" as small business owners from around the state discussed the issues most important to their businesses with a top state lawmaker and the association's state lobbyist.
State Director Eileen Kean directed an informative discussion with NFIB members and state Sen. Steve Oroho (R-24th Dist.), the Senate Minority Leader, to ensure that the Voice of Small Business is well-informed and heard in Trenton. Sen. Oroho generously spoke with NFIB members for more than 40 minutes and remained for some of the following discussions as well.
The event, which was free for members and guests, included an overview of NFIB's legislative priorities in the state legislature, as well as instruction on how small-business owners can influence policy in New Jersey to help your business succeed.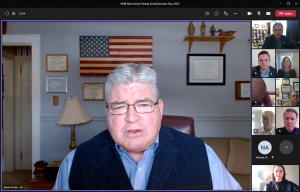 The policy discussions included updates and Q&A on:
Governor Murphy's Budget Address Proposal
Inflation, historically high gas prices, and the state's $0.329 state fuel tax
The Unemployment Insurance (UI) Trust Fund and UI Taxes
Unused COVID-relief federal ARPA funds
Difficulty finding workers and filling positions
Paid leave proposals
"These are very difficult times for small businesses, many of which are still rebuilding after two years of state-imposed COVID restrictions and shutdowns," said State Director Kean. "We are grateful to Senator Oroho for being so generous with his time and listening to the challenges New Jersey small business owners are facing across the state. He is a Main Street champion in the Senate, and we thank him for his leadership."
If you would like to learn more about the issues discussed at New Jersey's Small Business Day or have questions about issues affecting your small business, please contact State Director Eileen Kean at

[email protected]

.