NFIB FED PAC Backs Pro-Small-Business New Jersey Incumbent Lawmakers and Challengers for U.S. Congress
Small business owners and their employees vote in high numbers and are known for actively recruiting friends, family members, and acquaintances to go to the polls. NFIB encourages our New Jersey members to help turn out the small business vote next week on Election Day, Tuesday, November 8th.

NFIB New Jersey Backs Pro-Small-Business Incumbent Lawmakers for Congress
During this election season, NFIB State Director Eileen Kean has helped announce NFIB's backing of pro-small business incumbent lawmakers and challengers for the U.S. House of Representatives. The endorsements were made by NFIB FED PAC, America's most influential and effective small business political action committee.  
Endorsements include Bob Healey in the 3rd Congressional District, U.S. Rep. Chris Smith in the 4th Congressional District, and former state Sen. Tom Kean, Jr., in the 7th Congressional District.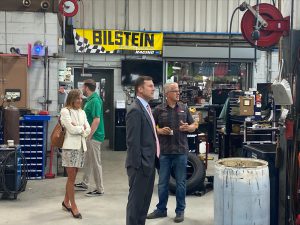 In August, Kean toured NFIB member business OK Auto, 4WD & Tire in Stewartsville, discussing the challenges confronting small business owners and employees.
Find your polling place HERE.