Winners Will Advance to Aug. 9 Special Election
Voting is underway in Minnesota Congressional District (CD) 1 to finish the term of late U.S. Representative Jim Hagedorn (R-Blue Earth). A friend to small businesses across his district and throughout Minnesota, Rep. Hagedorn passed away in February after a long battle with kidney cancer.
With control of the U.S. House narrowly split (currently: 221 Democrats, 209 Republicans, 5 vacancies), the winner of the CD 1 election could have a real impact on federal legislation for the remainder of the year.
Key Dates for CD 1 Special Election:
April 8: Early Voting Begins for Special Election Primary
May 24: Special Election Primary Day
June 24: Early Voting Begins for Special Election
August 9: CD 1 Special Election & State General Election Primary Day
The winner of the Special Election on August 9 will serve the final four months of Rep. Hagedorn's term.
There will also be a Primary Election for the CD 1 November General Election on August 9. The winner of that Primary Election will go on to compete for a full two-year term in the November 8 General Election.
For the Special Primary on May 24, you can register to vote or update your registration online or by mail before May 3. You can also register/update in person on Election Day. Learn more here: Minnesota Secretary Of State – Register To Vote
You can also register to vote using NFIB's Voter Registration tool.
Find your polling place here: Voter Information Portal (state.mn.us).
NFIB will continue to monitor this race and evaluate candidates for potential endorsement in the Special General Election on August 9.
Political Outlook
While the boundaries of CD 1 will change for the General Election in November due to redistricting, the Special Election will be conducted under the same boundaries as the 2020 election.
The Cook Political Report most recently rated "old" MN CD 1 as R+8, meaning they see it favoring Republicans by eight points. President Trump carried the district with 52.8% in 2016 and 53.9% in 2020.
In 2020, election analysts at 538 rated the "old" district as Lean Republican, giving Rep. Hagedorn a 60% chance of being re-elected. He won with 48.6% of the vote.
Old Congressional District 1 (Special Election, Aug. 9):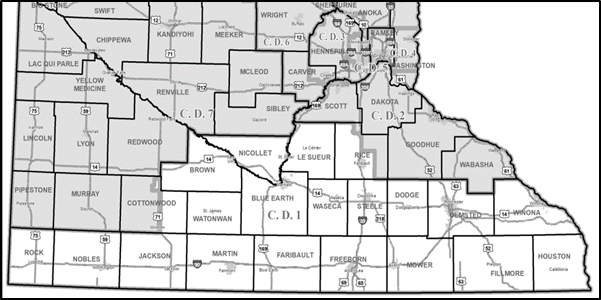 New Congressional District 1 (General Election, Nov. 8):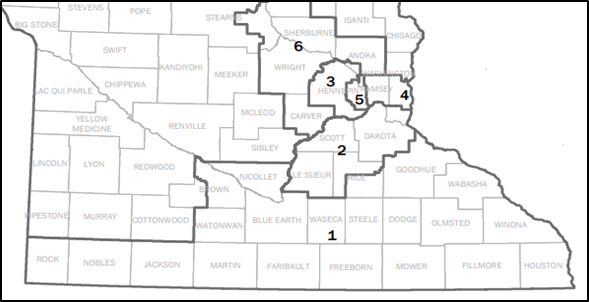 The "new" CD 1 keeps most of the "old" territory, losing Le Sueur and part of Brown Counties while picking up conservative-leaning areas in Goodhue and Wabasha Counties.
Candidates
Each party has attracted multiple contestants for the general election nomination. The complete list of candidates can be found at the Minnesota Secretary of State's CD 1 Special Election page.
Republicans
Matt Benda: A longtime attorney in Albert Lea, Benda has served on the board of the Albert Lea Economic Development Agency and as a 4-H Youth Leader. He originally hails from a farm in Alpha, Minnesota. Benda narrowly lost a race for Minnesota House in 2006.
Jennifer Carnahan: The widow of Rep. Hagedorn, Carnahan previously owned a boutique clothing shop in Nisswa and Minneapolis. In 2016, she ran unsuccessfully for a state Senate in Minneapolis. The next year, Carnahan won election as Republican State Party Chair. She was twice re-elected as chair but resigned in August 2021 after a series of scandals.
Brad Finstad: A fourth generation farmer from New Ulm, Finstad represented Brown and Redwood Counties in the Minnesota House from 2003-2008. After the Legislature, Finstad spent nine years as CEO of the Center for Rural Policy and Development, a nonpartisan organization based in St. Peter, MN. In 2017, he was appointed by the Trump Administration as State Director for USDA Rural Development in Minnesota. Finstad has been endorsed by U.S. Rep. Michelle Fischbach (R, MN-8) and U.S. Rep. Pete Stauber (R, MN-8), as well as a number of current and former state legislators.
Kevin Kocina: A union pipefitter, Kocina served in the U.S. Marines from 2008 to 2013 and resides in Miesville, Minnesota. He is endorsed by former state Senator Mike Parry (R-Waseca). This is his first run for office.
Jeremy Munson: First elected to the Minnesota House in 2018, Rep. Munson represents rural communities in parts of Watonwan, Blue Earth and Waseca counties. Prior to serving in the state legislature, Munson worked as an investment banker in New York City, served as a business analyst for several large companies, and started a hop farm outside of Lake Crystal. Munson is endorsed by U.S. Reps. Thomas Massie (R-KY), Jim Jordan (R-Ohio), and Scott Perry (R-PA).
Nels Pierson: First elected in 2014, Pierson currently represents areas of Olmsted county to the south and east of Rochester. Pierson is an attorney, realtor, and president of a commercial development firm in Rochester. In the Legislature, he has focused on health care and disability issues. Pierson has been endorsed by former Lieutenant Governor Joanne Benson and several state legislators.
Ken Navitsky: A former placekicker for the Mankato State football team, Navitsky resides in Rochester. He is a sales executive for a basement waterproofing and radon testing company.
Others: Bob "Again" Carney, Roger Ungemach, J.R. Ewing
Democrats
Sarah Brakebill-Hacke: A first-time candidate, Brakebill-Hacke went from being homeless in her teenage years to graduating from Yale and studying for a master's degree from Cambridge University in the U.K. She currently resides in Preston, Minnesota. Her campaign announcement focused on food insecurity and human rights.
Candice Deal-Bartell: Founder of a childcare center in downtown Mankato, Deal-Bartell is a former elementary school teacher and education administrator. This is her first run for office.
Rick DeVoe: A former political director for the Heat and Frost Insulators Union, Devoe and his wife own a book shop in Red Wing, Minnesota. He's also worked for the League of Conservation Voters, Campaign for a Common Good Economy in Massachusetts, and the Progressive Network.
Jeff Ettinger: A longtime resident of Austin, Minnesota, Ettinger is the former CEO of Hormel Foods. A self-described moderate, Ettinger currently sits on the board of Toro. This is his first run for elected office.
Richard Painter: Painter served as an ethics attorney in the Bush White House and is a professor at the University of Minnesota Law School. In 2018, he ran for the DFL nomination for U.S. Senate, losing to U.S. Senator Tina Smith by a wide margin. Painter's U.S. Senate campaign primarily focused on anti-corruption and anti-mining issues.
Others: George Kalberer, Warren Lee Anderson, James Rainwater
Other Parties
Legal Marijuana Now: Richard Riesdorf
Grassroots-Legalize Cannabis: Haroun McLellan