The state's leading small business political action committee endorsed Dr. Scott Jensen for Governor of Minnesota.
NFIB MN PAC supports candidates who are committed to making Minnesota a better place to do business and raise a family. The Governor plays a key role in defending the right of small business owners to open, operate, and grow their own businesses. A governor's budget, legislative agenda and regulatory approach are important signals to Main Street and the stakes are high for small business owners in this election.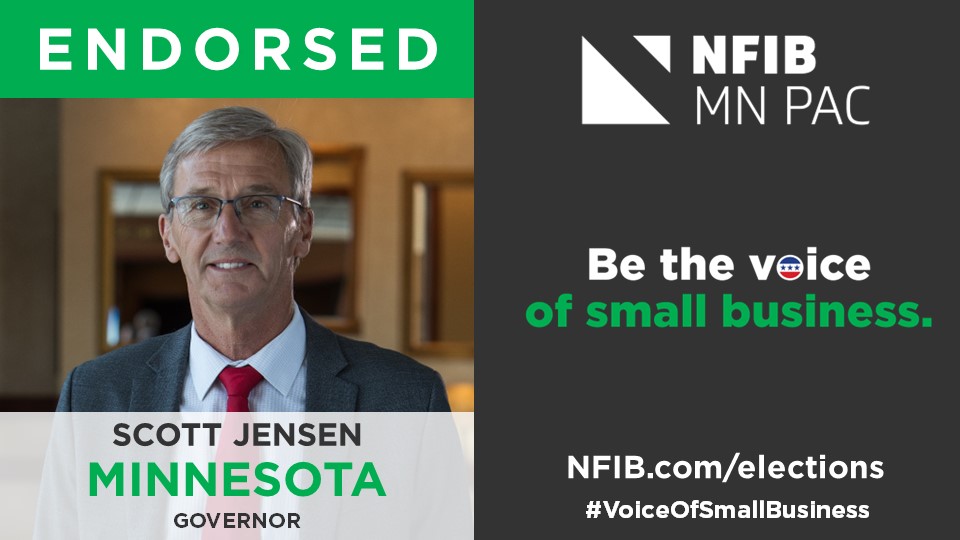 "Dr. Scott Jensen is a proven defender of Main Street and has the right experience, values and solutions to get our state back on track," said John Reynolds, NFIB Minnesota State Director. "Main Street needs a leader who will make our state a better place to grow a business and raise a family, and Scott Jensen is that leader."
Minnesota's small businesses endured over a year of government-ordered business restrictions and closures, and have endured record inflation, supply disruptions and worker shortages. In 2022, political gridlock left billions in government coffers, instead of returning it to hardworking families and small businesses.
"Dr. Jensen is committed to bold reform that will help small businesses grow in Minnesota," added Reynolds. "Main Street is ready for a fresh start that unleashes the entrepreneurial spirit inherent in Minnesotans. Jensen's plan to cut red tape and reduce small business taxes is the catalyst that Main Street needs right now."
Candidate endorsements are determined by the NFIB MN PAC Board, which is comprised of small business owners in the state. Candidates are evaluated based on their responses to key small business issues, as determined by NFIB MN members.
NFIB represents over 10,000 small businesses in Minnesota. The NFIB MN PAC endorsement is an important signal to voters across the state that a candidate will stand with small business. Learn more about the Power of the Small Business Voice.