A bill making its way through the Minnesota Legislature would open the door to a statewide ban on gas, propane, and heating oil in residential and commercial buildings.
Under updates in House File 772, regulators at the Minnesota Department of Labor and Industry (DLI) would gain broad new powers to change the energy code in the name of fighting climate change. State regulators could radically alter the living and working conditions of every Minnesotan.
HF 772 mirrors a law passed in New York in 2022 that empowers the state to "reduce greenhouse gas emissions" through the building code. A few months later, New York's Climate Action Council recommended the building code be updated "prohibit fossil fuel combustion equipment for space conditioning, hot water, cooking, and appliances."
That means unelected bureaucrats have the power to say no more gas furnaces, boilers, water heaters, stoves and more. And HF 772 would put Minnesota on the same path.
It's California Cars all over again – broad powers given by the Minnesota Legislature to unaccountable regulators that end up limiting consumer choice, interfering with the private market, and making life and business more expensive.
Specifically, the proposal allows Minnesota DLI to amend the energy code to "mitigate the impact of climate change by increasing energy efficiency, improving resiliency, and reducing greenhouse gas emissions of new buildings and of existing buildings undergoing additions, alterations, and changes of use."
The phrase "reducing greenhouse gas emissions" is key and a significant departure from current law, which allows DLI to update the energy code to increase building efficiency. Increasing efficiency means a reduction in overall energy consumption irrespective of the fuel source. Reducing greenhouse gas emissions means altering or replacing carbon-based fuel sources and systems.
HF 772 and similar proposals work in tandem with bills like the 100% carbon-free energy mandate that Governor Walz just signed into law. The mantra is: clean up the electric grid and plug everything into the wall.
The end result will be a very expensive energy future. Small business ratepayers will pay higher electric bills from the cost of building out new electric generation facilities, transmission lines and other distribution infrastructure. We'll also higher bills because electricity is already much more expensive than carbon-based fuels.
Propane is roughly half the price of electricity and natural gas is nearly four times less than electricity for commercial customers on a fuel neutral cost basis. Electricity will remain significantly more expensive than propane or natural gas through 2050 and beyond.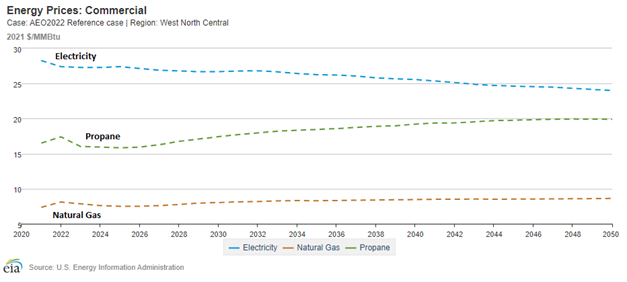 Fifty percent of all natural gas in the state is consumed by the residential and commercial sectors and 76% of Minnesotans rely on natural gas, propane or heating oil for residential heating. Displacing this much natural gas, in addition to hearing oil and propane, will have a significant impact on energy bills.
NFIB is at the Minnesota Capitol fighting to stop this reckless proposal from becoming law. NFIB MN members – 95% – strongly oppose banning fuel sources. Small businesses need the flexibility to make the most cost-effective decisions for themselves and their employees.