Proposals add millions to electric bills
This session, legislators in the Minnesota House of Representatives have introduced a slew of taxpayer-funded electric vehicle subsidies. The list of proposals includes:
Allowing monopoly electric utilities to give out electric vehicle purchase and lease rebates, as well as electric vehicle charger subsidies. This includes incentives for electric cars, boats, and planes. Utilities would be allowed to charge their entire customer base for the cost of these incentives, raising prices for everyone while benefitting only a few.
Millions more in electric vehicle charging subsidies and electric vehicle rebates paid for with taxpayer funds.
Millions to install electric vehicles at state parks and county buildings, paid for by a tax on Xcel Energy customers.
Placing electric vehicle charging stations at state-run highway rest stops (where commercial activity is currently prohibited in law). This puts them in conflict with existing service stations and other private businesses that will be most affected by the transition to electric vehicles.
Requirement that all new or refurbished commercial buildings install electric vehicle chargers in parking lots.
These subsidies are costly, both in terms of higher energy prices and competitive markets. For example, Xcel has already proposed a $150 million vehicle electrification package to state regulators.
Allowing monopoly utilities to enter the electric vehicle charging market poses a threat to a future competitive charging market. Tesla has established a charging network for its vehicles without state/utility subsidies, and other commercial companies operate national networks. They would have to compete with electric utilities who would operate risk-free because their costs are covered by their customers regardless of whether the utility charging network succeeds financially.
NFIB Minnesota testified in opposition (see video here, letter here) to these bills because of their cost and anti-competitive effect. Our members – 94% in our 2022 State Ballot – strongly oppose subsidies for electric vehicles and EV infrastructure.
Right now, the main barriers to electric vehicle ownership are long charging times, short mileage range and cold-weather battery depletion. If electric vehicles become the dominant mode of personal transportation, it will be because of innovation and not expensive government subsidies.
Vehicle electrification is part of a larger push to "electrify" the entire economy as a means of reducing carbon and other greenhouse gas emissions. The idea is that, eventually, all of Minnesota's electricity will come from "carbon-free" sources, like wind, solar and large-scale battery storage. Sometimes this future includes nuclear, other times not.
One problem with this future is cost. Constructing new energy generation, thousands of miles of new high voltage transmission lines, early retirement of existing coal and natural gas power plants, upgrades to existing residential and commercial/industrial buildings and other aspects will cost billions of dollars in a very short period of time.
The other major problem is feasibility. In order to rely largely or entirely on wind and solar, large-scale battery storage would have to pick up the slack when the wind isn't blowing and the sun not shining.
Over the past 15 years, electricity prices have increased significantly in Minnesota. For commercial ratepayers, a category that includes many small businesses, rates have grown 12 times more than the U.S. average since 2008: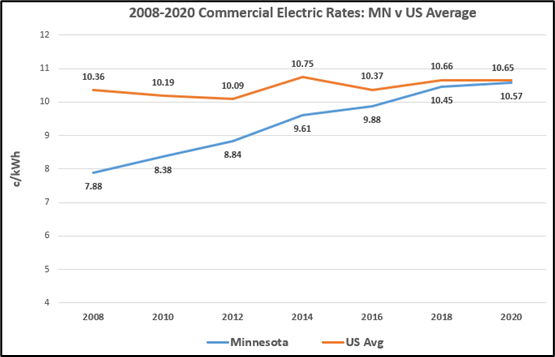 Minnesota's industrial ratepayers have seen even larger rate increases, over 20 times more than average growth in the U.S.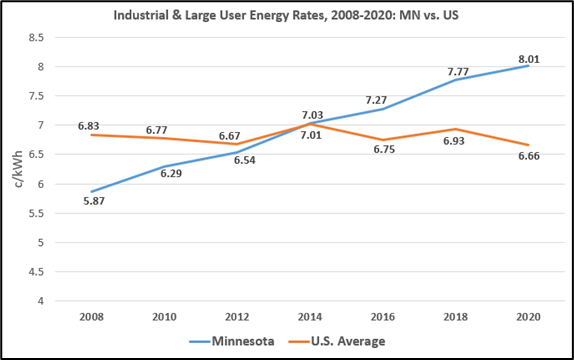 The steep rise in Minnesota's electric rates coincides with the enactment of renewable energy mandates by the state. Over the years, legislators have created a complex set of renewable energy standards and goals intended to transition the electric grid to more carbon-free sources.
In 2005, the Legislature and Gov. Pawlenty created a Renewable Energy Standard, which required electric utilities to provide 25-30% of their power from renewable sources. All major utilities met or exceeded these goals. The state's largest electric utilities, Minnesota Power and Xcel Energy, are more than 50% renewable, including wind, solar, and hydro power.
In 2007, the Next Generation Energy Act (NGEA) was signed into law and set the first statewide greenhouse gas (GHG) reduction goals. NGEA set goals of reducing GHG emissions by 30% below 2005 levels by 2025 and 80% by 2050.
In 2013, the Legislature and Gov. Dayton created "community solar gardens" (CSG), which are mid-size solar arrays that individuals and businesses can "subscribe" to for some of their power. Xcel Energy is subject to a unique mandate that requires them to purchase solar power produced from CSGs built within their service territory.
CSGs have become a significant driver of higher electric costs for Xcel customers because Xcel must pay a special price for CSG power that far exceeds the market price for electricity.
Effectively, all other Xcel Customers subsidize reduced energy costs for CSG customers. Many of the largest CSG customers are companies like Walmart and cities like Minneapolis. Investors in Minnesota CSGs include Berkshire Hathaway.
The combination of paying for early closure of existing coal plants, the construction of large amounts of new renewable electric generation facilities (often featuring premature technology), shorter life spans of wind and solar generation, and special interest programs like CSGs have all contributed to the large increase in electric prices.
In 2021, the Minnesota House passed legislation that would accelerate the renewable energy standards and time, including mandating 100% renewable energy by 2040 and "net-zero" GHG emissions by 2050. It did not become law.
Adopting expensive, infeasible energy mandates and potentially adding hundreds of millions in electric vehicle subsidies will only exacerbate the energy affordability problem in Minnesota.