Bipartisan package would reduce small biz UI Taxes by over $1 billion
NFIB has been pushing state lawmakers to use a portion of the state's $9 billion surplus and $1 billion in unspent federal pandemic relief funds to repay a $2.7 billion hole in the UI fund.
Without this relief, UI taxes are set to go up by 30% on average and much more for many businesses. These UI taxes will remain high for nearly a decade, until the UI system has a financial reserve that meets federal requirements.
The Minnesota Senate responded by passing a bill on February 14 to completely repay the UI debt. Authored by Sen. Eric Pratt (R-Prior Lake), the bill received overwhelming bipartisan support and Governor Walz's backing.
Despite the quick bipartisan progress, the bill has stalled in the Minnesota House for over a month. In the last week, 67 House Democrats voted twice to block a vote on the UI relief package. Three Democrats and 63 Republicans voted to take it up.
Democratic leaders in the Minnesota House argued the deadline is not urgent and that UI relief must be paired with $1 billion from the state surplus for "bonus" payments to pandemic frontline workers.
Prior to Thursday's House vote, NFIB Minnesota urged quick action at a press conference: Press Conference – Calling for Passage of Bill to Replenish Unemployment Insurance Fund.
Our plea, along with the story of longtime NFIB member D&G Excavating, was picked up by Fox 9: Divided Minnesota lawmakers likely won't stop tax increase on businesses (fox9.com).
Editorial boards around Minnesota agree the House Democrats need to act: Duluth, Mankato, Moorhead.
Fundamentally, small businesses should not bear any increased costs as a result of the UI debt. This hole is the result of a surge in pandemic-driven unemployment claims due to business closures and workers staying home, which Governor Walz lawmakers encouraged as a way to limit the spread of Covid-19.
Small businesses had no say over the pandemic or government restrictions that curtailed their operations or closed their doors for months. They should not be taxed again for making it to the other side of the pandemic.
The state agency in charge of the UI system said the deadline to prevent UI tax hikes was March 15. Now, relief gets much more complicated and could be delayed by several months.
We will continue to push for this and other relief that hardworking small business owners deserve.
You can see how each Minnesota Senator voted on February 14 below: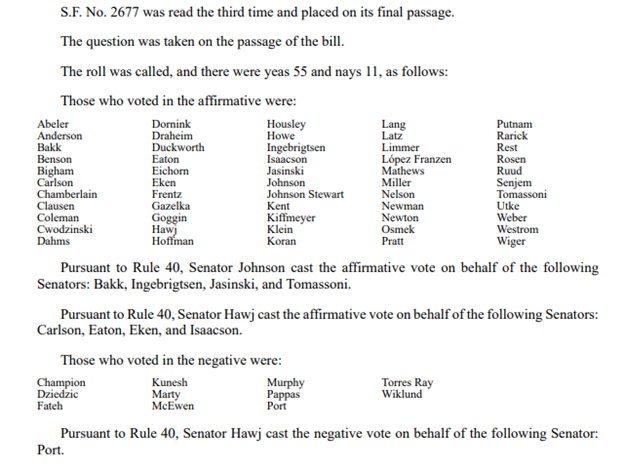 You can see the House vote from Thursday, March 10 below: