On February 27, Minnesota budget officials released an updated economic forecast that shows a $17.5 billion surplus for the next two state fiscal years (FY 24-25).
The state had previously projected a nearly identical surplus in December 2022.
The hefty surplus comes despite a new law requiring budget officials to factor inflation into the cost of state government spending – a practice long barred due to fears about putting spending on autopilot – as well as about $100 million in tax cuts and new expenditures this year.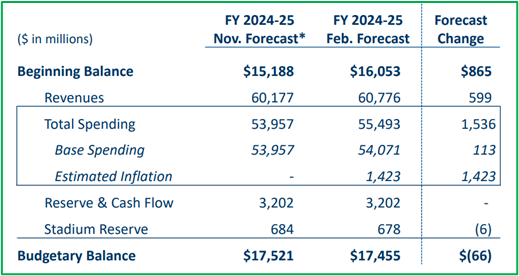 Source: Minnesota Management and Budget
Revenues exceeded expectations by about $1.5 billion, mostly driven by higher individual and corporate income tax receipts.