On May 18, Michigan NFIB members gathered virtually for a Small Business Day featuring lawmakers, advocates, and pundits.
After kicking off the event with an update on legislative activity in the Michigan legislature, NFIB Director Amanda Fisher introduced NFIB VP of Federal Government Relations, Kevin Kuhlman, who gave a report on the status of Build Back Better and other federal legislation that NFIB is closely monitoring.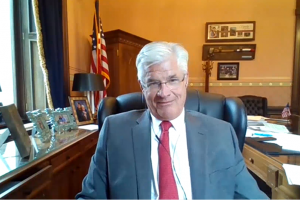 Senate Majority Leader and NFIB member Mike Shirkey gave an update on efforts to provide tax relief to small businesses and offered a few hints on how Governor Whitmer and the Michigan legislature might address high gas prices and inflation and ongoing employment challenges caused by the COVID 19 pandemic. Senator Shirkey also addressed the $3 billion budget surplus, and differences between house and senate proposals versus Governor Whitmer's ideas on how to spend these funds. Senator Shirkey is term limited and will not seek re-election this fall.
Senate Minority Leader Jim Ananich also provided thoughts from his perspective on the other side of the aisle in the state senate. Ananich is term-limited as well; his efforts to be a voice of reason and seek compromises on controversial legislation will be missed.
NFIB Regional Political Manager Matthew Woolley and Michigan-based political consultant Jamie Roe also provided a state and federal overview of the coming election year, and how redistricting will affect the state house and senate and congressional elections.
Couldn't make this year's Small Business Day? Your involvement is still needed. Please email Senior Grassroots Manager Liz Roe at [email protected], for information on how you can help spread the small-business message.
As an NFIB member, you are part of an organization that is working to defend your right to own, operate and grow your business by levelling the playing field with Big Business, Big Government and Big Labor. Part of the value of your NFIB membership is access to our outstanding events with local, state, and federal lawmakers. NFIB Michigan plans to provide additional virtual and in-person advocacy events around the state in the coming months.