NFIB Maine's' 2022 Small Business Day, hosted virtually on March 8th, was "standing room only" as small business owners from around the Pine Tree State discussed the issues most important to their businesses with Governor Janet Mills and the association's state lobbyist.
State Director David Clough directed an informative discussion with NFIB members and Gov. Mills (D) to ensure that the Voice of Small Business is well-informed and heard in Augusta. The Governor generously spoke with NFIB members for more than 40 minutes, taking many questions.
The event, which was free for members and guests, included an overview of NFIB's legislative priorities in the state legislature, as well as instruction on how small-business owners can influence policy in Maine to help your business succeed.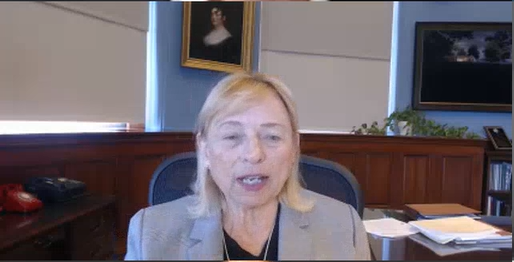 During Gov. Mill's opening remarks and the Q&A that followed, the policy discussions included:
The economic disruption of COVID pandemic and the status economic recovery
Federal COVID relief (ARPA) funds
Workforce development
Small business incentives
The economic impact of spiking gas prices and possible relief efforts
Fuel and electricity costs
The proposed overtime pay mandate
Gov. Mills saluted Clough's work and the activism of NFIB and its members in Maine and urged participants to stay focused and engaged as the legislature considers bills that impact Main Street businesses. "In my family, I watched close up the work and challenges small businesses face each day, and I am always mindful of this as governor," said Gov. Mills.
"These are very difficult times for Maine's small businesses, many of which are still rebuilding after two years of the COVID pandemic, staffing challenges, supply chain problems, and the growing impact of inflation," said State Director Clough. "NFIB is grateful to Governor Mills for being so generous with her time and listening to the challenges Maine small business owners are facing across the state. We thank her for her open door and interest in small business."
If you would like to learn more about the issues discussed at Maine's Small Business Day or have questions about issues affecting your small business, please contact State Director David Clough at [email protected].