NFIB Small Business Owner Expresses Frustration With Supply Chain Issues, Problems Hiring Qualified Workers
Small business owners here in Iowa are excited about their recent interaction with Senator Grassley, who pledged to help with some of their biggest concerns: supply chain issues and hiring qualified workers. 
On Wednesday, NFIB member Todd Hambleton of PS Manufacturing hosted Sen. Chuck Grassley during NFIB's Small Business Challenge. Sen. Grassley toured Hambleton's small business, learning that Todd's father invented his bread-and-butter product, the Attractor, in the 1980's. It's a magnetic tool that picks up pesky items like nails and screws, which saves Iowan's time and money from costly problems like flat tires.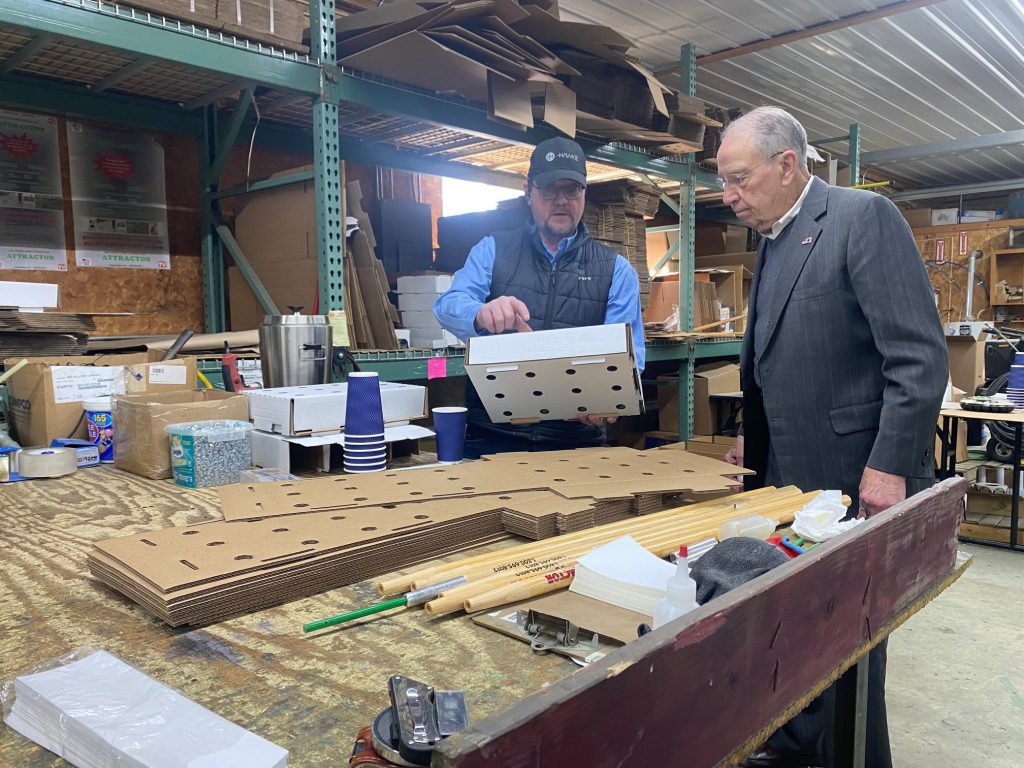 Sen. Grassley learns how to make boxes that will hold and display Hambleton's Attractor in local stores like Bomgaar's.
Hambleton shared his story with Sen. Grassley, telling him that he hasn't been able to produce the sweeper for eight days. That's because he's missing an essential component that has been held up by supply chain issues. Hambleton, frustrated by missing part and shut down of his small business, drove himself to pick up the pallet, which was held up in Illinois, lost, and then appeared in Des Moines. That means Todd had to take off a day that he could be running his small business in order to pick up a part that should have been at his small business more than a week earlier.
You can watch Hambleton explain how his Attractor works here.
"I appreciated the opportunity to learn more about Iowa's small businesses while participating in NFIB's small business challenge at PS Manufacturing in Guthrie Center. From supply chain disruptions to soaring inflation and workforce shortages, small businesses continue to face challenges set in front of them every day. Small businesses are the backbone of our communities, and I intend to keep recognizing our hard-working Iowa entrepreneurs and workers," said Sen. Chuck Grassley.
According to a recent NFIB survey, about half of our small business owners reported that supply chain disruptions are having a significant impact on their business.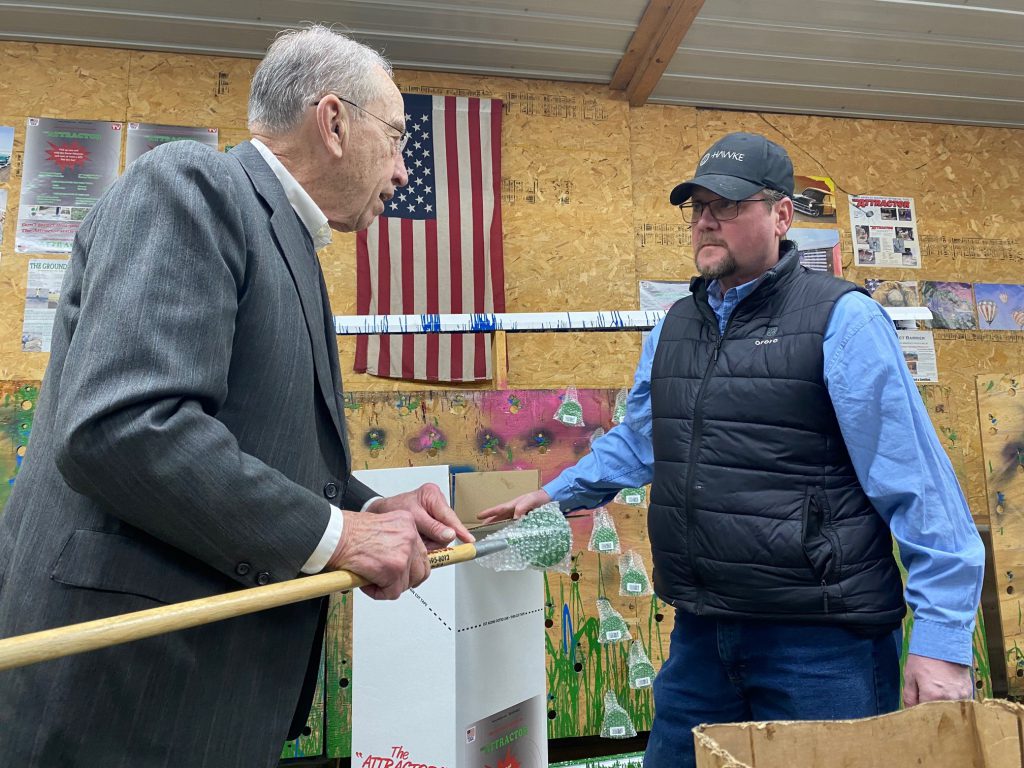 Sen. Chuck Grassley learns about Hambleton's Attractor during his visit to PC Manufacturing. 
According to another NFIB survey, a historic number of small businesses are struggling to increase their workforce. Half of all small business owners have reported raising compensation, up two points from December and a 48-year record high. Open positions are at record levels. About half of small businesses say they have already raised wages to hire workers and other 27% plan to in the next 3 months.
"Our small business owners are grateful to Senator Grassley for spending time and understanding what it takes to start and grow a business, especially in this challenging economic climate. Our members are thankful that the Senator continues to fight for the smallest businesses and their employees against overreaching one size fits all regulations, mandates and tax increases that would devastate Iowa's small business economy," said Matt Everson, NFIB State Director in Iowa.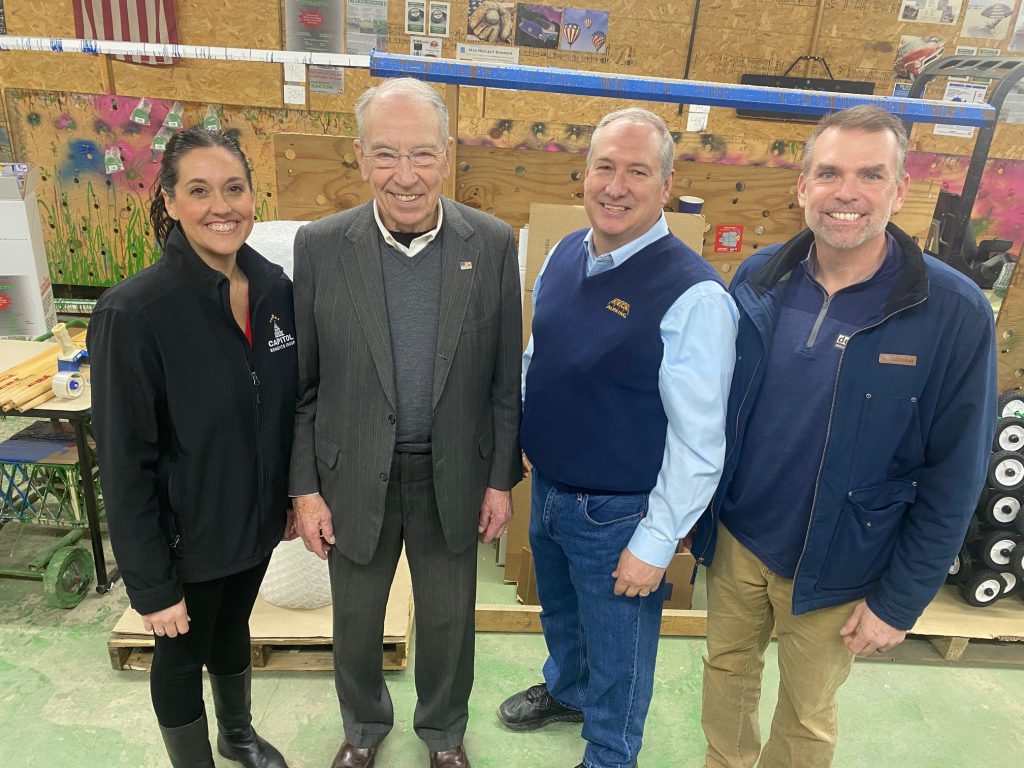 Sen. Grassley with NFIB Leadership Council Members Marcie Strouse of Capitol Benefits Group, Todd Pugh of Keck Parking and Mark Densmore of Densmore Insurance.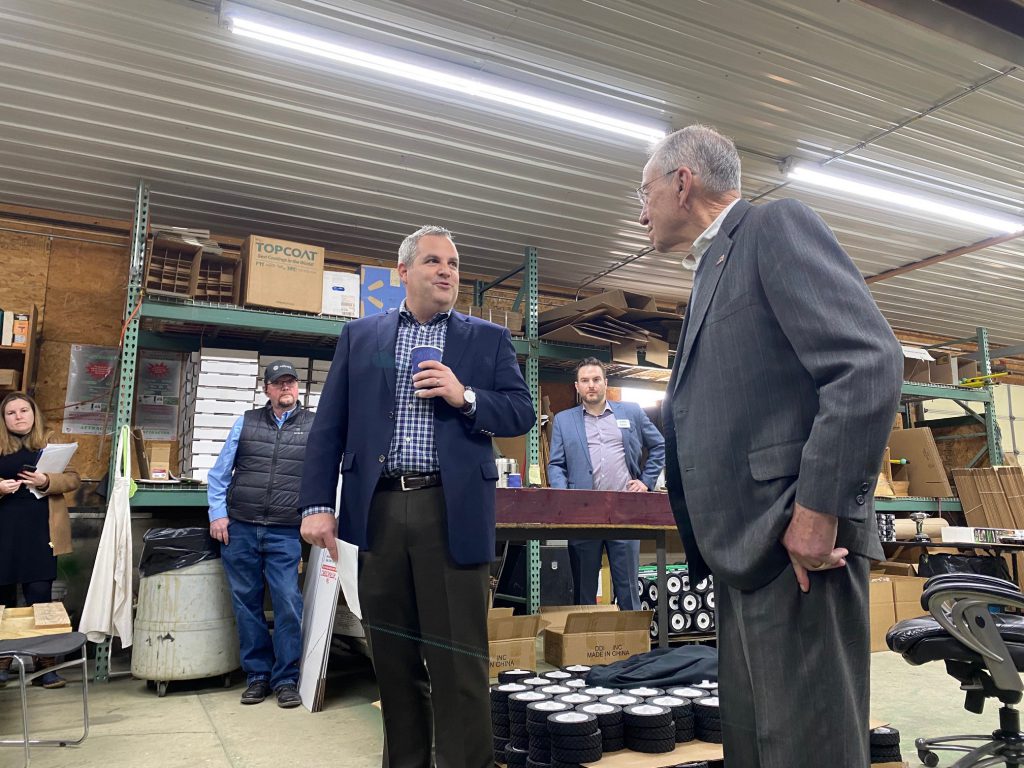 Matt Everson, NFIB State Director in Iowa, chats with Sen. Chuck Grassley.