Iowa Small Business Owner: Help Me Find Employees!
NFIB, the National Federation of Independent Business here in Iowa, is urging lawmakers to pass sensible legislation that would put Iowans back to work. NFIB, which represents nearly 11,000 small business owners across the state, supports HF 2279, which should be up or a vote on the House floor. The workforce legislation would help entrepreneurs across the state find the workers they need to keep their small businesses operating while reforming Iowa's unemployment system.
"In Iowa, there are 110,000 job openings and 60,000 unemployed workers sitting on the sideline. Many small business owners know this workforce challenge personally and it's hurting Iowa's economy. Our small businesses in Iowa are starving for workers across every industry around the State and they are counting on legislators to help ease this growing crisis.  Our members believe the many reforms addressed in HF 2279 will begin to help alleviate the current workforce pressures and will keep Iowa's economy moving forward," said NFIB State Director in Iowa, Matt Everson.
The bill would reduce unemployment benefits from 6 months to 4 months and would introduce a one-week waiting period saving employers over $30 million dollars a year in unemployment expenses. This legislation will not only save small business owners critical dollars but more importantly help get those who are unemployed back into the workforce and keep Iowa's economy moving forward.
Being creative is what one business leader did to find the people she needs to work at her small business. In addition to what she's done in the past, Barb Kniff of KLK Construction in Pella also hands out her business cards to people on the street.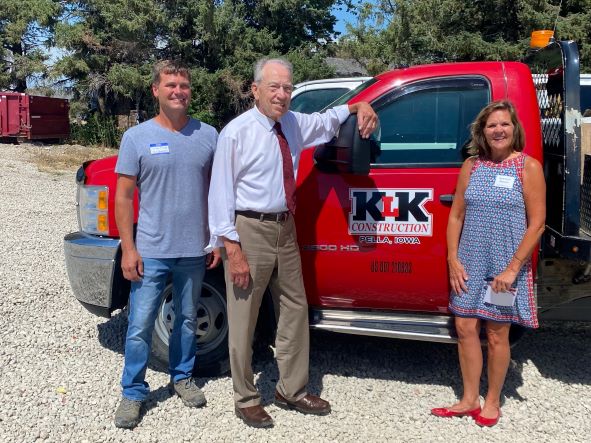 Barb Kniff, owner of KLK Construction, poses with Sen. Chuck Grassley of Iowa at a recent roundtable event.
KLK Construction is a contractor in the telecommunications industry. The small business installs fiber optics, and other utilities. While their home office is in Pella, they travel to job sites around the state of Iowa. While there is has plenty of work right now, it's important to find people to fill open positions.  
"The numbers just don't make sense. There's more than 100,000 jobs open across the state, yet I still can't get the right people come and work for me. Right now, my workforce is down. Even if I do get some interest, most of the time when I call the applicant back, they don't respond!" said Kniff. "This legislation, if passed, could help me fill jobs and keep Iowa's economy running. Building a good workforce is key to success and getting people to work keeps the economy going."