NFIB's Annual Tax Lunch and Small Business Day was a successful event on February 22. About 100 small business owners, taxpayers, and legislators gathered at the Des Moines Heritage Center to share their stories and talk about legislative goals for 2023.
NFIB's prioirities this session includes property tax reform, income tax reform, and frivolous lawsuit reform. NFIB was successful in helping pass House File 161, which caps non-economic damages in civil cases at $1 million for doctors and clinics and $2 million for hospitals. This legislation does not limit economic damages or punitive awards. This commonsense tort reform will help stop out of control verdicts that are threatening the vitality of Iowa's healthcare system.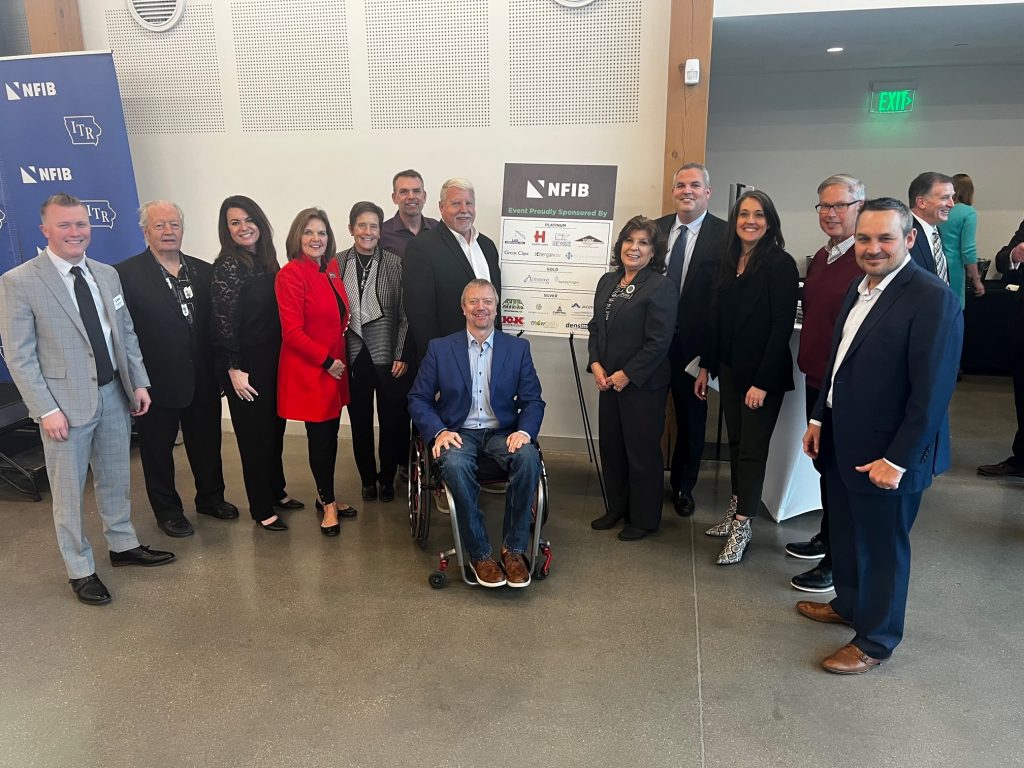 Iowa small business owners and NFIB staff celebrate 2023 Small Business Day.
"In the past several years, Iowa has seen a substantial jump in high-dollar medical malpractice awards. These outrageous verdicts have led to higher healthcare costs, a healthcare workforce shortage, and a threat to several closures of Iowa healthcare facilities," said Matt Everson, NFIB State Director in Iowa. "Iowa small business owners are grateful that Iowa Senate and House passed this much needed reform, which will restore fairness and predictability back into Iowa's healthcare system. This is a big win for Iowa small business and their employees."
"Iowans For Tax Relief and NFIB are two organizations that truly are there to support the taxpayer. There are so many lobby groups out there but of all the groups that come to the capitol to lobby very few have the back of the taxpayer and there is no question that these two groups support the taxpayer and everything they do and are there to support us and the things we are trying to do and get done for the taxpayer at the capitol," said Senate Majority Leader Jack Whitver.
"One of the proudest moments of my time in office was March 1, 2022, when we lowered Iowa's income tax rate from 8.9% to 3.9%. We set in stone a flat tax rate for Iowa that states all over the country are now following our lead. It's not easy to pass tax bills and it was a long road to get here. Iowa had one of the worst tax codes in the country and we didn't have a broad vision. I promise that as long as I'm the Senate Majority Leader, I will cut taxes. This year I'm focusing on property taxes. I want Iowa to be the model on how to do tax reform," said Whitver.
Rep. Bobby Kaufmann also pledged his support to lower property taxes this session. Kraig Paulsen, Director of the Department of Management and the Department of Revenue, talked about his commitment to taxpayers and small business owners and how he's determined to streamline government to operate in a more efficient manner.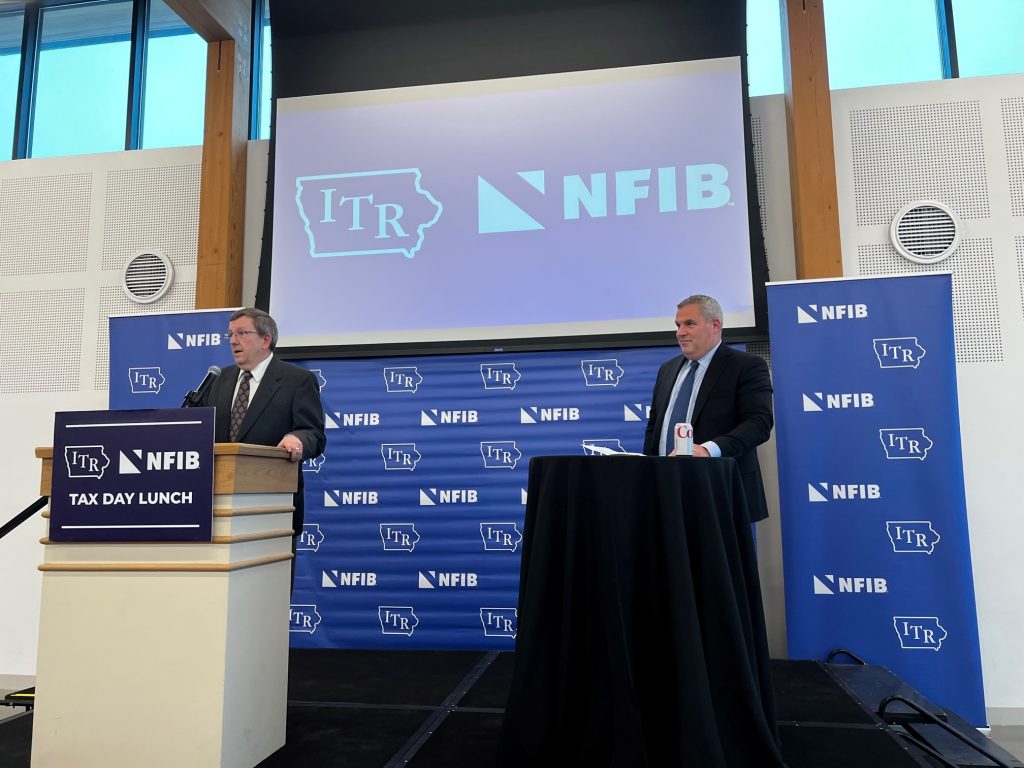 NFIB State Director Matt Everson, right, welcomes Kraig Paulsen, Director of the Department of Management and the Department of Revenue to Iowa Small Business Day.