INDIANPOLIS, Ind. (Aug. 23, 2022) – The National Federation of Independent Business (NFIB), the nation's leading small business advocacy organization, endorsed the following Members of Congress for re-election to the United States House of Representatives:
IN-03: Jim Banks
IN-04: Jim Baird
IN-05: Victoria Spartz
IN-06 Greg Pence
IN-08 Larry Bucshon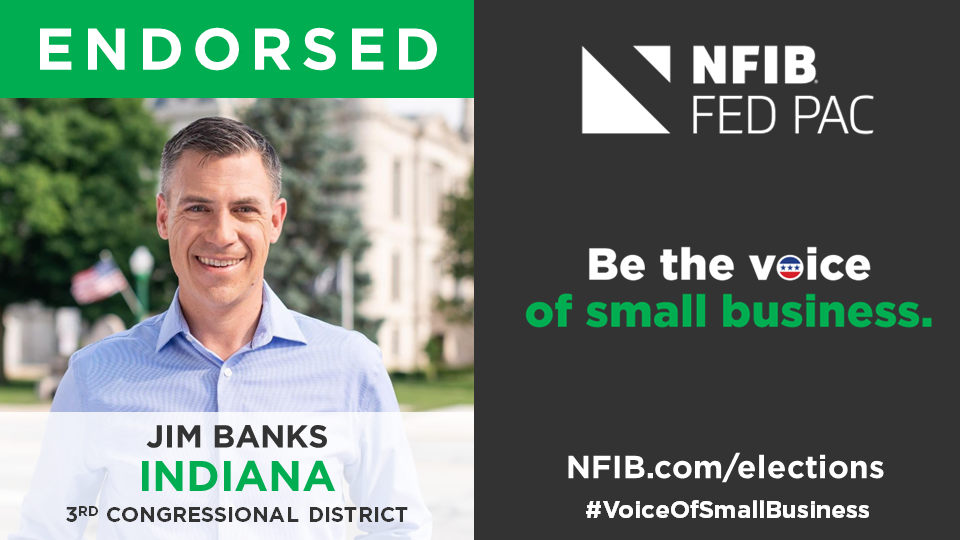 "Indiana's small businesses are proud to endorse these Members of Congress for re-election," said Natalie Robinson, NFIB Indiana State Director. "They have been consistent supporters of policies that help grow the economy and have opposed harmful legislation that would raise taxes and add burdensome regulations on small businesses. Now more than ever, small businesses need strong advocates in Congress, and we are certain this group will continue to be reliable voices for Indiana's Main Street."
Each candidate has earned a 100% NFIB voting record for the current term. Reps. Baird, Spartz, and Pence are small business owners.
"These Members of Congress will continue to be strong supporters of small businesses," said Sharon Sussin, NFIB Senior National Political Director. "They understand the issues Indiana's small businesses are dealing with and have pledged to continue to make small businesses a priority in Washington. We look forward to continuing to work with them."
NFIB thanks the late Congresswoman Jackie Walorski for her dedication to small businesses in representing Indiana's 2nd Congressional District.
The endorsement is issued from NFIB FedPAC, NFIB's political action committee. NFIB FedPAC is funded by voluntary contributions by NFIB members over and above their membership dues. Decisions made by the NFIB FedPAC are managed by a member-driven grassroots evaluation.