Senate bill would stop the state from following the "Roadmap to Ruin"
State Director Patrick Connor reports from Olympia on the small-business agenda for the legislative week ending January 15.
Small businesses that have managed to survive the pandemic, and government's response to it, should prepare for additional challenges in 2021. While there may be a glimmer of hope for some relief, assistance from the Legislature may well be overshadowed by new taxes, mandates, and restrictions enacted by it.
#OpenSafeOpenNow
NFIB's top legislative priority is getting our state's small businesses re-opened as quickly and safely as possible.
You are likely aware that Gov. Jay Inslee last week released a new "re-opening" plan. His so-called "Healthy Washington Roadmap to Recovery" takes a regional approach, tying rural areas to one or more urban centers. Consequently, we are skeptical that this new plan is anything more than a Roadmap to Ruin, particularly for our small and rural counties. Today's announcement by the state Department of Health that, for the second week in a row, all counties will remain in Phase 1 reinforces that belief.
While there is very little difference between activities allowed under Phase 1 and 2, for small businesses the key distinction is that restaurants, fitness centers, and indoor entertainment venues would be allowed to serve customers indoors at 25% capacity in Phase 2. That is an important step forward.
Thus, NFIB is supporting SB 5114. Originally introduced by bipartisan co-sponsors, Sens. John Braun (R) and Mark Mullet (D) – both NFIB members – the bill would move the entire state immediately to Phase 2. It would also give the Legislature, not the governor, responsibility for designing additional phases of re-opening and determining when the state advances or regresses between phases. That should be quite useful since the governor's plan still has no Phase 3 or above.
SB 5114 has been scheduled for a public hearing at 8 a.m., Wednesday, January 20, in the Senate State Government & Elections Committee. Those interested in testifying online, submitting written comments, or simply having their position noted for the record should use this link, select "State Government & Elections" and "1/20/21 8:00 AM" from the drop-down menus, then click the circle for "SB 5114 Reopening/public health." That will launch additional options for signing-up to testify, provide written comments, or just noting your position on the bill (PRO). That step then requires you to enter your name and contact information. Under "organization," list your business name, or leave it blank. You should receive a confirmation email right away.
Sen. Sam Hunt of Olympia chairs this committee. Given today's changes to the meeting agenda, it appears he's not very fond of the bill. The committee is scheduled to amend and vote on four bills in executive session before opening the public hearing. There are two other bills currently listed for hearing before SB 5114, which is last on the list. At best, people testifying might get 60-90 seconds to speak. If there are enough people signed up for the bill, Sen. Hunt could possibly extend the hearing to January 22, allowing more time for the public to be heard.
Environment
Three bills sent to the House Environment & Energy Committee this week drew NFIB's attention.
HB 1053 – NFIB joined other business groups supporting a delay in implementing the state's plastic bag ban.
HB 1084 – Decarbonizing buildings, including prohibiting new natural gas hookups, and adding a new fee on natural gas customers will be heard next Friday. NFIB opposes the bill.
HB 1091 – NFIB also opposed the governor's latest Low Carbon Fuel Standard, which has proven successful only in raising fuel prices, while making no measurable difference in global climate change in those West Coast states and provinces that have adopted similar mandates.
Health Care
HB 1201 and SB 5149 – These companion bills were requested by the governor to add a $3.25 tax to the monthly premium of every health insurance plan in the state, were introduced and referred to the respective health care committees. Neither has been scheduled for public hearing yet. NFIB opposes the bills.
Labor
NFIB is already tracking 13 bills on labor-related issues most hostile to small business and free enterprise.
HB 1073 – Would expand the state's Paid Family & Medical Leave program, undoing most of the "protections" contained in the ill-advised business-labor bargain that created the program in 2017. NFIB was the only statewide business organization to oppose the enacting legislation. HB 1073 would allow a worker to qualify for 12 weeks paid leave after earning just $1,000 in wages – that's about 70 hours worked at the state's minimum wage. It would require small businesses to hold the job for a worker on leave if that worker had been employed for just 90 days, and continue health insurance benefits for the worker while on leave. In addition, bill would basically throw the door open to workers wanting to provide care for not just blood relatives, but "… any individual … whose close association with a covered individual is the equivalent of a family member," whatever that means. NFIB opposed the bill in committee this week.
HB 1076 – Would allow whistleblowers and the state to sue employers for a host of alleged workplace violations ranging from wage and benefits to safety and health. NFIB opposes the bill.
HB 1097 and SB 5090 – These companions are Gov. Inslee's "worker protection" bills, which include a new penalty on employers who "discriminate" against workers alleging workplace safety and health concerns; new daily fines on businesses refusing to comply with a closure order; and a workers' compensation diversion to fund L&I grants to small businesses during future declared emergencies. We've previously reported on these bills here. NFIB opposes the bills.
HB 1098 and SB 5061 – Gov. Inslee's unemployment insurance bills would lessen the looming tax increase, largely by extending it longer. NFIB raised several specific concerns in a letter to senate committee leaders and Speaker Laurie Jinkins.
SB 5046 – Trial attorneys have finally realized lump sum payments to close certain workers' compensation claims are in the best interest of injured workers … and plaintiff attorneys' pocketbooks. This bill would allow lump sum payments, instead of structured settlements, for certain qualifying injured workers who would otherwise be placed on a permanent L&I pension. NFIB supports the bill, just as we supported including this same authority in the 2011 workers' compensation reform package.
SB 5064 – This bill would allow individuals who voluntarily quit due to childcare or other caregiving needs that cannot be resolved by schedule changes with their employer to be eligible for unemployment benefits. NFIB has concerns about this bill.
SB 5097 – While not technically a companion bill, this legislation also seeks to expand the state's Paid Family & Medical Leave program. It is substantially the same as HB 1073. NFIB opposes the bill.
SB 5102 – Would add cost and red tape to independent medical examinations performed on injured workers to determine status for workers' compensation claims. NFIB opposes the bill.
SB 5115 – The Health Emergency Labor Standards Act:

would require employers to boost wages for certain lower-paid workers during a health emergency
creates a presumption for frontline workers who become sick during a health emergency that the illness is work-related and entitled to workers' compensation benefits
creates the same penalties on employers who "discriminate" against workers concerned about on-the-job expose to an illness similar to Gov. Inslee's worker protection bills
lessens requirements for workers to qualify for Paid Family & Medical Leave
requires employers to provide additional paid sick leave and childcare leave, and would provide certain tax credits. NFIB opposes the bill.
SB 5137 – This is a longshot bill offered by other business groups to suspend a workers' compensation cost-of-living increase for 2022, and then change from indexing increased based on the state's average wage to the consumer price index. It would also cap annual increases. NFIB supports the bill.
SB 5193 – To help avoid future unemployment insurance claims-processing backlogs during times of high unemployment, the bill would direct the Employment Security Department to offer training to public employees in other agencies to certify them as claims adjudicators. NFIB is monitoring the bill.
Regulatory
A number of bills dealing with various regulatory agencies and processes have been introduced that could impact small business.
SB 5025 – NFIB negotiated an amendment with the state attorney general's office and Sen. Christine Rolfes, the bill sponsor, to protect the ability of small businesses to recover court costs and attorney fees when successfully defending themselves against charges of violating the state's Consumer Protection Act. The bill would increase existing penalties that have not changed in decades and allow an additional penalty for fraudulent or deceptive actions targeting vulnerable populations. NFIB testified in opposition to the bill unless our amendment is adopted.
SB 5039 – NFIB supports this bill, which would require approval by legislative leaders of a broader range of a governor's executive orders issued during a declared emergency extending longer than 30 days. Its original bipartisan sponsors included Sens. Lynda Wilson and Mark Mullet, both former NFIB members.
SB 5062 – This complex legislation deals with data privacy requirements, primarily for firms selling consumer information. NFIB is reviewing and monitoring the bill.
SCR 8402 – This concurrent resolution indefinitely extending Gov. Inslee's emergency proclamations issued during the COVID pandemic passed the Senate on a party-line vote. The House approved it this afternoon despite three Democrats joining the entire Republican caucus in voting no. NFIB opposed the resolution.
Tax & Fiscal
Here are the tax and fiscal bills of interest to small business owners we are watching so far. More are certain to come.
HB 1094 – This bill by NFIB member Rep. Drew MacEwen would provide a $5,000 B&O tax credit to help businesses recover from losses suffered during the ongoing pandemic. NFIB supports the bill.
HB 1015 – Would allow a B&O tax credit to certain entities investing in rural development loan programs. NFIB has requested an amendment to add a small business representative to the state Department of Commerce awarding committee to ensure loan applicants and recipients are represented on the panel. NFIB is monitoring the bill.
HB 1094 and SB 5092 – These companion bills are Gov. Inslee's operating budget proposal for the 2021-23 biennium. They rely on billions of dollars in new taxes, including capital gains and a per-member, per-month tax on health insurance policies (see HB 1201 and SB 5149). NFIB opposed both bills, which were heard in legislative fiscal committees this week.
HB 1095 – This bill would provide a B&O tax exemption for PPP, EIDL, and other government assistance awarded to businesses during declared states of emergency. This is a priority bill NFIB supports.
SB 5012 – This would add a 10% tax on online lodging services like VRBO and Airbnb. NFIB signed in opposed to the bill, which was heard this week.
SB 5096 – NFIB and some members, including Leadership Council Vice-Chair Lois Cook, testified against the governor's capital gains tax. NFIB submitted written comments and suggestions to fully exempt the sale of a small business from the proposed tax to the bill sponsor and Senate Ways & Means Committee leadership.
SB 5156 – This bill would allocate another $100 million for small business assistance grants. NFIB supports the bill.
SJR 8200 – Voters defeated last year's proposed state constitutional amendment to allow payroll taxes collected for the Long-Term Services and Supports trust fund to be invested. Investing these funds and using earnings to pay benefits and program costs would help reduce the need for future payroll tax increases. NFIB supports this constitutional amendment.
Keep up with the latest Washington state small-business news at this website, www.nfib.com/washington, or by following NFIB on Twitter @NFIB_WA or on Facebook @NFIB.WA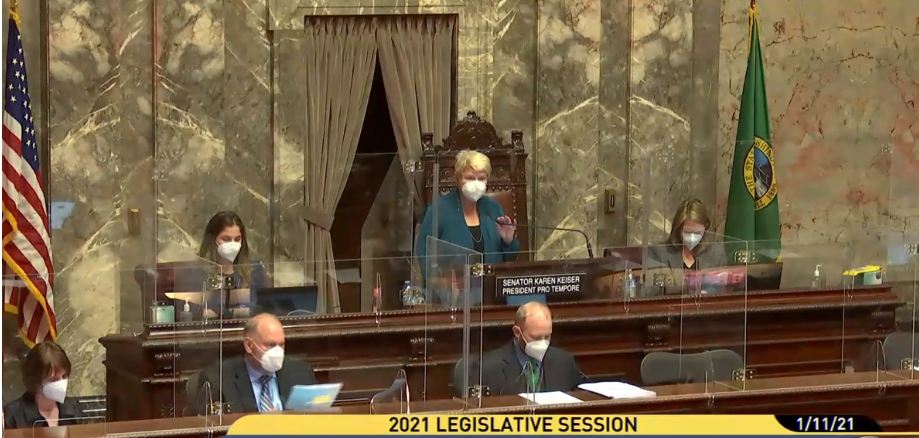 Photo snip courtesy of TVW