Legislature must be equal partner in governing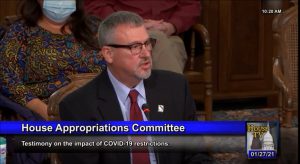 The state's leading small business organization, the National Federation of Independent Business (NFIB), told the House Appropriations Committee that it is time for the legislature to take back its rightful role as a full partner in governing the state. The Committee heard testimony from business groups and business owners on the economic impact of the governor's COVID-19 restrictions on the economy and business.
"It is time to remove the obstacles imposed by the governor, and the agencies under her direct control, that are hindering the ability of small business to return Michigan to the prosperity that existed before the coronavirus pandemic," said NFIB State Director Charlie Owens. "The most important part of that objective will be to restore the rightful role of the legislature in policy making and governance."
Owens testimony focused on where Michigan stands relative to surrounding states and the nation regarding economic recovery and the health of small business. Owens said that the unilateral actions of the administration and agencies have been devastating for Michigan small business.
"Michigan is an outlier among the nation and surrounding midwestern states when it comes to opening up the economy and easing restrictions," said Owens. "Small business in Michigan wants to work, to be open, to provide jobs, and to bring back their employees to work. They do not want to exist by pursuing complicated loan and grant programs that come with restrictions and limitations that pick who survives and who goes out of business."
Owens said that while federal and state efforts to assist small business are appreciated, they are not practical nor sustainable over an extended period.
"We fully support the legislature's use of 'the power of the purse' to condition appropriations on their inclusion in the policy making process and oversight of state agency authority," said Owens. "Had this been the case from the beginning, Michigan would be on a much better place than it is right now."
Owens said that the Michigan Supreme Court made it clear, with their decision halting the Governor's abuse of the Emergency Powers of the Governor Act of 1945, that the balance of power in the governance of our state is one of the hallmarks of our system of representative government that must be respected.
You can view the NFIB testimony HERE.