The event proved both highly informative and delightfully entertaining
Approximately 60 NFIB members gathered in Denver, March 24, for NFIB's annual Small Business Day, held this year at the Colorado History Center.
NFIB Colorado State Director Tony Gagliardi started the program with an update on the legislative issues of vital importance to small business, such as the condition of the state's unemployment trust fund, the implementation of the paid leave ballot initiative, and marijuana use in the workplace. There is still a great deal of work to be done to try and avoid some of these business killing regulations.
Jon Caldera, president of the Independence Institute talked about the challenges small-business owners face and the need for them to fight hard, not just during sessions but during elections as well. He spoke about how his father, and many others like him, moved to Colorado to start their dream and the need to restore those dreams.
State House Republican Leader Hugh McKean discussed the challenges of pushing pro-small- business policy in this year's session of the Legislature. He hoped lawmakers would find a way not to raise unemployment insurance costs on small businesses. To get involved in that effort, click here.
Adding bipartisan balance to the panel discussion, Democratic State Rep. Don Valdez (D) joined the group to discuss efforts to improve Colorado's water supply and transportation system.
Grassroots Manager Jake Braunger spoke briefly about the importance of engaging legislators throughout the year in order to have the strongest influence possible. "Believe it or not, most of the legislators in Colorado have no idea how a small business works," said Braunger. "They rely on you to tell them."
Couldn't make this year's Small Business Day? Your involvement is still needed. Please email Grassroots Manager Jake Braunger, [email protected], for information on how you can help spread the small-business message.
As an NFIB member, you are part of an organization that is working to defend your right to own, operate and grow your business by levelling the playing field with Big Business, Big Government and Big Labor. Part of the value of your NFIB membership is access to our outstanding events with local, state, and federal lawmakers.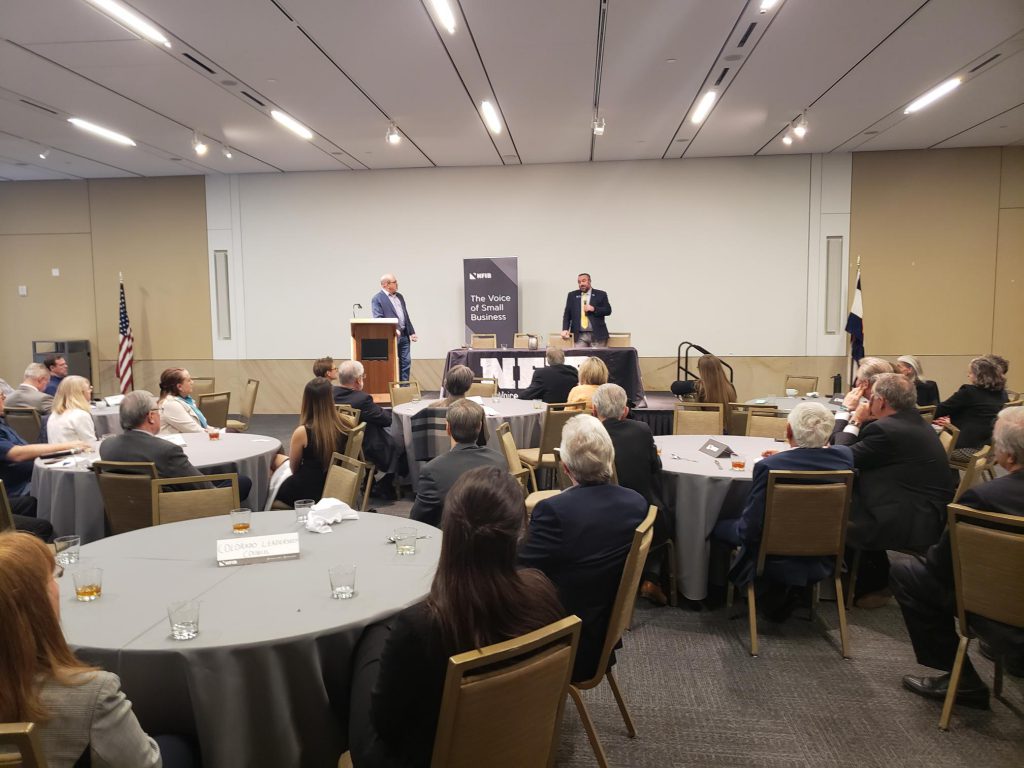 Jon Caldera, president of the Independence Institute, behind lectern, and State House Republican Leader Hugh McKean, speaking to the audience.