Top legislative leaders heard directly from and talked directly to NFIB members
The measurement NFIB uses to gauge the quality of its Small Business Days is by the caliber of elected officials who show up to speak at these annual gatherings and by that standard, the 2022 NFIB Arizona Small Business Day was an unqualified success.
"We were very pleased with the outcome of this year's Small Business Day and attribute it primarily to the high regard small-business owners are held in by elected officials, who are very quick to accept our invitation to come and speak to the people who are the engine of every economy," said Chad Heinrich, NFIB Arizona state director.
Held April 27 of this year at the State Capitol, speakers included:
Sen. J.D. Mesnard, chairman of the Senate Commerce Committee
Sen. Vince Leach, president pro tem
Rep. Jeff Weninger, chairman of the House Commerce Committee
At an evening reception, Senate President Karen Fann and Speaker of the House Russell Bowers joined small-business owners for a discussion on several current legislative issues.
During the afternoon event, Mesnard urged attendees to "get to know your elected officials. Voting on policy can be easy if you don't know someone that will be personally impacted. Knowing the people makes a world of a difference. I understand as business owners you are busy but make it a priority to have a relationship with your elected officials because it is impactful."
Heinrich briefed NFIB members on the considerable successes small businesses have had so far in 2022, such as:
Senate Bill 1157 would require specificity of evidence in asbestos claims within 30 days of action taken against a defendant
Senate Bill 1092, which would protect retailers and other businesses from unfair product liability lawsuits
Senate Bill 1093, which will reduce the commercial property assessment ratio from 16% to 15%, easing real estate costs and making Arizona more attractive for economic investment and growth
House Bill 2822, which significantly lowers the tax on business personal property starting in 2022 and simplify the system with one flat rate of 2.5%.
SB 1157, SB 1093 and HB 2822 have been signed into law. NFIB continues to advocate for another measure that, combined with last year's small-business victories, would round out a very productive 2021-2022 session for Main Street enterprises. House Bill 2749 would simplify many residential maintenance, repair, replacement, and alteration projects.
This year's gathering came on the heels of a Maricopa County Superior Court decision striking down Proposition 208, which would have significantly increased income taxes for thousands of middle-class Arizonans and small business owners, with some paying rates as high as 8% after Prop 208's surcharge was included. Now, after this victory in the courts and the income tax reforms adopted in 2021 by the Legislature, all Arizonans will be paying a flat income tax of 2.5 percent no later than 2024.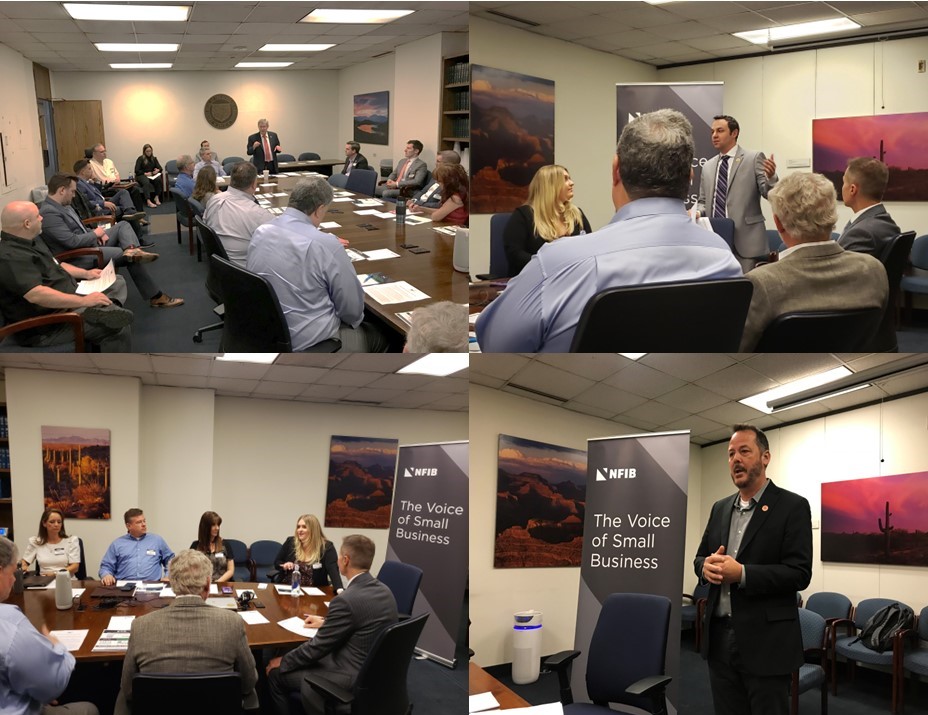 Clockwise from upper-left corner: Sen. Vince Leach; Sen. J.D. Mesnard; Rep. Jeff Weninger; and NFIB Grassroots Manager Nicole Lucero.