NFIB member advocacy in U.S. House Committee Hearing, national news interview, and ad campaign
Small business owners are managing a multitude of challenges in the current economic climate, including inflation, labor shortages, supply chain disruptions, and more. NFIB members Wylie McDade and Tina Miller recently spoke out to help federal legislators and others understand how current policies and conditions are affecting small businesses and the solutions Congress can support on behalf of Main Street. Wylie testified in a U.S. House Ways and Means Committee hearing and appeared on Fox News as well as in an NFIB ad campaign. Tina Miller provided a written testimony for the record to the Ways and Means Committee and has appeared in NFIB's "In Their Own Words" segments.
The U.S. House Ways and Means Committee recently held a Field Hearing in West Virginia that offered small business owners and workers an opportunity to explain the challenges of highest concern that impact their daily lives. Wylie McDade, the Co-owner of Devil's Due Distillery in West Virginia, testified on the difficulty of starting and running a business in this economy.
"Much has changed in the past two years," Wylie explained. "Fuel prices and their fluctuations have made planning difficult, especially on already small margins. Due to factory closures, glass shortages have been and continue to be a scourge on our industry. Input costs on grain have risen sharply…Lead times are up at least by a factor of two and sometimes a factor of ten. In particular, order minimums have gone up significantly…Supply chain logistics remain painful to say the least."
Wylie's business has dealt with a series of challenges since it opened in 2021, and several of them could be addressed by Congress. For example, businesses are working to navigate tax policy uncertainty, product shortages, and hiring shortages which make it difficult for them to plan for the future of their business.
"Despite input cost increases, we are reluctant to raise prices and have not done so," Wylie said. "However, it comes at a great cost – growth. Our workforce should consist of seven to ten in order to work the distillery…yet we do so with five."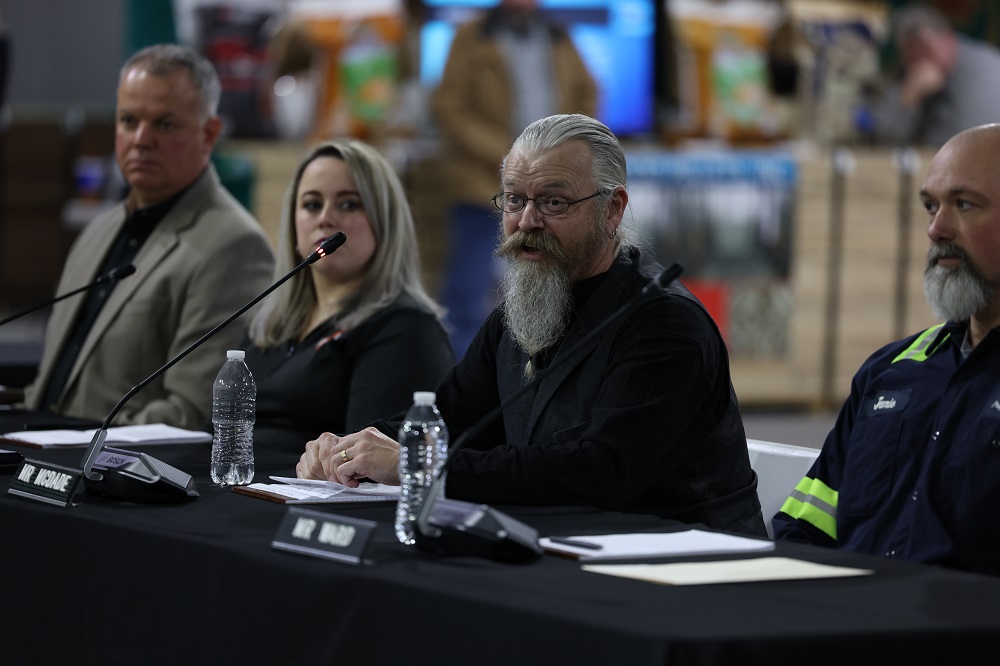 Wylie also joined other small business owners for an interview on Fox News to discuss their thoughts on the State of the Union Address. The three small business owners interviewed did not feel that their concerns were addressed in the speech and haven't seen the changes to the economic climate that were mentioned.
"I didn't see a whole lot about small business," Wylie said. "We struggle mostly from fuel prices because we rely so much on our just-in-time supply chains. As fuel prices remain high… they're affecting every commodity that we bring in. We're a production facility that requires and really relies on just-in-time supply chains that I think remain broken."
Wylie and Devil's Due Distillery co-owner Brian Halbert are also part of an NFIB national ad campaign advocating for Congress to make the Small Business Deduction permanent. Since it took effect in 2018, the Small Business Deduction, a federal tax deduction, has allowed small businesses organized as pass-through entities like Sole Proprietorships, S-Corporations, Partnerships, and LLCs, to deduct up to 20% of their qualified business income.
Despite its positive impact, the Small Business Deduction (Section 199A) is set to expire after 2025, resulting in a substantial tax increase for a majority of small businesses. The uncertainty of this scheduled tax increase also complicates small business owners' ability to plan for the future of their business. In the ad, Wylie and Brian explained how the Small Business Deduction has benefited their businesses, and why they need Congress to make the deduction permanent.
Tina also addressed the necessity of making this tax deduction permanent in a statement submitted to the Ways and Means Committee. "This uncertainty adds an additional pain point for small businesses. By making this tax relief permanent, it helps small businesses to come back stronger, expand and hire more people, and keep our communities moving forward. The Small Business Deduction is incredibly helpful for small business owners like me."
Tina also addressed the need for fewer regulations on small businesses and using state budget surpluses to increase unemployment insurance trust funds. "Small businesses are the backbone of both Virginia and our country's economy. All told, small businesses employ 1.5 million Virginians and over 114 million Americans nationwide."
The Ways and Means Committee plans to host multiple Field Hearings this Congress, so If you're an independent business owner interested in speaking out on the issues that matter most to you and making your voice heard like Wylie and Tina, please be sure to create or update your NFIB member profile. You can do this by emailing [email protected], or by logging into our website or the Engage Mobile App.
Take Action: Tell us what you were able to do with your Small Business Deduction in 2022.