Supreme Court to decide on WOTUS Rule this term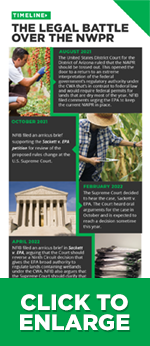 On December 30, 2022, the Environmental Protection Agency (EPA) and Department of the Army issued the final rule on Waters of the United States (WOTUS). The "Revised Definition" rule comes even though a significant WOTUS case is pending at the U.S. Supreme Court.
"We are disappointed that the EPA ignored NFIB's call for the agency to wait while Sackett v. EPA is pending at the U.S. Supreme Court," said NFIB President Brad Close. "America's small farmers, ranchers, developers, contractors, and other small businesses with water on their property have been affected greatly by the ongoing changes to WOTUS standards. This final rule further complicates compliance standards and increases uncertainty for small businesses as they wait to hear from the Supreme Court."
NFIB has filed an amicus brief in the case Sackett v. Environmental Protection Agency at the U.S. Supreme Court. NFIB's brief argues the Supreme Court should reverse the lower court's decision and clarify that EPA has exceeded its federal authority under the Clean Water Act (CWA).
Under the CWA, the WOTUS Rule determines which bodies of water fall under federal jurisdiction. Over the years, presidential administrations have applied very different standards regarding when the federal government has jurisdiction over– and can regulate – wetlands. The EPA's new rule reinstates a broader interpretation of the CWA that would expand federal authority over private property wetlands and land across the country. Under this standard, owners could be required to acquire federal permits for lands that are dry most of the year. 
Small business owners have fought federal overreach on this issue for years, and hopefully the Supreme Court will provide clarity for small businesses. Regardless of the Court's decision, NFIB will continue to advocate against extreme agency overreach by the EPA and Army.
In the meantime, if you are concerned with the Biden Administration's overreaching new WOTUS rule, tell us about your concerns and personal experiences with federal WOTUS issues.