Small business optimism sinks in June as inflation and labor shortages remain top-cited problems by owners
In NFIB's monthly Small Business Economic Trends (SBET) report, a 48-year record low figure was set when a net negative 61% of owners reported that they expect better business conditions over the next six months. This is a seven-point decrease since May and the sixth consecutive month of declining expectations. 
The June report also shows the number of small business owners increasing their average selling prices is just three points off the 48-year record high reading set in May. The monthly NFIB Small Business Optimism Index decreased 3.6 points to 89.5 in June. This is the sixth consecutive month below the 48-year average of 98, and of the ten components that make up the index, all ten metrics declined.    
"As inflation continues to dominate business decisions, small business owners' expectations for better business conditions have reached a new low," said NFIB Chief Economist Bill Dunkelberg. "On top of the immediate challenges facing small business owners including inflation and worker shortages, the outlook for economic policy is not encouraging either as policy talks have shifted to tax increases and more regulations."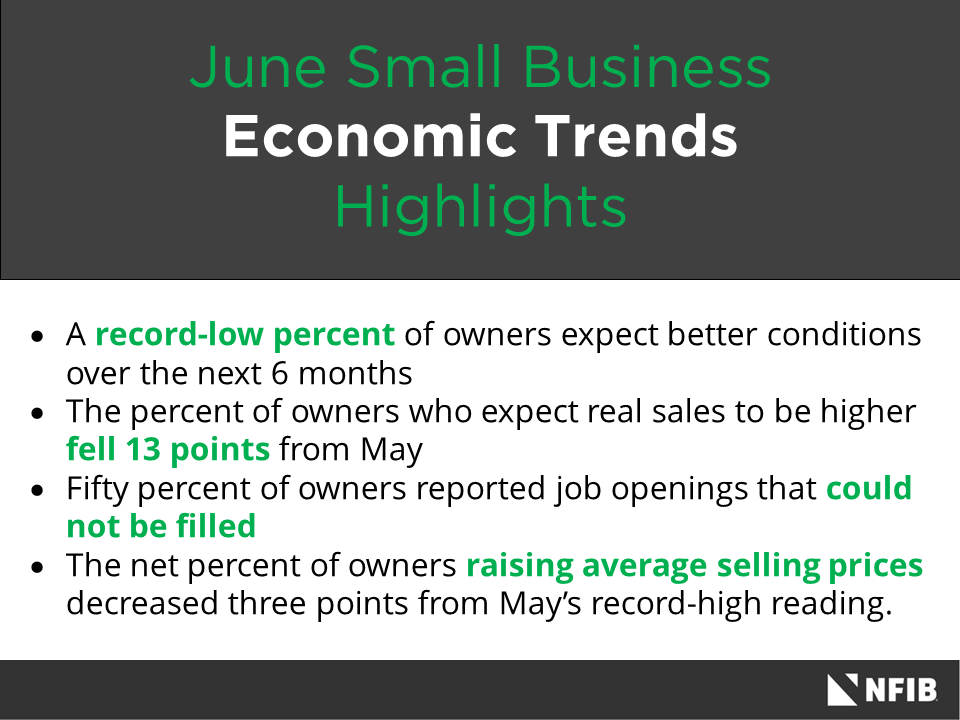 Inflation continues to impact Main Street and it remains the top problem for small business owners and at the highest levels since 1980. Thirty-four percent of owners report that inflation is their top problem, a six-point increase from May. Eight percent of owners cited labor costs as their top business problem and 23% said that labor quality was their top business problem. 
A net negative 28% of owners expect real sales to increase. This is a 13-point decrease from May, a severe decline. A net negative 2% of all owners reported higher sales in the recent past, down three points from May. 
Fifty percent of owners reported job openings that could not be filled, down one point from May, but more than double the historical average. Of the owners who are trying to hire, 94% report few or no qualified applicants for the positions they were trying to fill. 
The net percent of owners raising prices decreased three points from May's record-high reading, remaining historically high at 69%. Four percent of owners report lowering prices, and the remaining 27% have left prices the same. These levels of price increases have not been seen since the early 1980s. 
A net 48% of owners report raising compensation, down one point from May, while a net 28% of owners plan to raise compensation in the near future, up three points from May. Both of these figures are historically very high. 
To learn more about the Small Business Economic Trends report for June 2022 you can read the full report here, and see this news release summarizing its key findings.