While the economy is surging ahead for many due to strong consumer spending, the recovery remains uneven for small businesses.
The NFIB Research Center has released its new survey on the impact of COVID-19 on small businesses. The survey found that staffing shortages continue to be a major obstacle to the small business recovery as many potential job applicants have yet to reenter the labor market.  
"Small businesses are making adjustments to their hiring practices to attract qualified applicants as well as adjusting business operations to compensate for the lack of staff," said Research Center Executive Director Holly Wade. "Small businesses are still recovering from the pandemic but need to fill open positions in order to get back to full productivity." 
While the unemployment rate has declined significantly since the beginning of the pandemic, there are still 7 million fewer employed people now than in February 2020. Many small employers have trouble finding applicants because many potential applicants have not yet reentered the labor market.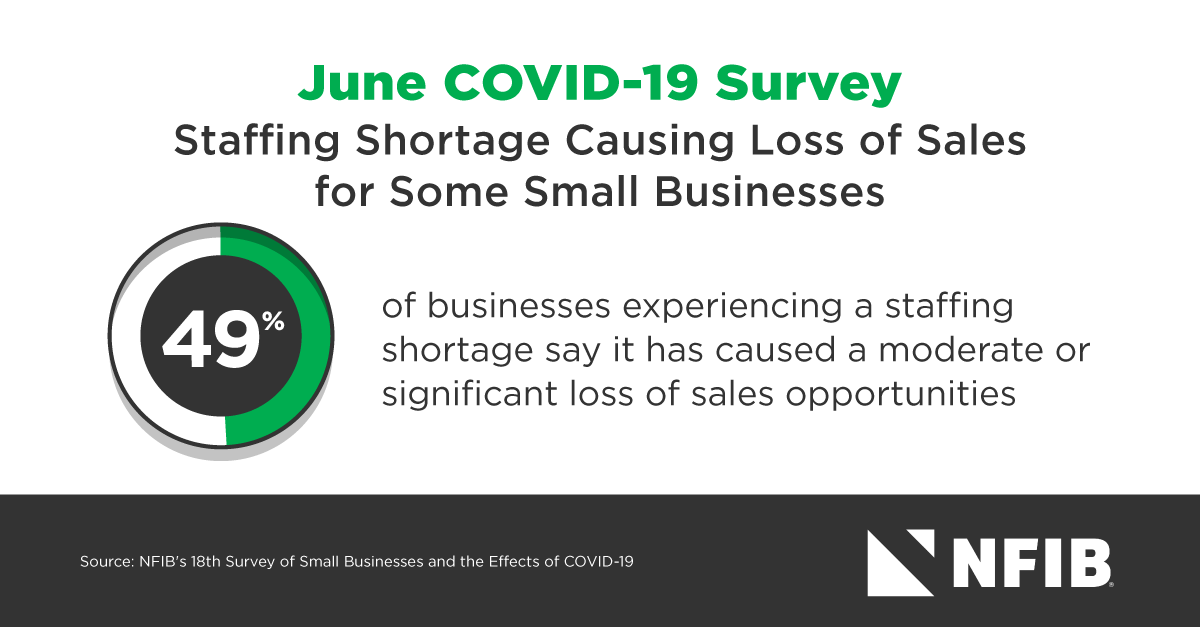 The survey was conducted at the end of June, the first survey since the deadline to apply for a Paycheck Protection Program (PPP) loan expired on May 31, 2021. Owners may no longer apply for first or second-draw PPP loans. However, other similar programs aimed at small business recovery such as the Employee Retention Tax Credit (ERTC) and the Economic Injury Disaster Loan (EIDL) remain open. 
Key findings from the survey include: 
Sixty-one percent of small employers report a staffing shortage, with half (49%) of those reporting a moderate or significant loss of sales because of unfilled positions. Forty-eight percent are receiving fewer applications now than they were a month ago, while only 13% are receiving more applications.

 

To attract additional employees, 63% of respondents have increased starting wages, 13% have increased time off or offered other hiring bonuses, and 15% have offered enhanced referral bonuses or health insurance benefits.

Due to a lack of full-time workers, the majority (79%) of owners are working additional hours themselves. Forty-one% of owners have offered more hours to part-timers instead, and 60% are now offering overtime.

 

Supply chain disruptions remain a concern, with 32% of owners reporting that such disruptions are having a significant effect on their business. Over half (54%) report that the impact of supply chain disruptions has worsened in recent months.

 

Over three-quarters (77%) of respondents received a first-draw PPP loan in 2020. Of those owners, 86% have applied for forgiveness for their 2020 PPP loan.

 

Meanwhile, 43% of owners received a second-draw PPP loan – and only 20% of those have applied for forgiveness.

 

Many owners remain unaware of the Employee Retention Credit of up to $33,000 in federal tax credits per employee. Fifty-eight percent of owners reported that they knew nothing about the program. Possibly because of this, only 9% of employers have claimed ERTC for 2020 wages and just 7% have claimed ERTC for 2021 wages.

 

About a quarter (26%) of owners applied for and received an EIDL.

 

The majority of small businesses (62%) report that sales are almost equal to, equal to, or exceed pre-COVID levels. Meanwhile, 16% report their sales levels are severely depressed at 50% or less than pre-crisis sales levels.

 

Twenty-two percent of owners report that conditions are back to normal for their business. Another 27% believe they will return to normalcy later this year, with another 39% believing it'll happen in 2022. The remainder (13%) don't expect full recovery until sometime after 2022.

 

Just under three-fourths (73%) of owners report they can continue to operate for more than a year. Comparatively, 12% believe they can only remain in business for six months or less.

 
This publication marks NFIB's 18th Small Business COVID-19 survey assessing the health crisis' impact on small business operations, economic conditions, and utilization of the targeted small business loan programs. The full edition of the 18th survey can be read here. 
NFIB wants to know how COVID-19 has impacted your small business. Let us know by filling out our brief survey here.