COVID-19 relief programs and the escalation of vaccinations are driving increased confidence from small business owners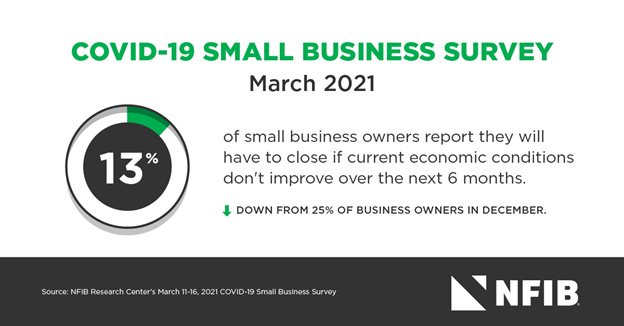 In a survey of small business owners published by the NFIB Research Center, the small business economy continues its slow recovery from the COVID-19 pandemic. Thirteen percent of small business owners report that they will have to close their doors if economic conditions don't improve soon, a small improvement from the 15 percent who reported the same in January. Essential in the process of restoring Main Street has been the extension of federal aid programs made possible by recent COVID-19 relief legislation in Congress. NFIB has been advocating on behalf of small business owners throughout the pandemic and secured several pro-small business changes along the way.
"After a year of trying to navigate the COVID-19 pandemic and the challenges that came with it, small business owners are working hard to see a brighter future for their businesses," said Holly Wade, Executive Director of NFIB's Research Center. "Economic conditions seem to be easing for some, but the overall recovery remains uneven across small business industries. It is crucial that small businesses are given the resources and flexibility needed to ensure they will have a successful recovery."
This survey was conducted shortly after the American Rescue Plan Act (ARPA) was signed into law on March 11, 2021. ARPA extended the Employee Retention Tax Credit (ERTC), a pro-small business tax credit on wages paid to employees. ARPA also included modifications to the Paycheck Protection Program (PPP) loans that were reopened in January. 
Key findings from the survey include: 
Almost three-quarters (72%) of borrowers have applied for PPP loan forgiveness introduced in the CAA, up from 63% in January.

 

Of those owners who did not receive a first-draw PPP loan in 2020, about one-third (34%) have either applied for a first-draw PPP loan in 2021 or are planning to apply.

 

Of those owners who did receive a first-draw PPP loan in 2020, 42% have already applied for a second-draw PPP loan, up from 30% in January.

Of those who applied for second-draw PPP loans, 78% were approved while 18% have not heard back from their lender. Only 1% were denied.

Of those who applied for a first-draw PPP loan but not a 

second-draw

, about three-quarters (76%) said it was because they were not eligible due to the reduction in gross receipts requirement.

 

The ERTC remains relatively unknown to small employers. 42% of employers said they were either very or somewhat familiar with the program, compared to 36% in January.

 

Almost half (47%) of small employers said they might take advantag

e of the ERTC in the future, and another 28% said they talked to a CPA, accountant, or other tax professional about the credit.

 

Economic recovery remains uneven. About one-fifth (22%) 

of owners 

said their sales levels were half or less than what they were at this time last year, with another 21% saying their sales were at 51-75% of 2020 levels. Thirty-five percent reported sales at roughly pre-cris

is levels, and 20% have exceeded pre-crisis levels. Similar numbers are reported for sales compared to this time in 2019.

 

Thirteen percent of small business owners report that they will have to close their doors if current economic conditions do not improve over the next 

six

 months, down from 15% two months ago and 25% in December.

 

While most owners do not expect business conditions to improve until the end of the year at the earliest, confidence has begun to grow, likely due to the escalation of COVID-19 vaccinations. 

Eleven percent of owners report that conditions are back to normal. Forty-six percent believe conditions will return to normal later this year, while 32% expect it to happen in 2022 and 11% after 2022.

 

As vaccines become more readily available, 45% of employers intend to encourage their employees to get vaccinated, while just 2% will require vaccination.

One-quarter (26%) of owners have been vaccinated, with another quarter (23%) intending to get vaccinated as soon as possible. Thirty-five percent announced they have no intentions of getting vaccinated, down from 44% in December.

 
This publication marks NFIB's 16th Small Business COVID-19 survey assessing the health crisis impact on small business operations, economic conditions, and utilization of the targeted small business loan programs. Read the complete 16th edition survey results here.
The full series of NFIB COVID-19 surveys began in early March 2020 and can be found here.