NFIB lays out small business priorities in an agenda for the new Congress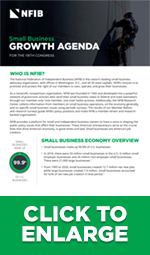 NFIB will be providing members of Congress with a pro-small business legislative agenda to kick off the 118th Congress. This Small Business Growth Agenda was compiled and crafted based on feedback provided by NFIB members and reflects top small business legislative priorities.
NFIB determines the top small business priorities through the results of member ballots on current issues and feedback collected in research surveys. NFIB's 118th Congress Growth Agenda is based on the feedback collected from members as a guideline for the small business issues that warrant consideration.
Taxes
NFIB advocates to protect small business owners from tax increases, burdensome paperwork, and unnecessary audits; make permanent the helpful small business and individual provisions of the tax code; and restore lower corporate taxes for smaller businesses.
NFIB supports permanency for the Small Business Deduction (Section 199A) which expires after 2025. Pass-through businesses can claim up to a 20% tax deduction on their share of the business' income. In a recent NFIB Member Ballot, 91% of NFIB members support permanently extending the tax cuts for individuals and small businesses from the 2017 tax law.
NFIB also supports reinstating a lower tax rate for C-corporations (C-corps), extending the estate tax exemption thresholds and planning tools, and oversight of the Internal Revenue Service (IRS) enforcement expansion.
Labor
NFIB opposes expanding burdensome employment mandates and regulatory enforcement on small business owners. NFIB opposes significant increases to the federal minimum wage and paid leave mandates. In a recent NFIB Member Ballot, 92% of small business owners opposed increasing the federal minimum wage to $15 per hour.
NFIB also opposes proposals to change existing employment law, plans to increase fines for wage and overtime violations, as well as efforts to increase overtime exemption thresholds. Further, NFIB supports protecting the right of individuals to work as independent contractors.
Regulatory Reform
NFIB supports proposals to reform the regulatory process by strengthening small business input along with increasing transparency and accountability in the regulatory process. In an NFIB Member Ballot, 85% of NFIB members support requiring regulatory agencies to consider the indirect cost and impact of regulations on small businesses.
NFIB supports regulatory reform proposals including the Small Business Regulatory Flexibility Improvements Act, the Guidance Out of Darkness (GOOD) Act, the Guidance Clarity Act, the Independent Agency Regulatory Analysis Act, and expanding Small Business Advocacy Review (SBAR) panels to all agencies. Additionally, NFIB also supports further empowering the Small Business Administration Office of Advocacy.
Burdensome Regulations
NFIB consistently fights against adding new regulatory burdens on small businesses. NFIB led the opposition to the Corporate Transparency Act (CTA), which creates a new paperwork requirement for businesses with 20 or fewer employees. Other regulations NFIB opposes are the Environmental Protection Administration's (EPA) Waters of the United States (WOTUS) final rule, the Securities and Exchange Commission's (SEC) proposed rule requiring reporting on greenhouse gas emissions, as well as additional regulatory and paperwork burdens related to data privacy.
Healthcare
NFIB supports affordable, flexible, and predictable health insurance options for small business owners and their employees. According to NFIB's 2020 Small Business Problems and Priorities survey, the cost of health insurance is the number one small business problem, a position it has held for almost 40 years.
NFIB supports making health insurance more affordable by revising and expanding the Small Employer Health Insurance Tax Credit; expanding access to Health Savings Accounts (HSAs); and equalizing the tax treatment between employer sponsored health insurance and individual coverage. NFIB is in favor of increasing health insurance options as well as promoting affordability through transparency, competition, and innovation.
Competition
In recent years, NFIB believes certain large businesses have used their market dominance to take advantage of small business owners, hindering the growth of small businesses.
NFIB supports commonsense legislative solutions that seek to provide small businesses a level playing field against big business anticompetitive practices. These solutions include increased competition in the credit card network processing market using concepts such as those in the Credit Card Competition Act and legislation to ensure equality for small businesses as well as options for consumers.
In a recent NFIB member ballot, 84% of NFIB members support Congress passing new laws to protect small businesses from anticompetitive practices of big tech companies. To urge your lawmakers in Congress to support the American Innovation and Choice Online Act, send a message here.
NFIB provides a platform for small and independent business owners' voices in shaping the public policy issues that affect their businesses. NFIB will continue advocating for all the items on the growth agenda, which prioritizes the issues that will have a substantial impact on small business owners during the 118th Congress.