Alex E. Paris Contracting Company has been in business since 1928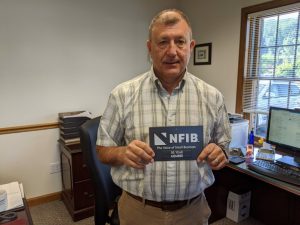 As Pennsylvania's leading small business association, we are always proud to shine the spotlight on members who have made a long-term commitment to supporting NFIB's free enterprise mission as "The Voice of Small Business."  NFIB recently thanked Alex Paris (pictured above) for his company's fifty-five year membership.
The Alex E. Paris Contracting Co. Inc. was established in 1928 and is a multi-generational family-owned construction firm in Atlasburg, PA, which is between Pittsburgh and the Ohio border. The firm provides services in the Mid-Atlantic region including site development, utility line construction, large and small diameter pipe installation, cross country pipelines, pump stations, fabrication, and landfill construction – meeting both civil and commercial construction needs. 
The company's story is a unique American success story.  Alex Parris, Sr, an Italian immigrant founded the company and led it through the Great Depression.  Originally focused on the coal and mining industry, the Paris family has changed the business model along the way, as new opportunities came along and the post WW II economy changed. While coal and mining operations dominated from the 1930s to the 1950s, underground utilities was added in the late 1950s.  In the 1960s and 70s, industrial services and heavy construction were also added. 
NFIB took the opportunity to ask Alex what he enjoys most about business ownership.  "The most rewarding thing as an owner is when our people succeed in their jobs.  When they do well in their goals and are proud of their accomplishments, that makes us very happy."  
Paris also gave advice to other multi-generational family business members. "Stay the course. Only stay if you love the business itself.  Be committed to it.  And like the generations that went before, you have to work very hard." 
"You do have to separate work and family, because if you don't the two can at times become conflicted," he added. Clearly the Paris family has succeeded in putting these ideas into practice, and as an award-winning company closing in on the century mark, the future is indeed bright.