Being just over a month out, we hope you've marked your calendars for this year's NFIB Small Business Day at the Capitol, scheduled for Wednesday, September 15, 2021.  The event will take place at the Athletic Club of Columbus before moving to the Ohio Statehouse for a luncheon with state legislative leaders.
We are calling all NFIB members in Ohio to come to the statehouse and speak with their elected officials about the important role small businesses play in Ohio's economy. 
We look forward to seeing you in person on September 15! More information can be found here: 
https://www.oh.nfibsmallbusinessday.com/
Head right to the registration page here: REGISTER NOW!
8:00 a.m. – 8:45 a.m.
Registration
8:45 a.m. –  Noon  
Our General Session will feature NFIB President Brad Close, Ohio Governor Mike DeWine, Ohio House Speaker Bob Cupp, Ohio Senate President Matt Huffman (a fellow NFIB member), Chief Justice of the Ohio Supreme Court Maureen O'Connor, and a legislative briefing by the NFIB Ohio staff.
12:30 p.m. – 1:30 p.m.
Legislative Luncheon at the Ohio Statehouse
(Optional) Following Lunch – Legislator and/or Session Visits
This event will be held as many pieces of legislation are being reviewed by the Ohio Legislature that impacts entrepreneurs across the state.  There is no better time than now for lawmakers to see and hear from the small businesses that create the jobs that drive our economy!
Look for e-mails on how to register soon. If you would like any further information, contact Cameron Garczyk at [email protected].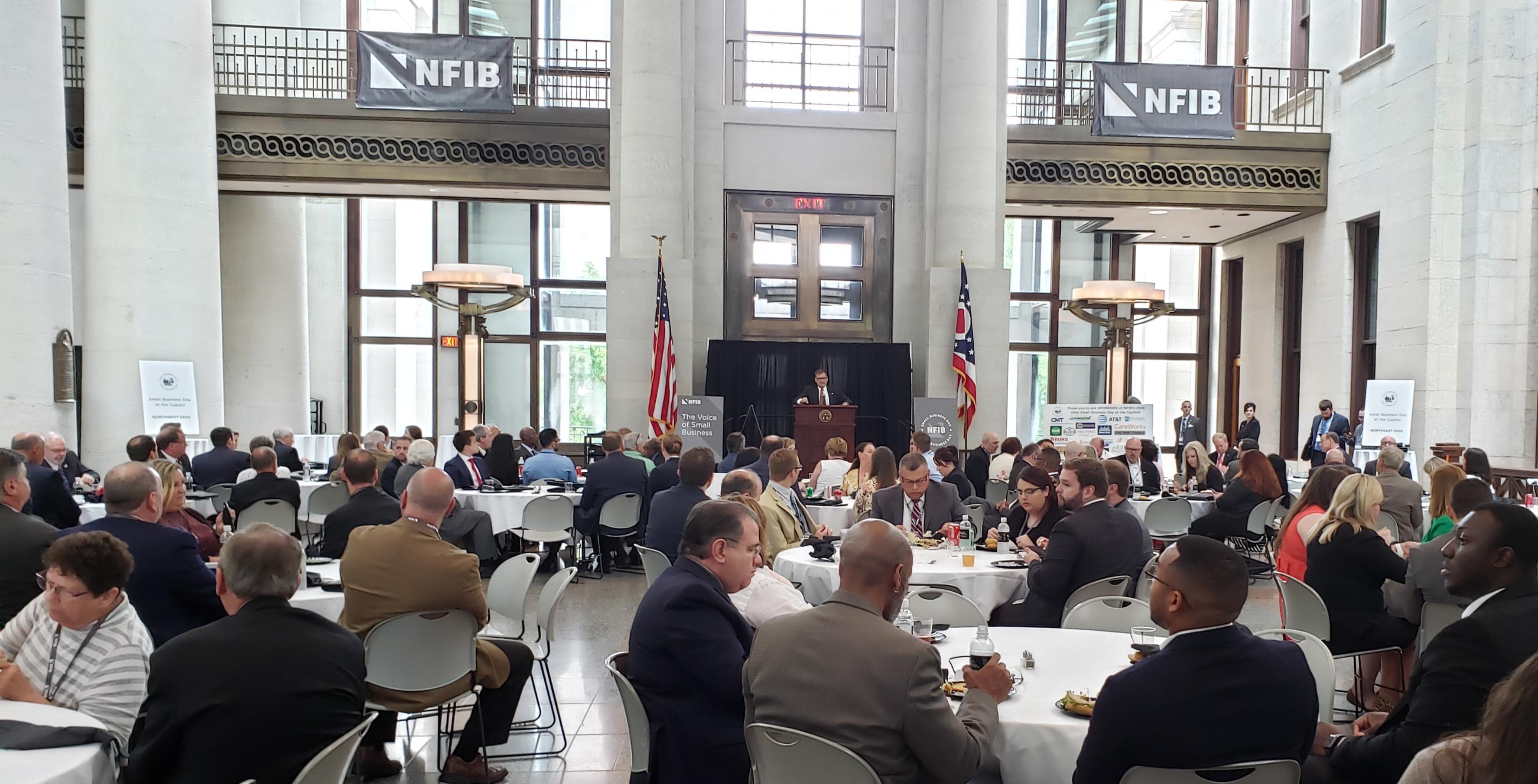 Approximately 200 small business owners attended Small Business Day at the Capitol in 2019.