NFIB, the state's leading small business association in Ohio, announces the re-election of officers to its statewide Leadership Council for one-year terms.  The officers include:
Chris Ellis of Helping Hands Healthcare, Inc. (Cincinnati) chairman;
Albert Macre of Albert F. Macre & Company (Steubenville) vice-chair;
Kelly Moore of GKM Auto Parts (Zanesville) chair of the NFIB Ohio PAC, the organization's political action committee, and;
Ty Baker-Baumann of REBSCO, Inc. (Greenville) the immediate past chair of the Council.
Currently, the Ohio Leadership Council is comprised of 38 independent business owners from across Ohio who meet quarterly to guide the organization's statewide activities. The role of the Council is to offer input to the organization's advocacy program while assisting in efforts to bring small-business issues to the attention of state and federal elected officials. 
Members serving on the Leadership Council represent businesses of varying sizes and geographic areas of the state of Ohio. As a truly member-driven organization, the 38 members of the Leadership Council participate on committees, assist in the implementation of NFIB events across the state, as well as serving on statewide boards and commissions, and in their local governments.
"For Ohio small business owners 2020 was a year like no other. After watching how the Ohio staff of NFIB served the members of our organization during the pandemic and shutdown period, I could not be prouder to be a part of this member-driven organization. I am honored to be re-elected as chairman of the Leadership Council for Ohio as we represent nearly 21,000 businesses in the state. The officers of the Leadership Council understand the serious responsibility we have in speaking for our fellow members and offering guidance to the organization," said Chris Ellis, Leadership Council Chairman.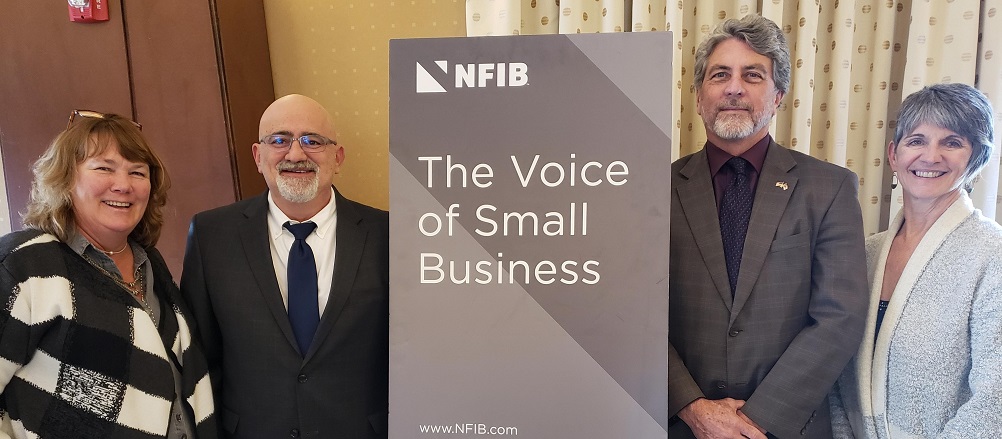 (From l to r: Kelly Moore, Albert Macre, Chris Ellis, Ty Baker-Baumann)
"NFIB proudly serves our members as the voice of small business. Our Ohio officers directing the state Leadership Council play an important role in advising NFIB as we advance the cause of Ohio's entrepreneurs in their ability to own, operate, and grow their businesses," said Roger Geiger, Executive Director of NFIB in Ohio. "Our members have a strong voice in this association. NFIB relies on the involvement of our members who offer their insight and guidance, which then allows us to advocate on issues such as workforce development, unemployment compensation reform, workers' compensation, and taxes at the Ohio Statehouse."
In addition to the officers of the NFIB Ohio Leadership Council, 14 of the 38 members of the Council were elected to two-year terms:
Jack Buschur, Buschur Electric, Inc., Minster
Lisa Crosley, EnviroControl Systems, Inc., Dayton
Merle Griff, Sarah Adult Day Services, Inc., Canton
Doug Johnson, The Johnson Electric Supply Co., Cincinnati
Bob Kirkbride, Marietta Ventures LLC, Marietta
Bill LaGuardia, LM Cases and Precision Foam Fabrication, Inc., Youngstown
George Lang, SecondCall Defense, West Chester
Mary Leavitt, The Flag Lady's Flag Store, Columbus
Steve Lippert, Hamilton Caster & Mfg. Co., Hamilton
Rick Malir, City Barbeque, Inc., Dublin
Toby Mirto, The Rhiel Supply Company, Youngstown
John Mossbarger, Midland Acres, Bloomingburg
Clara Osterhage, R L O Inc./Great Clips, Dayton
Allen Perk, XLN Systems, Inc., Gahanna
Sherry Pymer, Pymer Plastering, Columbus
Tracie Sanchez, Lima Pallet Company, Inc., Lima
Steve Schramm, OK Interiors Corporation, Cincinnati
Susan Sukys, Mosaic Financial Group LLC, Mt. Vernon
Bill Thornton, Thornton & Associates, Lebanon