As Ohio and the rest of the nation emerge from the shadow of the pandemic, NFIB is back to hosting in-person Area Action Council meetings across the state. It has been over a year and the NFIB staff is eager to meet face-to-face with our active members again.
The first of these meetings was in Marietta, Ohio on June 15, 2021. This is appropriate, as nearly 20 years ago Marietta held the first-ever Area Action Council in the country. NFIB has a great member base in Washington County and the surrounding areas. Both Bob Kirkbride, Marietta Ventures, and Jerry James, Artex Oil, serve on the statewide Leadership Council for NFIB. The NFIB Marietta Area Action Council is chaired by Rick Walters, Dietz, Futrell, and Walters, and the Vice-Chair is Jim Hoblick, Regional Collection Services.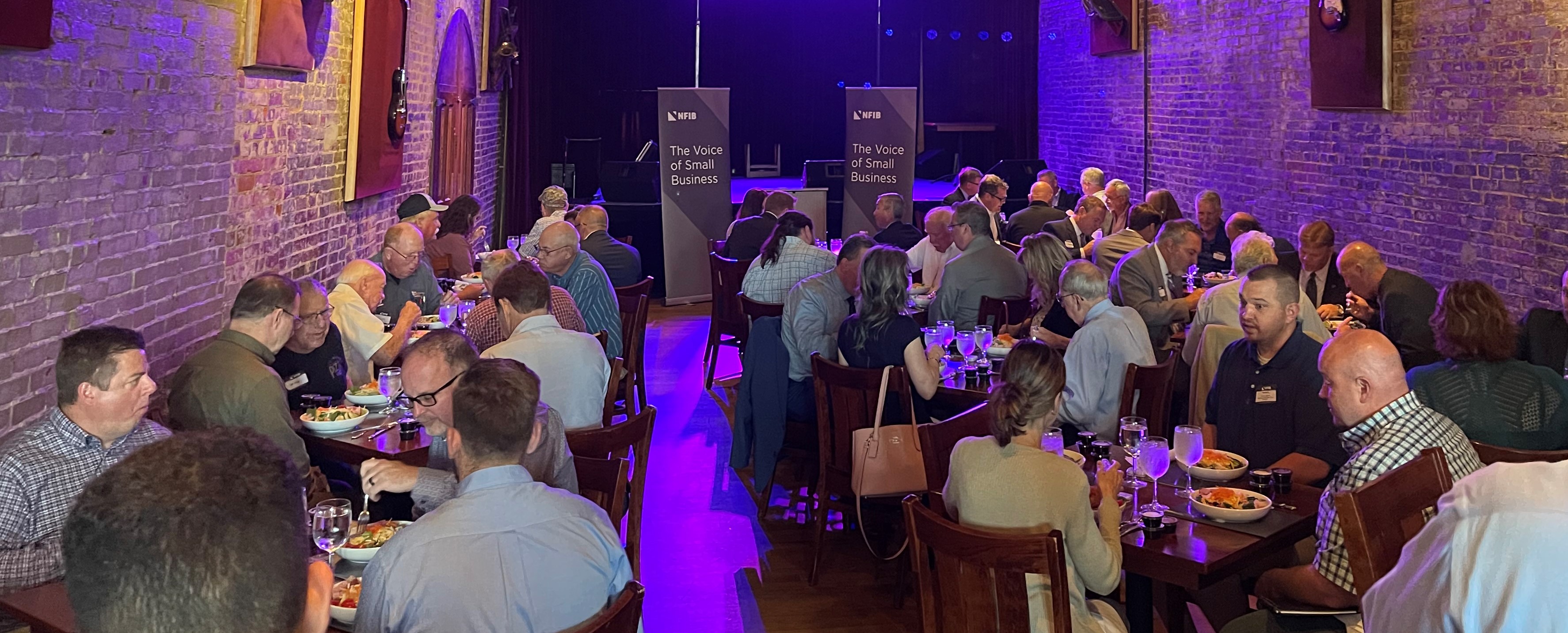 50 small business owners gathered in Marietta, Ohio on June 15 to hear from Ohio Auditor Keith Faber. 
In January 2021, NFIB welcomed a new field sales representative to the area, Carrie Ankrom, who previously served as the President of the Marietta Chamber of Commerce. Carrie has been one of the nation's leading new member specialists for NFIB with over 240 new businesses signed up to join our over 22,000 members across Ohio. Our latest Area Action Council in Marietta served as a welcome to new members and a thank you to all the prior attendees who represent NFIB so well in the local community.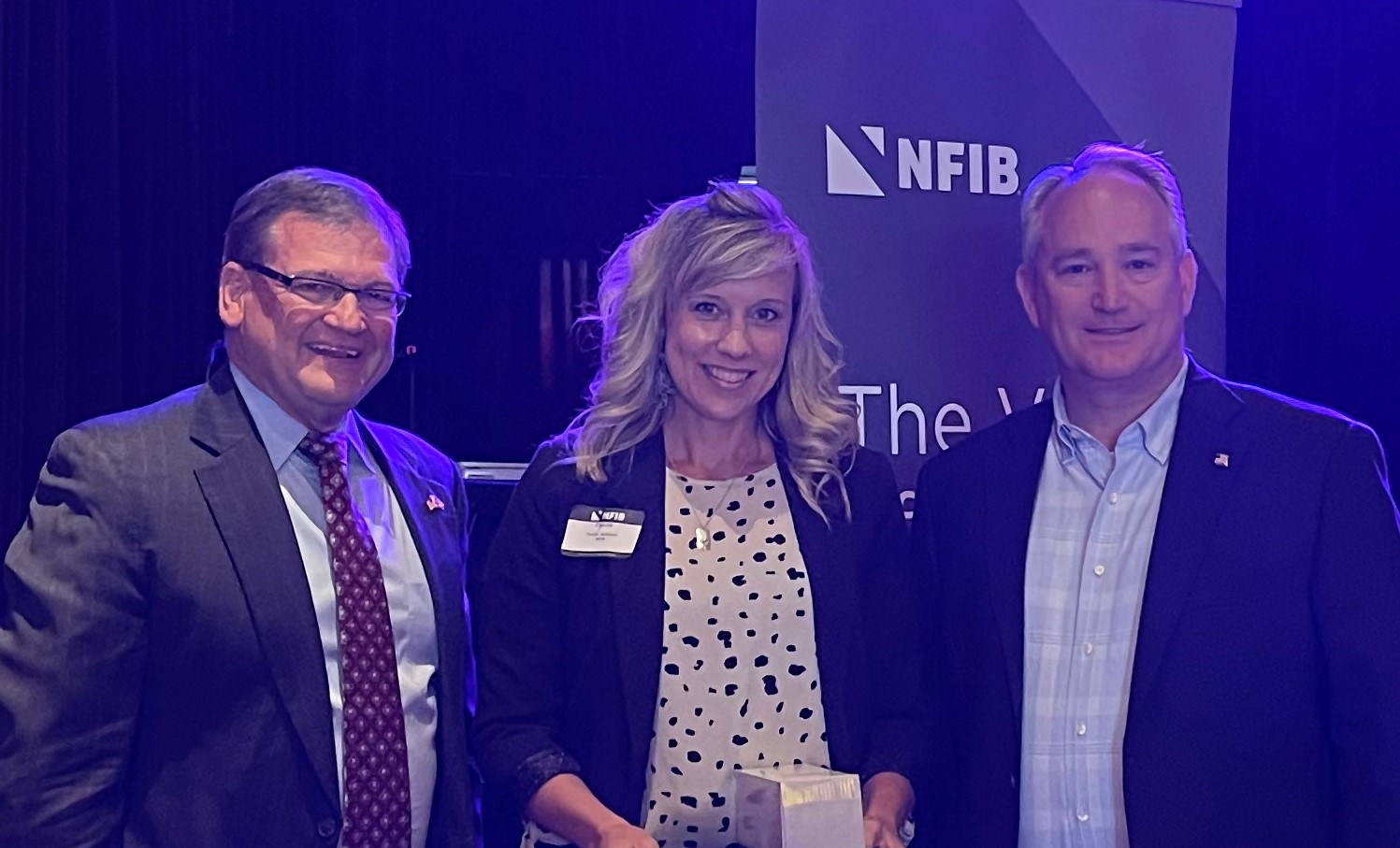 NFIB Field Sales Representative Carrie Ankrom is recognized at the Marietta Area Action Council. 
The meeting consisted of a preview of NFIB's Small Business Day at the Capitol, which will be held in person in Columbus, Ohio, on September 15, 2021, featuring Ohio House Speaker Bob Cupp, Ohio Senate President Matt Huffman (a fellow NFIB member), and Chief Justice of the Ohio Supreme Court Maureen O'Connor. Members attending also were updated on legislation championed and Key Voted by NFIB this legislative session that has already been signed by Ohio Governor Mike DeWine and legislation that is moving through the process that impacts the Ohio small business community by Roger Geiger, executive director for NFIB in Ohio.
The highlight of the meeting was our keynote speaker, Ohio Auditor Keith Faber, who is a fellow NFIB member. Auditor Faber joined the group to discuss issues impacting their businesses, such as helping government protect taxpayer dollars and curbing spending through audits, and talking about the unemployment system used heavily during the pandemic. Several members were recognized for their years of membership with NFIB including Artex Oil, in Marietta Ohio, a member for 25 years.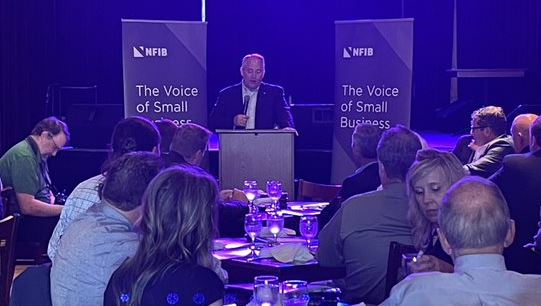 Ohio Auditor Keith Faber addresses the NFIB Mariette Area Action Council.
Members of the NFIB staff were also able to spend time visiting three member businesses before and after the meeting. We always enjoy the opportunity to see our members' companies first-hand and learn the history of the enterprise and how they positively impact their community.

Member visits were held at Mar Pak, Inc., Bob Lane Welding, and Jailhouse Enterprises.
The meeting was covered by the Parkersburg News & Sentinel and The Marietta Times.