On Tuesday, November 16, 2021, small businesses across the state of Ohio cheered at the unanimous passage of House Bill 215, the Business Fairness Act by the Ohio Senate. House Bill 215 will permit any business, that is required to cease or limit operations due to a Department of Health order, to remain or reopen so long as they can demonstrate their ability to meet government safety protocols required of businesses that were allowed to stay open during a public health crisis. It was passed out of the Ohio House of Representatives earlier in 2021.
On December 1, 2021, Ohio Governor Mike DeWine signed five bills into law, including House Bill 215, the " Business Fairness Act."
"Ohio took the lead nationwide in working with businesses and industry leaders to help develop safe workplace guidelines and keep Ohioans working during the pandemic," said Governor DeWine. "House Bill 215 reflects that business and employers can safely operate during a health emergency and affirms my commitment to working collaboratively with Ohio businesses to keep our economy strong as we emerge from this pandemic."
"On behalf of Ohio's small business community, NFIB expresses our sincere appreciation for the quick signing of the Business Fairness Act (House Bill 215) by Ohio Governor Mike DeWine. A lot of lessons were learned during the COVID pandemic and by signing this critically important piece of legislation into law Governor DeWine and Lt. Governor Husted recognize the important contributions Ohio small businesses made during this difficult time. It sends a clear message that all Ohio businesses are important to the economy of our state," said Roger Geiger, NFIB executive director for NFIB in Ohio.
A top concern NFIB staff heard from our membership was the labeling of businesses as essential or non-essential. It is our view, every business is essential, to the employees, their families, and the communities in which they operate. While we learned 70 percent of our members were able to remain open, sadly that means 30 percent were forced to close. Meanwhile, competitors, typically big-box stores selling many different products were permitted to remain open, recognize revenue, and keep their employees paid.
House Bill 215 (and its companion piece in the Ohio Senate, Senate Bill 134) allows every business the opportunity to remain open.  We hope the provisions of this bill will not need to be exercised. However, in the event state government issues safety protocols or requirements for businesses to meet to stay open, our members will have the chance to meet these protocols and remain operational. These bills in no way prevent orders from being issued, it simply gets the government out of the business of picking winners and losers.
We recognize difficult decisions had to be made during a once-in-a-lifetime health emergency. The Business Fairness Act requires the government to decide whether all businesses are shuttered or issue protocols that any business can proactively choose to meet. You, our members deserve the right to keep their businesses open; the Business Fairness Act ensures this decision remains with the business owner.
NFIB has been a key player in the passage of the Business Fairness Act, and we want to thank our members for doing their part by answering our calls to action related to the bill. It is always important for elected officials to hear directly from their small business owner constituents. It puts into perspective the points NFIB is speaking to them about at the Ohio Statehouse.
We encourage our members to thank their Senator for passing the business fairness act with a quick phone call or e-mail. You can find their contact information here. 
"NFIB's 22,000 members in Ohio would like to recognize Representatives Shane Wilkin and Jon Cross for sponsoring House Bill 215, the Business Fairness Act, as well as thanking Senator George Lang, who sponsored companion legislation Senate Bill 134, for his leadership in the Ohio Senate on the issue. We commend Ohio Senate President Matt Huffman and Speaker of the House Bub Cupp for understanding the importance of this issue for small business owners across the state," said Roger Geiger, Executive Director for NFIB in Ohio.
"There were many small businesses forced to close due to government orders issued in 2020 and were deemed non-essential. These businesses were not allowed to demonstrate their ability to open and operate safely. These predominantly small businesses were forced to close while other essential businesses could remain open selling similar or identical products and services to those shuttered businesses," he continued.
"All businesses are essential, now the government can be out of the business of picking winners and losers. NFIB played a key role in working with the Ohio Legislature in the bi-partisan passage of House Bill 215 on this high priority item for our members," Geiger concluded.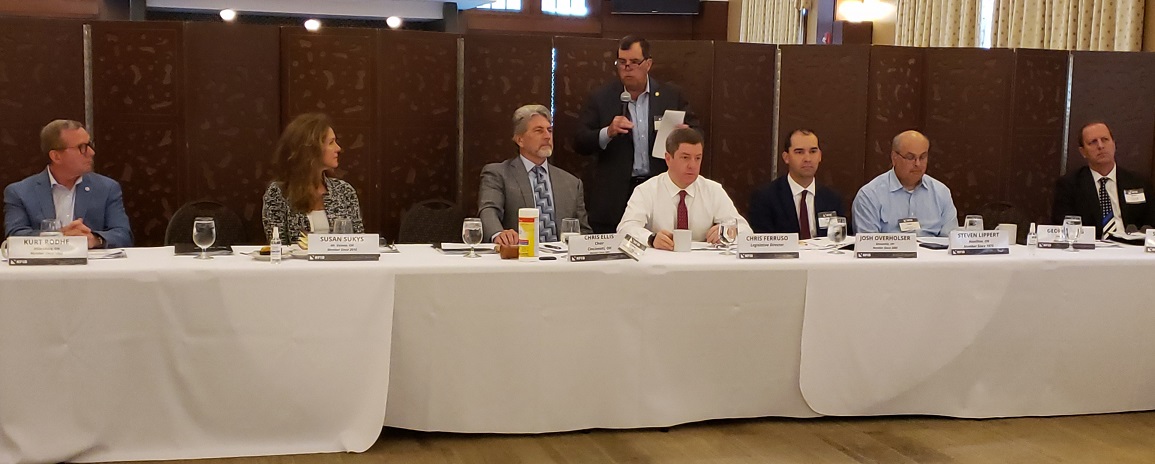 Fellow NFIB member Senator George Lang speaks to the NFIB Leadership Council for Ohio on the importance of the Business Fairness Act to the small businesses of the state. He sponsored Senate Bill 134.