NFIB early on strongly suggested a portion of the relief dollars granted to Ohio from the federal government be used to pay off the debt incurred by borrowing to meet the unemployment debt caused by the pandemic.
The Ohio Legislature approved plans to use part of the state's federal coronavirus aid to repay the federal government for money borrowed to meet obligations for an unprecedented amount of unemployment benefits claims filed during the pandemic.
House Bill 168 passed a final House vote last Friday, it goes to Ohio Governor Mike DeWine for his signature. It was Governor DeWine who first proposed repaying a $1.5 billion federal loan out of the more than $5 billion Ohio will be receiving in federal COVID-19 relief money.
Governor Mike DeWine applauded the work of the Ohio General Assembly this afternoon as they sent priority legislation, Amended House Bill 168, to his desk for signature, which he signed on June 29, 2021.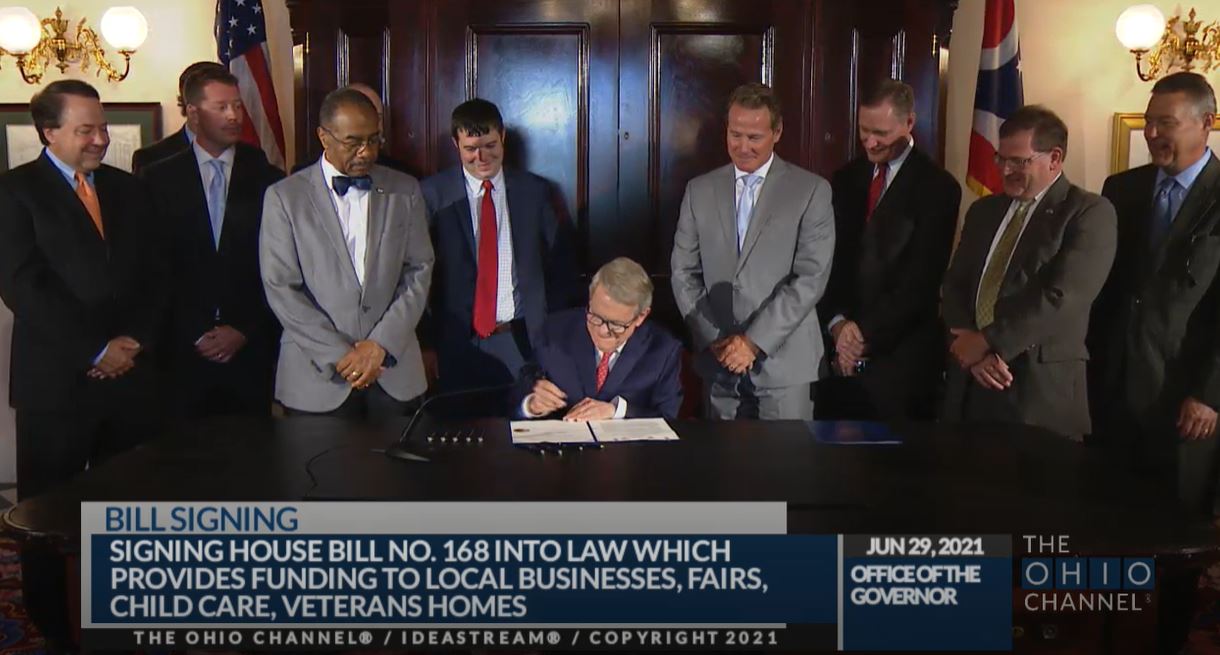 Ohio Governor Mike Dewine signs House Bill 168, leaders from the business community, including NFIB's Roger Geiger (2nd from right) attended.
"The actions that we took over the past year, including cutting state spending, freezing hiring, and not relying on the Rainy Day Fund put us in a position today to use these recovery funds to make forward-looking investments," said Governor DeWine. "These investments in Ohio's future address my critical priorities: strengthening our children's behavioral health system, improving the water infrastructure in neighborhoods all across the state, and providing local leaders in every community with funds to address their unique, post-COVID needs.  And by paying off the state's Unemployment Insurance Trust Fund loan to the federal government, our businesses can focus on job one which is getting Ohioans back to work."
"We applaud the Ohio General Assembly, under the leadership of Speaker Cupp and President Huffman, for passing House Bill 168 authorizing the repayment of the balance of federal loans advanced to the state to pay unemployment compensation benefits.  Ohio's small businesses will no longer be staring down an increase in their federal unemployment taxes next year.  This is a welcome relief as our members continue to rebound and recover from the pandemic," said Roger Geiger, Executive Director for NFIB in Ohio.
"Entrepreneurs should be focused on hiring their fellow Ohioans and expanding operations, not having to worry about yet another financial blow from a pandemic that they had no control over.  Many businesses were shuttered due to no action of their own.  It is right and appropriate that Ohio use monies from the State Fiscal Relief Fund to avoid a burdensome tax increase on small businesses.  We appreciate Ohio Governor Mike DeWine for quickly signing this important small business relief legislation" Geiger concluded.
Approximately $1.5 billion is going to repay the Unemployment Insurance Trust Fund advancement from the federal government. This is a crucial step in Ohio's economic resurgence. Using available federal dollars to repay the federal loan relieves Ohio businesses from experiencing large increases in their federal unemployment payroll taxes for years to come – freeing up capital to invest in their businesses and hire workers. Governor DeWine announced this decision to invest federal funding to support employers on April 8.