For the legislative and political week January 9-13
Welcome to the January 9-13 edition of the NFIB California Main Street Minute from your NFIB small-business-advocacy team in Sacramento.
Top of the News
NFIB California congratulates a proven friend of small business and NFIB, Kevin McCarthy, on becoming Speaker of the U.S. House of Representatives. The political world now knows what it means to be Bakersfield tough.
Back in Sacramento
Now that committee assignments have been made, legislators will get back to work in earnest this week for their 2023 2024 session.
What Law is the CPPA Enforcing?
Speaking of State Agencies
Regular readers of the Main Street Minute are well-briefed on the California Air Resources Board's 2022 Scoping Plan, an economy-wide regulatory roadmap to having California carbon neutral by 2045. Last week (January 4), the Legislative Analyst's Office issued its findings on the plan and concluded, "Unfortunately, CARB's updated plan lacks important details about how the state can achieve this approaching objective. Going forward, we recommend the Legislature seek additional information from the administration about the policies it plans to implement to achieve GHG [Greenhouse Gas] targets, including potential changes to the cap-and-trade program that make it more consistent with the state's 2030 goals."
Busy Week for the NFIB Research Center
Last week, the NFIB Research Center released the results from two polls it took. On Tuesday (January 3), it published its 23rd Covid-19 Small Business Survey looking at a variety of issues such as hiring, the economy, supply-chain disruptions, and other subjects.— Because the issue is almost certain to surface in the California Legislature this year, of particular interest the survey's findings on paid and unpaid leave, which included:

— Twenty-three percent of small employers offer paid family leave.

— Just over half (51%) of small business owners offer paid sick leave.

* For those small business owners who do not offer paid sick leave or paid family leave benefits,

* 36% reported it was because they can't afford to offer these benefits.

* Twenty-two percent reported it was because they were not profitable enough to offer them at the moment but hope to      increase benefits in the future.

* Another 12% of small business owners who do not offer paid sick leave or paid family leave benefits reported it was because they do not view these benefits as necessary to attract employees

* 3% because the administration of benefits is too time-consuming and/or confusing.

* Twenty-eight percent of small business owners cited other reasons.

Two days later (January 5), NFIB's Research Center published the results of its monthly Jobs Report, showing "Small business owners' plans to add positions remain elevated, with a seasonally adjusted net 17% planning to create new jobs in the next three months, down one point from November and 15 points below its record high reading of 32% reached in August 2021."
Tomorrow (January 10), the Research Center will be out the monthly Small Business Economic Trends (SBET) report, also known as the Optimism Index. Findings from the above Jobs Report are one of the 10 components in the SBET, which is celebrating its 50th year as the most influential and reported-on barometer of the Main Street economy.
NFIB California in the News
The small-business message was spread far, wide, and deep throughout California in 2022. Check out this sampling of media hits for some examples. Onward to 2023!
NFIB National
The U.S. Senate opened for business January 3 and wasted no time departing for recess until after MLK Jr. Holiday.
Now that a Speaker is in place, the House can adopt a House Rules Package and convene the 118th Congress.
Check out the NFIB Small Business Growth Agenda for the 118th Congress. This nicely layed out, 10-page publication is packed with valuable information on NFIB's agenda.
Next Main Street Minute January 16.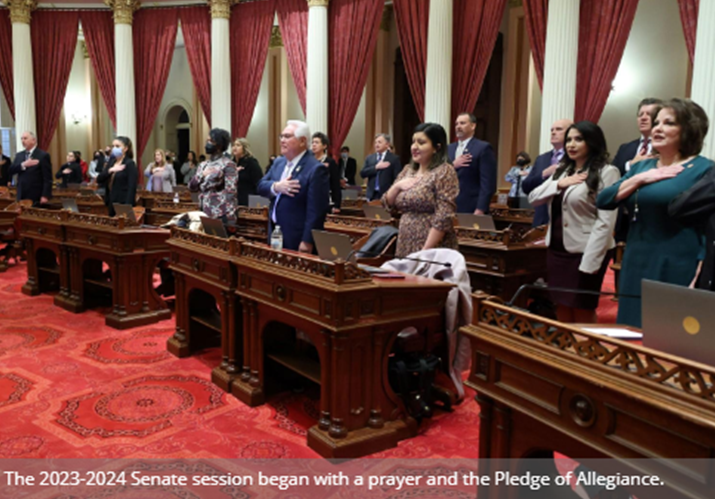 Photo courtesy of the California State Senate website