For the legislative and political week October 24-28
Welcome to the October 24-28 edition of the NFIB California Main Street Minute from your NFIB small-business-advocacy team in Sacramento.
November 8 Election
The merciful finality to a noisy election is two weeks away.
— The NFIB FedPAC has endorsed in 14 Congressional races in California
— The NFIB CA PAC has made bipartisan endorsements in nine State Senate contests, 16 State Assembly ones, and one recommendation for a ballot initiative.
— News releases on the endorsements can be found on the NFIB California webpage and a list of them has been sent to NFIB members in their Voter Guide.
Other helpful information includes:
— NFIB California last week released its 2021-2022 Voting Record on all 120 legislators.
— An updated The Power of the Small Business Voice single page of information bullets. Small-business owners are supremely influential.
— Both the 2021-2022 Victories from the California State Legislature story and the Good, Bad & Ugly list of NFIB-targeted bills.
— And, because small-business owners are one of the more trusted sources of political and policy news in their communities, a reminder of the four biggest distinctions separating a small business from a big business.
Tweet Meat!
The No on Proposition 30 campaign wasted no time broadcasting NFIB's opposition to the initiative all over the Twittersphere.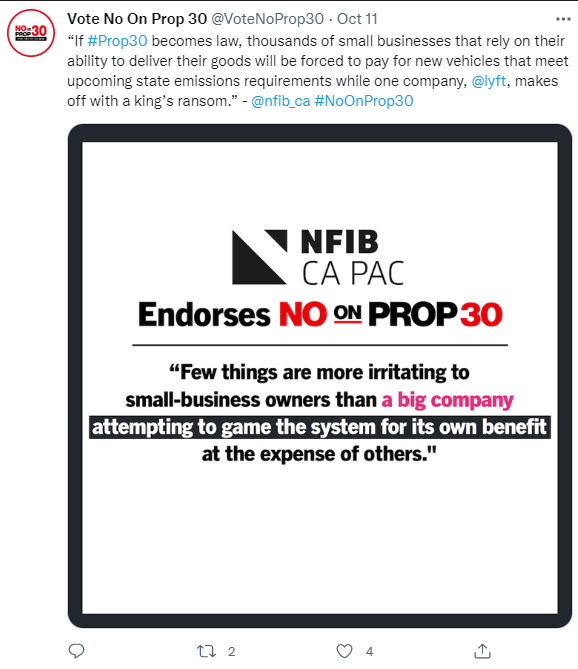 Speaking of Twitter, the district-specific news releases NFIB California sent to the media on each of its 25 endorsed candidates for State Senate and State Assembly were also tweeted, and, judging by the reactions of the endorsed candidates, were greatly appreciated as you can see in this collection of them.
Legislative Renter's Caucus Formed
According to The Capitol Morning Report, Assembly Members Matt Haney, Isaac Bryan, and Alex Lee have formed a Legislative Renter's Caucus to "tackle the major issues like repealing Costa Hawkins, reforming the Ellis Act and making housing affordable for all."
The three lawmakers are the only ones in the current 120-member Legislature who rent. Normally, such an imbalance would seem to be a safeguard against any really damaging proposal to emerge from the caucus, but it's important to remember that this is a Legislature that sought to seize control of every health-care decision Californians make and succeeded in taking every wage and workplace condition decision away from a whole industry. These and other "progressive" initiatives are not expected to slacken in the next Legislature.
Property taxes were the fourth biggest worry of NFIB members in the latest Small Business Problems & Priorities report—out of 75 issues. And in one of NFIB's special COVID-19 surveys, it found 54% of NFIB members renting the buildings their businesses operated from, 40% owned the buildings, and 7% had a mix of both.
On a related front, NFIB California was heavily involved in the defeat of Proposition 15 in 2020, which threatened small-business property tax protections by taking a run at Proposition 13. It is expected another run at Prop. 13 will be made again. In the meantime, NFIB California will keep a close eye on Haney and company to make sure a legislative front is not opened against Main Street enterprises.
For Your Amusement, or Maybe Not
Speaking of Haney, California is still flush (sorry, couldn't resist) with money. San Francisco's Noe Valley Town Square, a postage stamp of a public space along small-business-lined 24th Street, is finally getting a public toilet—just one, and for the bargain price of $1.7 million. It's expected to be quite a construction, because it will not be ready until 2025.
"Assemblymember Matt Haney (D-San Francisco) secured the $1.7 million from the state for the toilet after hearing 'loud and clear' from the community that families needed a bathroom," reported the San Francisco Chronicle.
"'They told me $1.7 million, and I got $1.7 million,' Haney explained. 'I didn't have the option of bringing home less of the bacon when it comes to building a toilet. A half a toilet or a toilet-maybe-someday is not much use to anyone.'"
A celebration party for the new toilet was subsequently cancelled.
"An Ominous Warning for California Economy"
The above headline led off a story by CalMatters.
"Economic warning signs are mounting in California — foreshadowing potentially tough budget decisions for the state officials and policymakers who emerge victorious from the Nov. 8 election.
"One particularly eye-popping statistic: Just nine companies headquartered in the Golden State went public in the first three quarters of 2022, compared to 81 during the same period last year, according to a Bloomberg News analysis.
"'We are already seeing an immediate effect,' Brian Uhler, deputy legislative analyst for the state Legislative Analyst's Office, told Bloomberg. 'And it does appear to be significant,' contributing to a 5% decline in California employers' income tax withholding payments in September compared to last year."
The Main Street Minute predicts there will not be many $2 million toilets in the 2022-2023 Fiscal Year budget.
NFIB National
Congress was off last week and will not return until after the election.
Next Main Street Minute October 31.