For the legislative and political week July 4-8
Happy Fourth of July
Welcome to the July 4-8 edition of the NFIB California Main Street Minute from your NFIB small-business-advocacy team in Sacramento.
Topline
The Legislature is on vacation for the month and will return August 1.
We have a state budget to start the new fiscal year.
Minimum-wage initiative fails to qualify for the November ballot.
Congress is in the second week of its break.
Bait and Switch on UI Money?
According to the 192-page Floor Report issued by the Assembly Budget Committee dated a day prior to Gov. Gavin Newsom signing a new state budget into law, it claimed there would be "$1.5 billion for Unemployment Insurance cost relief, including $1 billion to begin to pay down the federal loan, and $500 million, as early as the 2024-25 budget year, to provide rebates to small businesses to reimburse them for their increased costs."
But wait! According to Assembly Bill 178, the law he signed implementing the above promise, there was only $250 million committed to paying down the federal loan. Click the AB 178 link and scroll down to Item 7100, Section 201 to see for yourself. The other half of the promise was kept.
California's outstanding unemployment insurance debt to the federal government is just shy of $18 billion. The state currently has a $49 billion surplus to use at its discretion.
Other Parts of the Budget
Check out Pages 3-5 and 138-139 of the Floor Report (link above) to see if any immediate tax relief is coming your way as an individual or as a small-business owner. Here are some highlights of the latter, quoted verbatim from the Report.

Diesel Sales Tax Relief: $439 million to suspend the General Fund portion of the sales tax on diesel fuel, reducing costs by about 23 cents per gallon, which primarily benefits businesses.
Paid Sick Leave Relief: $250 million for relief grants for small businesses and nonprofits with up to 150 employees to offset costs of recently enacted Supplemental Paid Sick Leave program (Senate Bill 114).
Small Agriculture Drought Relief Grants: $75 million for the California Small Agricultural Business Drought Relief Grant Program at the Governor's Office of Business and Economic Development (Go-Biz), to provide direct assistance to eligible agriculture-related businesses that have been affected by severe drought conditions. This is in addition to significant other investments to support agriculture throughout the rest of the budget.

Adopts $30 million for GO-Biz to provide funding for operational and process improvements at ports, which includes improving data connectivity and enhancing goods movement and adopts placeholder budget and trailer bill language.
Legislatively, last week
It happened. Last week's Main Street Minute reported rumors that Sen. Monique Limon would pull her Senate Bill 958 from the Assembly Health Committee's calendar, but we warned everyone not to get too excited until it happened. Well, it happened. Came the committee's June 28 meeting, it was not on the agenda. With only a month left in the legislative year, it looks dead but as we always caution, no bill is ever really dead until the session ends.

Had SB 958 passed, it would surely have raised health-care premiums by severely limiting specialty pharmacies' ability to deliver critical medications to patients at the hospital or to their homes, thus allowing hospitals to markedly increase the costs of those medications, according to the Employers Against Healthcare Hikes webpage, which quotes NFIB.

Not such good news for the fast-food industry. Last Wednesday (June 28), the Senate Judiciary Committee, on a 7-1 vote, passed Assembly Bill 257 on to the Appropriations Committee.

If passed into law, AB 257 would seize control of all wage and other workplace decisions away from business owners and give them to a new state agency. This would affect more than 75,000 local businesses and 728,000 jobs.

Also passed by the Senate Judiciary Committee (8-1) last Wednesday was Assembly Bill 2183. NFIB is part of the coalition opposing the elimination of a farmworker's right to a secret ballot election, an election free from coercion from any party that has a financial interest in the outcome of the election. A secret ballot election recognized by Governor Brown's veto of SB 104 in 2011, Governor Schwarzenegger's veto of AB 1474 in 2010, and Governor Newsom's veto of AB 616 in 2021. AB 2183 goes back to the Senate Appropriations Committee.
A fuller report on NFIB's remaining agenda items in next week's Main Street Minute.
Minimum Wage Ballot Initiative Fails to Qualify
With the passing of a June 30 hurdle, the November ballot initiatives have been set—and one that will be absent from the ballot is a proposal to raise California's minimum-wage rate to $18 an hour. It failed to qualify by the deadline county clerks had to verify signatures.
"We think this is an absurd proposal that keeps recurring again and again … without the understanding of the fallout on Main Street and businesses crawling out from the COVID hole," NFIB California State Director John Kabateck told CalMatters in this story. Kabateck was also quoted by KTLA-TV Channel 5 in Los Angeles for this story.
Other ballot measures
Another proposal that will not be on the ballot is one taking aim at single-use plastics and other packaging waste. As part of an agreement, it was removed by the authors after Governor Newsom signed Senate Bill 54 into law, which the Los Angeles Times called it "… the nation's most far-reaching restrictions on single-use plastics and packaging."
Not that there will be a dearth of interest come November. The seven remaining ballot initiatives will touch on:

Reproductive Freedom (Proposition 1)
Gambling (Proposition 26)
Online and mobile sports wagering (Proposition 27)
Funding for the arts (Proposition 28)
Kidney dialysis (for a third time) (Proposition 29)
A greenhouse gas tax on the wealthy (Proposition 30)
And a referendum on flavored tobacco (Proposition 31)
NFIB California Podcast
Prior to the governor's signing of the state budget, Assembly Republican Leader James Gallagher stopped by to record a brief, 10-minute NFIB California podcast, where he gave his thoughts on how a relief package might have been better designed. "We could have easily covered a six-month suspension of the gas tax with our surplus money. We could have kept all the road projects going, and everybody would have been able to get relief."
National
Highlights from NFIB Legislative Program Manager Caitlin Lanzara's weekly report.
Last week, Congress departed for a two-week Congressional recess surrounding the Independence Day holiday (technically, the House of Representatives had a "committee work week," but any activity was virtual).
We expect the July work period to be busy with potential activity on a scaled-back Build Back Better Act (taxes and mandates), antitrust legislation, privacy legislation, and a U.S.-China competitiveness bill conference report.
The NFIB Small Business Legal Center had a busy and impactful week of decisions, briefs, and publications.

On June 30, the U.S. Supreme Court ruled in the case West Virginia v. Environmental Protection Agency, shielding small businesses from oppressive energy regulations and warning against future regulatory overreach from other agencies. Read the press release here.
That same day, NFIB filed an amicus brief in the case Restaurant Law Center v. City of New York at the U.S. Court of Appeals for the Second Circuit, opposing New York City's Just Cause Law. Read the press release here.
Also on June 30, the NFIB Small Business Legal Center released the E-Newsletter – "The Docket," which provides a monthly update on their work.

On June 30, NFIB Federal Government Relations released the monthly "Small Business Hill Brief" for June.
On July 1, NFIB State Government Relations released the newsletter, "SGR Connection."
This week, on Wednesday, July 6, NFIB will host a webinar titled, "Employee Retention Tax Credits (ERTC) – It's Not Too Late: What you need to know about claiming the tax credit in 2022." Register here.
Next Main Street Minute July 11.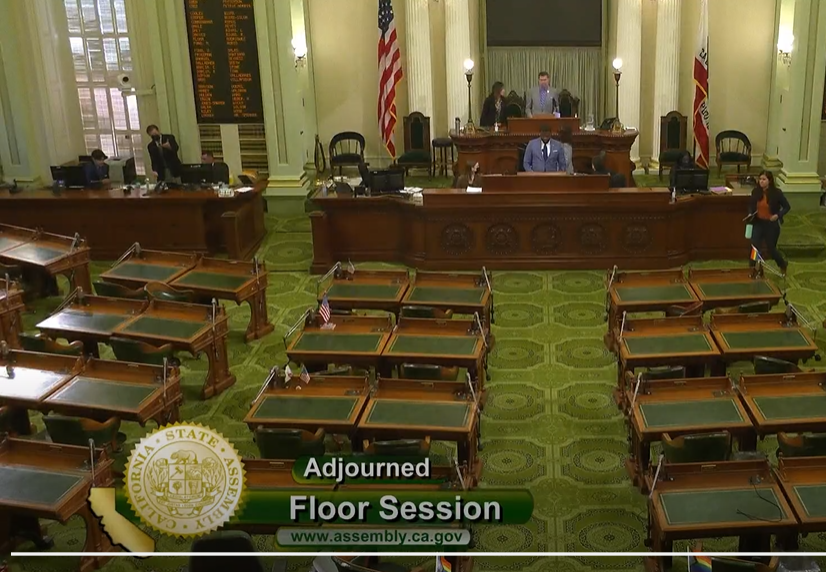 Photo snip courtesy of the California State Assembly media archives.