For the legislative and political week June 27-July 1
Welcome to the June 27-July 1 edition of the NFIB California Main Street Minute from your NFIB small-business-advocacy team in Sacramento.
Busy week passes; busy week ahead, as the legislative session draws to a frenzied close. Here are some key dates to keep in mind:
This Friday, July 1, is the last day for policy committees to meet and report on bills.
Upon adjournment July 1, the Legislature takes a summer recess.
The Legislature returns from vacation on August 1.
Upon adjournment August 31, the Legislature takes the rest of the year off.
Now, for the big news of last week.
NFIB Members Turn Out for Crucial CARB Hearing
"Hundreds of people lined up today to voice concerns about California's sweeping new climate strategy at a public hearing," reported CalMatters in this comprehensive story about the California Air Resources Board's (CARB) hearing on its scoping plan to reduce greenhouse gases. A plan that could wind up being the mother of all regulations.
NFIB had a healthy contingent of attendees. Among those testifying were NFIB Leadership Council member Jeff Pardini of Hills Flat Lumber Co. in Grass Valley; NFIB member Mark Skvarla of GPS Specialty Construction in North Highlands (Sacramento County); NFIB member Augie Venezia of Fairfax Lumber in Marin County; and NFIB California State Director John Kabateck.
NFIB thanks all its members who responded to the Action Alert and either provided comments remotely or attended the meeting in person. CARB's plan runs to 255 pages and leaves almost no one untouched by its proposals. A second hearing is planned for August with a final vote on the rule expected in the fall.
Legislatively, last week
Great News! … if it lasts. Late last Friday, Sen. Monique Limon announced she is pulling Senate Bill 958 from the Assembly Health Committee's calendar. It had been set for a hearing tomorrow, June 28.

Had it passed and become law, it would surely have raised health-care premiums by severely limiting "specialty pharmacies' ability to deliver critical medications to patients at the hospital or to their homes, thus allowing hospitals to markedly increase the costs of those medications," according to the Employers Against Healthcare Hikes webpage, which quotes NFIB.
"One common aspect of all U.S. hospitals is a desire to keep their pricing under wraps, to prevent patients from knowing how badly they and their insurers are being fleeced." – David Lazarus, Los Angeles Times, Dec. 10, 2021. Click here for a handy single page of information put out by the employers and here for another single page NFIB assisted the coalition with.
We don't want to pop the champagne corks yet. No bill is ever really dead until the session ends. We'll know more tomorrow but this was nice and encouraging news to end the week.
The week ahead
Fast Food Bill
Tomorrow, June 28, we'll find out how cavalier the Senate Judiciary Committee wants to get with the future of the "more than 75,000 local businesses and 728,000 jobs in our franchise sector," when it takes up Assembly Bill 257. Those were the numbers used by Gregg Flynn, president of the Flynn Restaurant Group, in a guest editorial for Capitol Weekly last week, where he discussed the lives at stake.

NFIB is virulently opposed to AB 257, a virulence fueled by the audacity of the measure, which calls for seizing control of all wage and other workplace decisions away from business owners and giving them to a new state agency.
That AB 257 has gotten this far is the biggest symptom of the anti-business virus afflicting the California State Legislature. It passed the Assembly 41-21 and faces almost certain success in the Senate, if it can leap the Judiciary Committee hurdle, tomorrow. That would leave only a veto by Gov. Gavin Newsom to stop it from becoming law, no certain thing even though he's a former business owner himself. But then, so is AB 257's author, Assembly Member Chris Holden, who describes himself as a former franchisee.
Agriculture Labor Relations
Will a fourth attempt succeed? Also on tap for tomorrow's Senate Judiciary Committee hearing is Assembly Bill 2183. NFIB is part of the coalition that last week sent a letter of opposition to AB 2183 to Sen. Tom Umberg, chairman of the committee. According to the letter, "This bill eliminates a farmworker's right to a secret ballot election that is free from coercion from any party that has a financial interest in the outcome of the election. This has been recognized by Governor Brown's veto of SB 104 in 2011, Governor Schwarzenegger's veto of AB 1474 in 2010, and Governor Newsom's veto of AB 616 in 2021."
National
Highlights from NFIB Legislative Program Manager Caitlin Lanzara's weekly report.
Congress starts a two-week holiday today.
On June 23, NFIB expressed concern with H.R. 8152, the American Data Privacy and Protection Act, which was considered by the House Energy and Commerce Subcommittee on Consumer Protection and Commerce. NFIB is concerned that the small employer exemption in H.R. 8152 is inadequate in its current form and will result in significant new regulatory burdens for small businesses. The bill must still be considered by the full committee before progressing to the House floor.
On June 21, the NFIB Small Business Legal Center filed an amicus brief at the U.S. Supreme Court, in the case National Pork Producers Council v. Karen Ross, arguing that California's Proposition 12 imposes onerous regulations on pork producers nationwide and violates the Commerce Clause of the Constitution. Read more here.
On June 17, NFIB opposed the Norcross amendment to the National Defense Authorization Act for 2023. This amendment would codify the Department of Labor's (DOL), Wage and Hour Division's rule entitled, "Increasing the Minimum Wage for Federal Contractors." Read the one-pager here.
Next Main Street Minute July 4.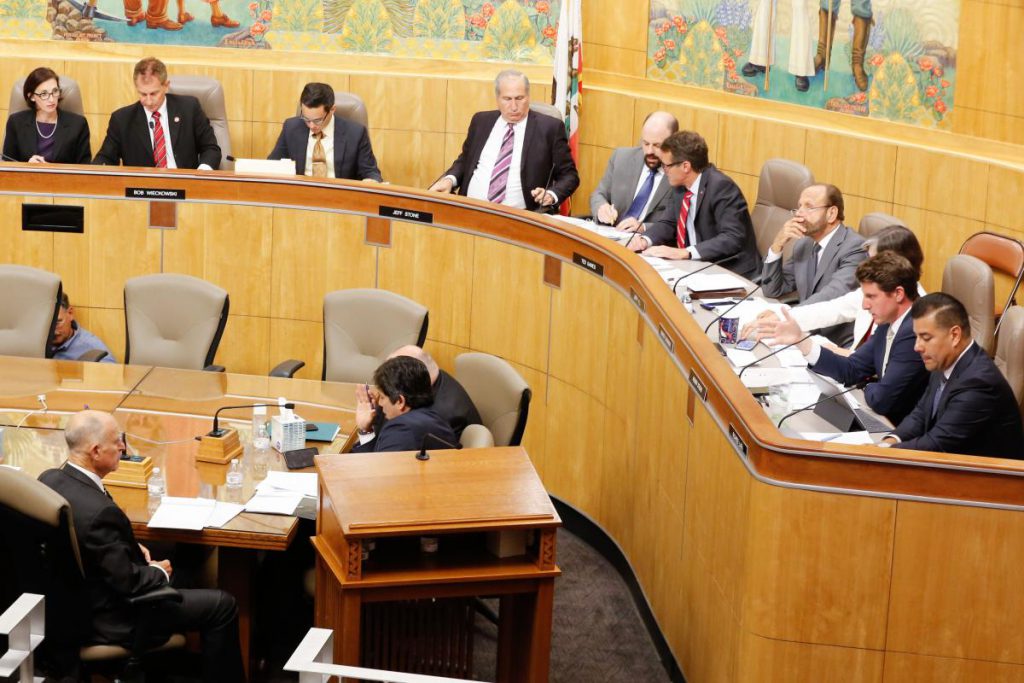 Photo snip courtesy of the California State Senate website