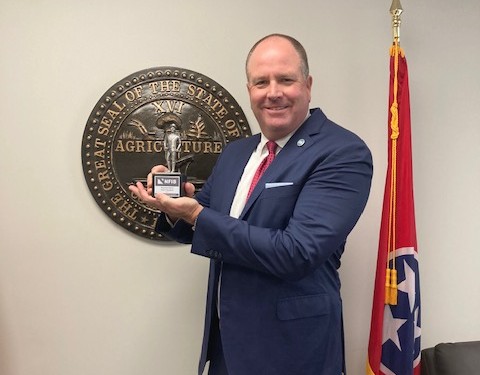 The Tennessee office of NFIB, the state's leading small business advocacy organization, today announced that state Rep. Kevin Vaughan (Collierville) has earned its Guardian of Small Business award. Vaughan represents House District 95, which includes part of Shelby County.
The Guardian of Small Business award is the most prestigious honor that NFIB bestows on legislators in recognition of their efforts to support small business. The NFIB Tennessee Leadership Council, an advisory board comprised of NFIB members, voted to present the award to the legislator for his outstanding leadership on small-business issues.  NFIB State Director Jim Brown joined several NFIB members yesterday in presenting the award to Representative Vaughan at his legislative office in Nashville.
Brown said Vaughan's leadership as chair of the House Commerce Committee last session was exceptional, benefiting small businesses across the state. In addition, Vaughan sponsored a significant unemployment modernization bill, HB 1039/SB 1402, which will help more Tennesseans transition back to work sooner, while helping more unemployed Tennesseans receive more money immediately after being laid off from work. The "indexing bill" is forecasted to be positive to the unemployment trust fund by $17 million a year, improving solvency and making it less likely that Tennessee would have to borrow from the federal government in future downturns. 
"Kevin Vaughan's leadership in the General Assembly is greatly appreciated by small businesses in his district and across Tennessee," said NFIB State Director Jim Brown. "He has a perfect NFIB voting record and keeps a sharp eye on legislation that could hurt small businesses in our state. Chairman Vaughan is working hard in his leadership role to make Tennessee an even better state in which to own, operate and grow a small business."
"It's a great honor to receive the NFIB's Guardian of Small Business award," said Vaughan, an NFIB member since 2018. "I believe our role as legislators is to ensure we take excessive burdens off our small businesses, keep taxes low and listen to them to learn ways we can improve Tennessee's strong business environment. I'll continue to fight hard for small businesses every way that I can."
Vaughan is the founder and owner of Township Development Services in Collierville.