Tuesday was Election Day for governor, the state legislature, and local and municipal offices across New Jersey.
The gubernatorial contest between incumbent Phil Murphy (D) and Jack Ciattarelli (R) remained extremely close and undecided well into Wednesday night. As of this morning, Murphy holds a roughly 25,000 vote lead, after trailing Ciattarelli through most of the count, and has been declared the winner by the Associated Press.
In response to Murphy's declaration of victory late yesterday, Ciattarelli campaign Communications Director Stami Williams made the following statement: "With the candidates separated by a fraction of a percent out of 2.4 million ballots cast, it's irresponsible of the media to make this call when the New Jersey Secretary of State doesn't even know how many ballots are left to be counted."
Whatever the ultimate outcome, NFIB members enthusiastically supported Jack Ciattarelli's endosement by NFIB New Jersey PAC, the state's most effective and influential small business political action committee, and were active supporters of his campaign. Last month, Ciattarelli, a business owner and former state legislator who was awarded the NFIB Guardian Award, participated in a virtual meeting with NFIB members, and he visited a member business in Burlington County.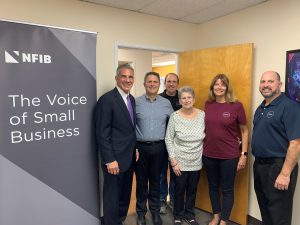 NFIB NJ had also announced a bipartisan slate of endorsements for the New Jersey Senate and Assembly for the November 2nd election and supported those candidates in small business events across the state. As of this morning more than 80 percent were victorious, with that number sure to go up as the undecided races are called.
NFIB will update members soon about the final election results and the strength of pro-small-business candidates at the polls.