NFIB lobbying to make sure it translates into meaningful, long-term tax relief.
On December 7, Minnesota Management and Budget (MMB), the agency in charge of the state's finances, announced a projected $7.7 billion surplus for state fiscal years 2022-23. The largest drivers of the projected surplus are increases in corporate franchise tax revenue (+40.6%) and individual income tax (+10.1%) compared to earlier estimates.
This amount grows larger after factoring in an additional $1+ billion taken off the top of the surplus to meet existing statutory obligations:
$870 million transferred to state budget reserve fund
$359 million for repeal of the June Accelerated Sales Tax Shift (long a priority for some businesses)
$111 million transferred to the Vikings Stadium payment account
$4 million to the 21st Century Mineral Fund
The surplus does not include $2.7 billion in the state's budget reserve account, $1.1 billion in unspent federal pandemic relief funds, or an estimated $6 billion in federal money from the infrastructure bill passed by Congress last month.
A $7.7 billion surplus is a staggering figure, even for longtime Capitol observers. While it's not fully clear how much of the surplus is ongoing or occurred from one-time spikes in certain receipts, it's obvious the state is overtaxing hardworking Minnesotans.
NFIB will work hard to ensure the surplus results in meaningful, long-term relief for the small businesses that are the backbone of our state's economy.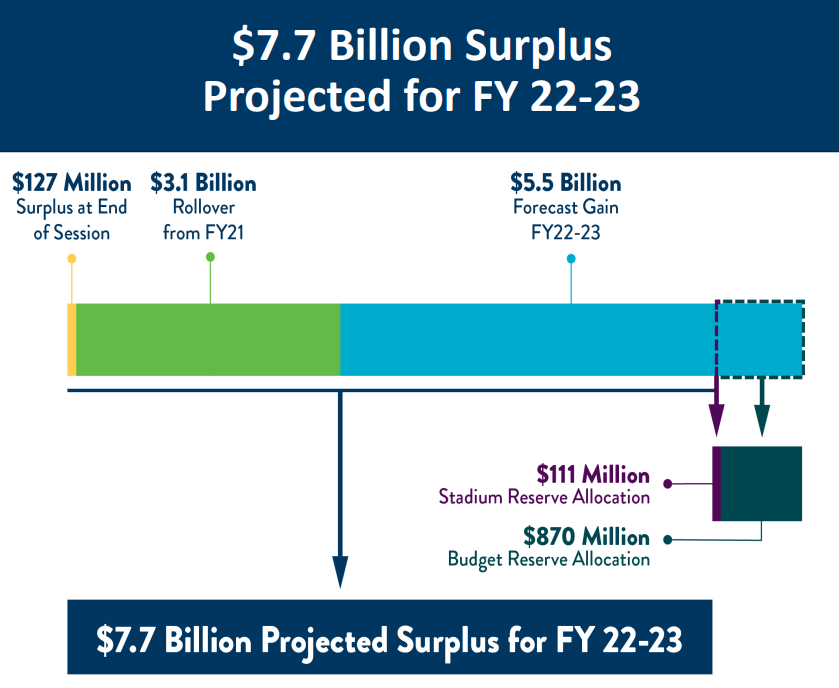 Above graphic courtesy of the Minnesota Management and Budget office November 2021 Economic Forecast, Page 3.
https://mn.gov/mmb-stat/000/az/forecast/2021/budget-and-economic-forecast/november-forecast-presentation-2021.pdf