Iowa NFIB members share personal stories with Rep. Cindy Axne's Office
NFIB members in Iowa met virtually with Rep. Cindy Axne (IA-03) recently to share their concerns with the proposed Build Back Better Act, a federal bill that is being discussed at the nation's capital right now. Small business owners shared their stories, giving the Iowa congresswoman examples of how the legislation would hurt their ability to create jobs and expand their business. Iowa small business owners' concerns with the bill include the creation of new mandates, tax increases, and additional penalties on small businesses that are already struggling thanks to the continuing COVID-19 pandemic.
Jerry Akers, an Iowan who owns and operates a number of Great Clips chains in Iowa and Nebraska, asked the congresswoman's staff to put themselves in the shoes of small business owners right now. "Can you imagine trying to run a small business right now amidst the uncertainty of the economy? If Congress further increases regulations and mandates, I will have to increase costs on my customers because I will have to pay more for costs. Not only will my customers lose out, but my employees will also as well because I will be forced to cut their hours and pay simply so I can break even." Akers spoke about how the (ERTC) Employee Tax Retention Credit has helped him keep his staff on payroll and how eliminating that credit would be harmful to helping him fund his payroll in the 4th quarter.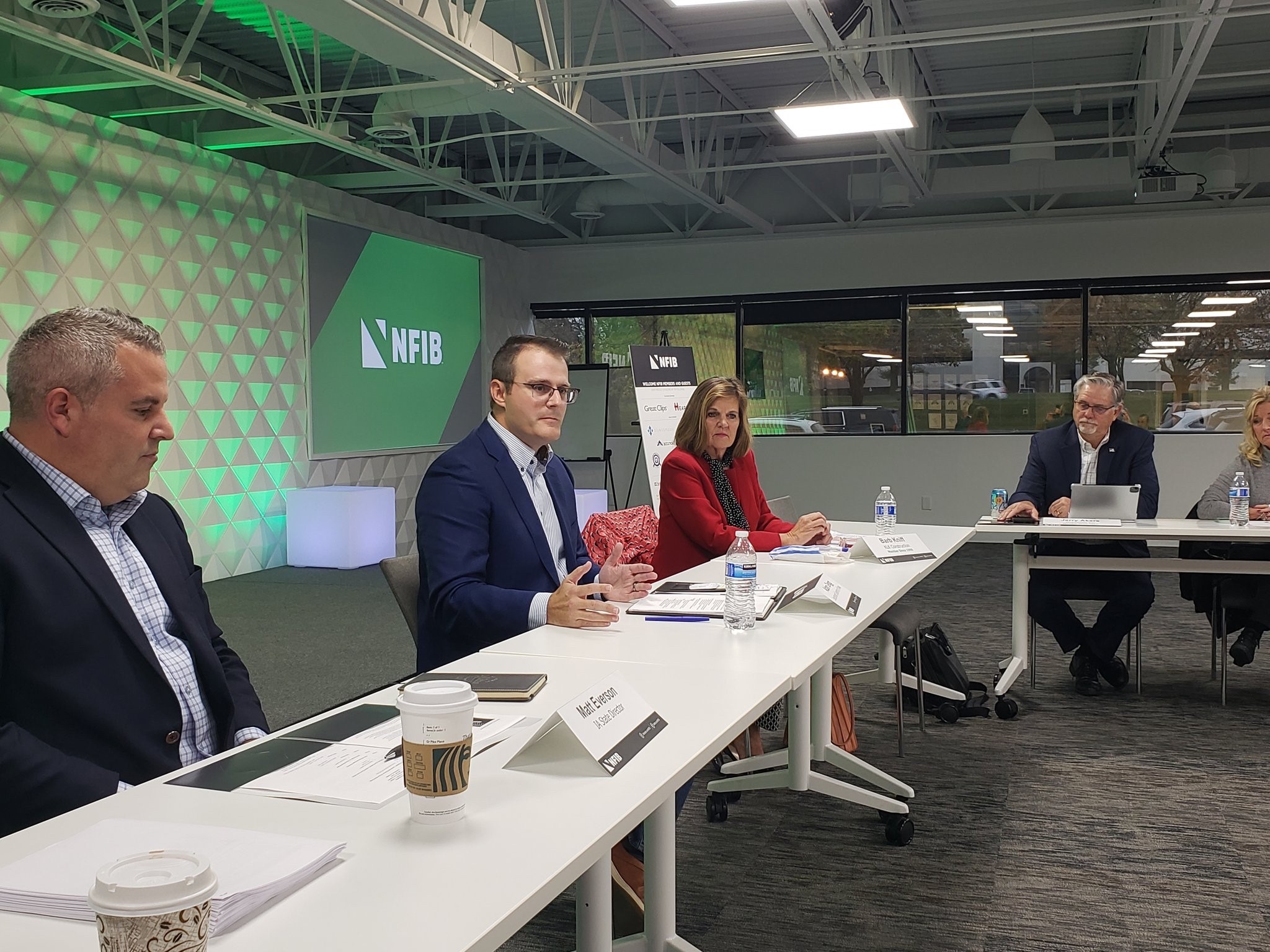 Iowa NFIB State Director Matt Everson, left, talks with Lt. Gov. Adam Gregg and NFIB members including Barb Kniff of KLK Construction from Pella, and Jerry Akers, the owner of multiple Great Clips small businesses in Iowa and Nebraska.
Cary Coppola is the co-owner of Blue Compass in West Des Moines. He started his small business in 2007. He's grown exponentially since then, hiring more than 30 employees to become one of the Midwest's leading digital marketing companies. However, thanks to increased taxes coming out of the COVID pandemic, Coppola worries the profits allocated to employee raises will be much lower, directly impacting his staff. "Health care costs are one of the biggest strains on our business right now. Our premiums have increased by nearly 50% in the last 2 years. The job market is tight right now and it's hard to hire qualified employees. I want to keep providing my staff with bonuses and raises, however, if the Build Back Better Act becomes law, not only do I worry about adequately rewarding my employees, but I will be forced to pass along increased costs to my customers."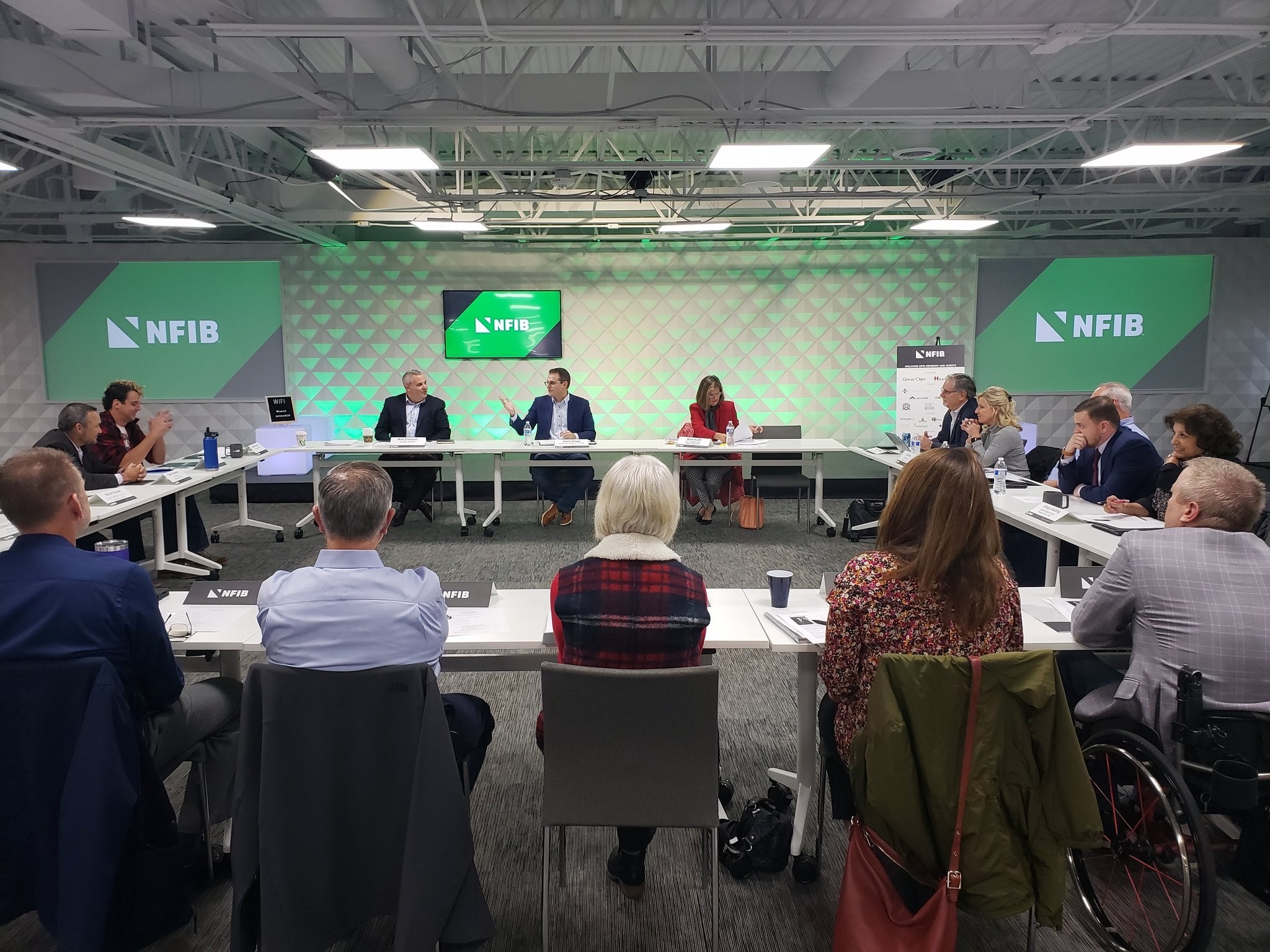 Iowa LC members meet with Lt. Gov. Adam Gregg and Iowa NFIB State Director Matt Everson in October for their regional meeting.
Lana Pol's father founded Geetings, Inc. in 1972. The trucking and warehousing business quickly expanded and now includes several other small businesses in Pella and Des Moines. "We have spent the pandemic trying to expand. We pay our employees more than the minimum wage and used the Tax Cut Jobs Act to reinvest in our employees and our business. However, if this Build Back Better Act passes Congress, it will take my small business and my employees back – and not in a good way. So far, we have survived the pandemic. The BBB Act would force undue regulatory burdens on our backs."
NFIB is encouraging our members to take action on our latest alert to join fellow business owners in sharing how tax increases and new mandates will impact your business. 
Click here to share your story: No New Mandates and Tax Increases on Small Business.