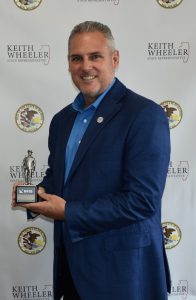 State Representative Keith Wheeler (R-Oswego), the Illinois House assistant minority leader, was recognized today with the "Guardian of Small Business" award by the National Federation of Independent Business (NFIB), Illinois' leading small business association representing 11,000 businesses across the state. Every two years NFIB Illinois scores legislators based on their voting record in the General Assembly on issues impacting small business. Rep. Wheeler was chosen to receive the award for his 100% positive voting record during the 2021 legislative session.
"I am proud to stand with the men and women of our small business community here in the Fox Valley and across the state," Rep. Wheeler said. "They are truly the backbone of our state and local economy. I would like to thank NFIB Illinois for their advocacy on behalf of the innovators and entrepreneurs who create jobs and opportunity for Illinois families. They are leading the way as Illinois emerges from the pandemic with resilience and determination."
NFIB Illinois State Director Mark Grant presented Rep. Wheeler with the award today and shared the reasons that made the Oswego Republican the organization's clear choice for this prestigious honor: "As the owner of a tech consulting business serving clients in the Chicagoland area for almost 30 years, Representative Wheeler understands the challenges job creators face every day. Keith has been an NFIB member since 1992, having served on our Illinois Leadership Council which he chaired for two years. He also helped form and chaired an NFIB Area Action Council in Kane County.  Since joining the Illinois House of Representatives in 2015, Keith has a consistent 100 percent voting record with NFIB and is small business' most hardworking and vocal ally in the Statehouse. He works effectively across the aisle and is poised to continue making a difference for job creators and job seekers in the years ahead."
Representative Wheeler serves the 50th District which includes portions of Kane and Kendall Counties. To learn more about NFIB Illinois, please visit https://www.nfib.com/illinois/.