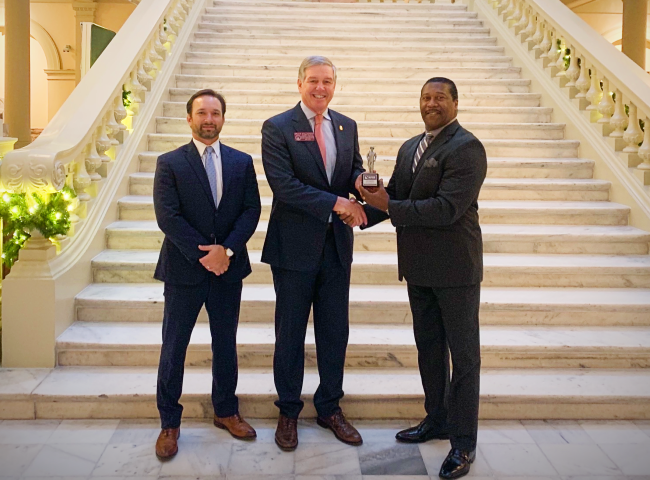 The National Federation of Independent Business has presented state Rep. Bruce Williamson (115th District) with its coveted Guardian of Small Business Award.
The Guardian of Small Business award is the most prestigious honor that NFIB bestows on legislators in recognition of their efforts to support small businesses. The NFIB Georgia Leadership Council, an advisory board comprised of NFIB members, voted to present the award to Representative Williamson for his outstanding leadership on small-business issues. 
Williamson sponsored House Bill 150, which will ensure we have a state-wide energy policy to maintain the same choices for Georgia's homeowners and businesses alike, and House Bill 149, legislation that eased the tax burden on many small businesses. 
"House Bill 149 was a priority for NFIB in the 2021 legislative session," NFIB State Director Nathan Humphrey said. "The bill amended the Georgia tax code to provide S corporations and partnerships an election to pay their Georgia state business income taxes at the entity level, thereby restoring the full federal tax deduction for Georgia business income taxes. It provides more flexibility to business owners and allows them to keep more of their hard-earned money to reinvest in their businesses."
Representative Williamson said, "I am honored to receive this award from the National Federation of Independent Business. Small business is what drives Georgia's economy, and I believe we must do everything we can to help small businesses succeed."