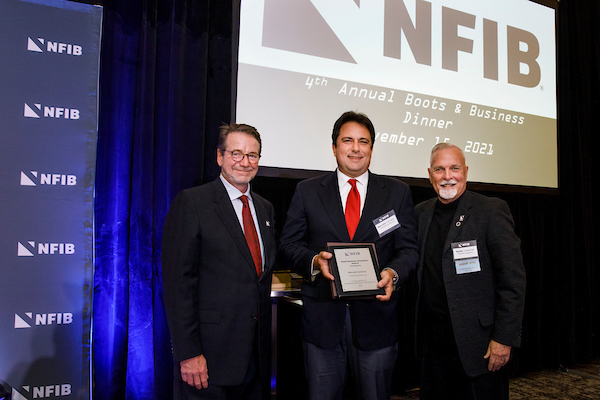 NFIB State Executive Director Bill Herrle recently presented SilverHorse Racing of Melbourne with a Small Business Champion Award in recognition of the creative way it persevered during the COVID-19 pandemic.
SilverHorse began as a home-based business in 2003, Herrle said. "They manufacture high-performance automotive products for every consumer, but also industry leaders like Ford, Shelby American, and they've even manufactured specialty products for Space X.
"During the COVID crisis, they've invested in new equipment and actually expanded their business," Herrle said when presenting the award to owner Marcello Canitano at last month's NFIB Boots & Business Dinner in Tallahassee. 
"Marcello … was commenting to me that over the course of this crisis, he found customers who were approaching him who he'd never had before from other states, and he … figured out that these other businesses in states that were shut down," Herrle said. "He saw an opportunity that Governor DeSantis had given him in allowing him to keep his business open, and now Marcello is reporting that over half of his business is from states that were previously shut down." 
"SilverHorse Racing has gone from a home-based business to a local business to a regional business and, thanks to the leadership of Governor DeSantis, has become a national firm."