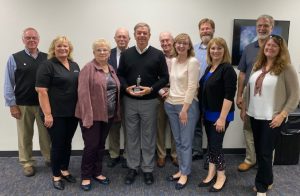 Mark Grant, the state director for NFIB in Illinois, has announced his forthcoming retirement in December of this year. Mark has served as the state director since 2016 and was the assistant state director prior to that, starting his career with NFIB in 2004.
Mark has been a small business advocate for NFIB members and small businesses in Illinois state government through numerous swings in the political landscape and many economic ups and downs. Through it all, Mark never lost his focus and perseverance as being NFIB's "voice of small business" in Illinois. He was given the Guardian of Small Business advocacy award for his years of service.
"It would be natural to think that, as a lobbyist, I would look back on significant pieces of legislation, major tax initiatives, or onerous regulations that NFIB helped defeat or pass as the highlights of my career," said Grant. "While these are important milestones, I believe the relationships and friendships I have had the good fortune to develop in my role here are the most valuable legacies and the ones I will treasure most."
Grant did cite one recent victory he is particularly proud of, the 2019 defeat of the proposed change to the Illinois income tax system from flat to graduated rates. The proposal would have given the state legislature carte blanche to pass annual tax increases on Illinois small business and citizens. NFIB, along with three other business groups, led a statewide grassroots campaign that was instrumental in defeating the proposal.
"I am also grateful to the NFIB small business members I have come to know and for the many who've committed their time and energy to our collective efforts to protect their right to own and operate a business in Illinois," said Grant.
NFIB wishes Mark the best in his future endeavors as we begin the process to find the right person to continue his dedicated work in Illinois.