Indiana owners cited labor quality as top business problem
Small businesses reported a historically high level of job openings in November, according to NFIB's monthly jobs report. Overall, 53% reported hiring or trying to hire in November, down 2 points from the previous month. A seasonally adjusted net 21% of owners are planning to create new jobs in the next 3 months, up 3 points from October.
"Many small business owners here in Indiana are ending the year with positive growth, however, many industries, especially the service and retail industry, are still struggling," said NFIB State Director in Indiana, Barbara Quandt. "The good news is that more small business owners are looking to hire, but according to this new survey, many are still having trouble finding qualified workers to fill those positions."
In Broad Ripple, small business owner Mike Kelly plans on hiring up to 21 new Hoosiers in the next few years. That's because his company, FullStack, has seen a huge increase in demand for their services since the coronavirus pandemic started. With COVID-19, there has been more remote work opportunities, which has led to an increased need for remote HR services. FullStack is a PEO, or professional employer organization that provides human resources services such as payroll, 401k programs, and benefits to other small business startups.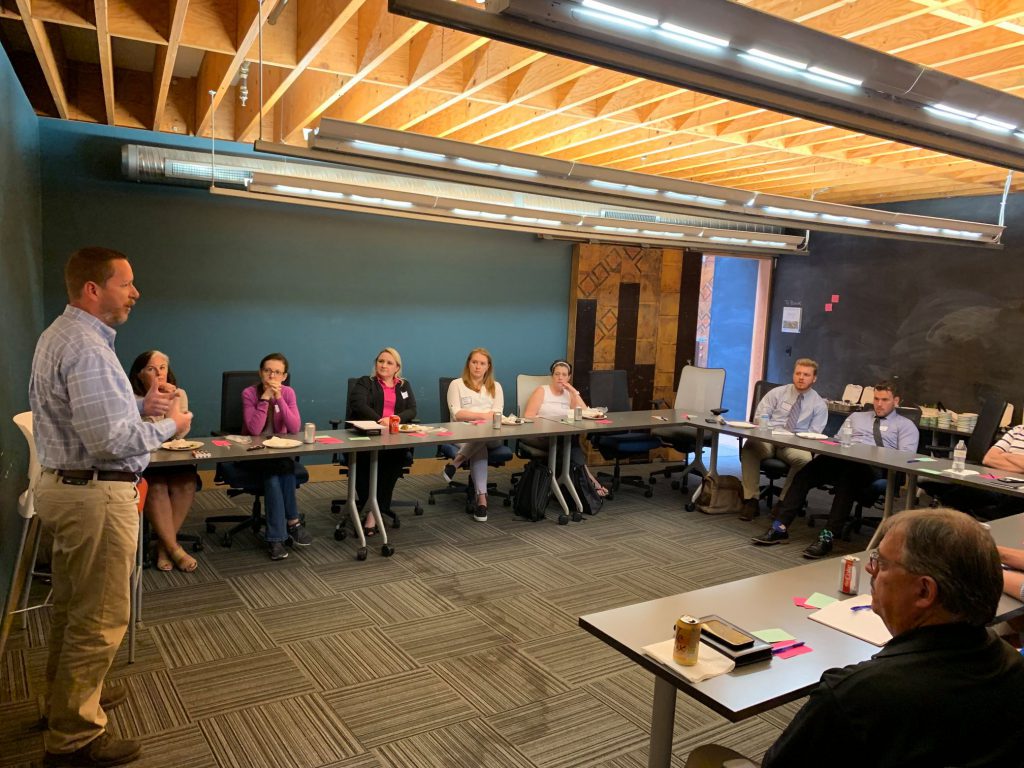 Mike Kelly, founder of Fullstack, talks with a group of Indianapolis tech leaders.
Fullstack launched in 2018 but this year has been a boon for his small business, calling it a breakthrough. Kelly says his favorite part of being a small business owner is the ability to change rapidly with the market. "It's amazing how fast a team can move to take advantage of an opportunity when they are small, hungry, and willing to work hard and believe in their product.
Right now, Fullstack employs six people in Indiana, which means they will more than triple their workforce in the coming years. Kelly does worry about finding qualified workers, saying he's had some job postings that have sat on job boards for months. Finding the right people is key to growing a small business and he's ready to hire experienced workers in human resources, payroll, finance and sales starting next year.
Thirty-four percent (seasonally adjusted) of owners reported job openings they could not fill in the current period, up 1 point from October's reading. Eighty-nine percent of those owners trying to hire reported few or no "qualified" applicants for the positions they were trying to fill. Twenty-seven percent of owners reported few qualified applications for their positions and 20% reported none.
Twenty-nine percent of owners have openings for skilled labor and 13% have openings for unskilled labor.
Six percent of owners cited labor costs as their top business problem (down 2 points) but 24% said that labor quality was their top business problem (up 2 points), exceeding the percentages selecting taxes, regulations, and weak sales as their top problem.
Forty-two percent of the job openings in construction are for skilled workers, down 2 points. Fifty-three percent of construction firms reported few or no qualified applicants and 37% cited the shortage of qualified labor as their top business problem.
Firms increased employment by 0.16 workers per firm on average over the past few months, an increase of 0.06 workers per firm compared to October's reading. Up 1 point, 12% reported increasing employment an average of 2.6 workers per firm and 14% reported reducing employment an average of 3.1 workers per firm (seasonally adjusted).
A net 24% (seasonally adjusted) of owners reported raising compensation and a net 20% plan to do so in the coming months. The labor market is tight, and owners cannot find qualified workers to fill open positions.
Click here to view the entire NFIB Jobs Report.
###