Small Business Owners Say Punitive Damage Legislation Provides Peace of Mind
Small business owners from across the state, along with NFIB State Director in Missouri, Brad Jones, thank Governor Mike Parson for signing legislation into law that makes Missouri a more friendly place to own and run a small business. The bill will provide much needed protections against frivolous lawsuits, however, as the governor hinted today, more needs to be done for small business owners in the wake of the COVID-19 pandemic.
"The passage of this bill comes at a critical time for Missouri small business owners. Many are on shaky financial ground as they re-open and try to build back their finances and customer base," says NFIB State Director in Missouri Brad Jones. "This bill provides them with some peace of mind as they responsibly and safely re-open to both customers and employees. Thank you, Governor Parson for signing this important bill into law."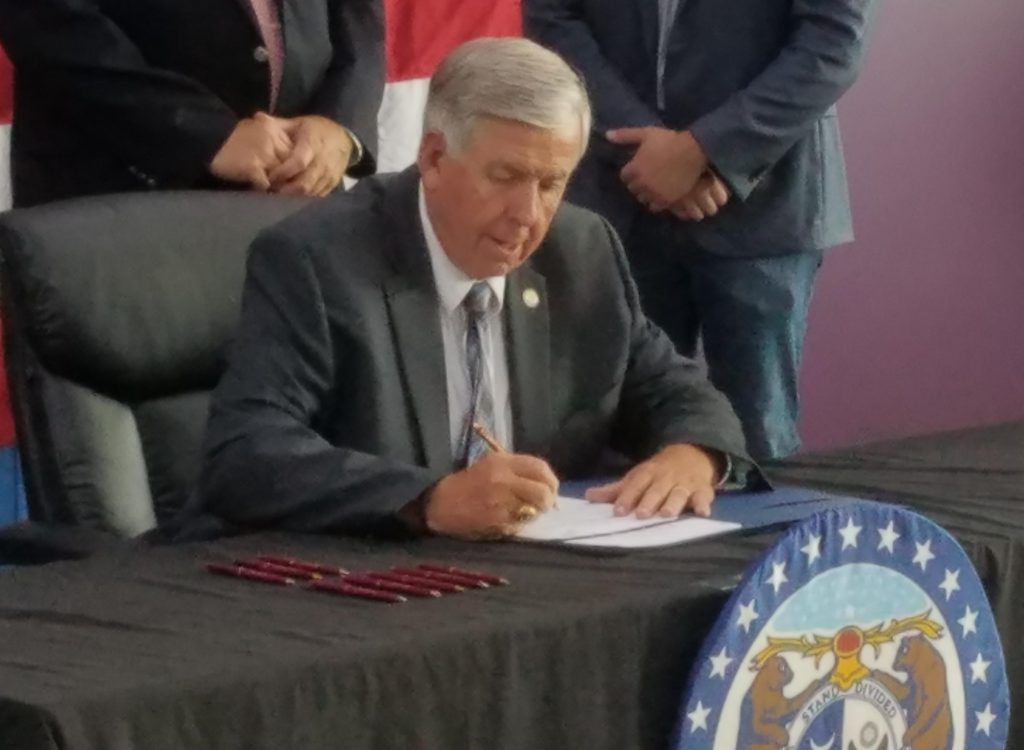 Gov. Parson signs SB 591 into law on July 1, 2020.
Jones was at today's bill signing, which took place at Discovery Design Truck and Manufacturing in St. Peters. He's urging the Governor to call a special session to pass liability for small business owners who are responsibly re-opening and taking measures to protect both their employees and customers.
SB 591 will protect small businesses from frivolous lawsuits that could destroy a business that took decades to build. Right now, in Missouri employers can be held liable for the actions of their employees simply because they were working for that employer when they harmed someone else. This legislation changes that standard to something much more fair: employers may only be found liable for the acts of their employee if they ordered the employee to act in a manner that caused harm, if they knew about the act, or if the employer knew that their employee was unfit to do their job.
Small business owners are especially at risk for punitive damages. Most punitive damage payments are not covered by insurance policies.
The legal climate is one of the critical factor's companies look at when they expand to other states. According to a study from the Perryman Group, frivolous lawsuits cost the state of Missouri $2 billion in direct costs, $3.1 billion in output, and 32,205 jobs. You can read the entire survey here.