NFIB Member, State Senator Joins Governor at Liability Protection Bill Signing
NFIB, or the National Federal of Independent Busines, Indiana's leading small business organization, thanks legislators for passing and the governor for today signing important small business liability reform. Small business owners in Indiana are still facing challenges from the COVID-19 pandemic as they continue to re-open safely while protecting their customers and employees. Now, thanks to the actions of our legislators, some small business owners themselves, Indiana members don't have to face the additional worry of getting hit with frivolous and unmerited lawsuits.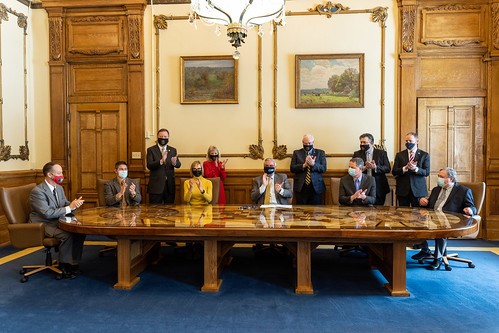 Sen. Mark Messmer, left, a champion of small business and small business owner himself, claps as Gov. Holcomb signs a bill today that protects small businesses in Indiana from frivolous lawsuits. 
"Liability protection is a big win for our struggling small business owners here in Indiana," said Barbara Quandt, NFIB State Director in Indiana. "A big thanks to our governor and lawmakers for their recognition that protecting our small business owners during this critical time from the worry of getting slapped with a lawsuit will give them peace of mind as they continue to recover from this pandemic. Our small business owners are doing everything they can to keep their customers and employees safe while complying with state, local and federal laws. This is a great step not only to help small businesses, but help the state recover from this economic and health crisis."
At today's signing was Sen. Mark Messmer, a long-time member NFIB member of more than 20 years. Messmer has served southern Indiana Hoosier for more than 10 years. "SEA-1 is a very important law for protecting small business owners from a potential COVID-19 civil lawsuit. The NFIB member independent small business owners are the most vulnerable group of businesses that could be wiped out financially by trying to defend themselves in a frivolous COVID-19 lawsuit.," said Sen. Messmer.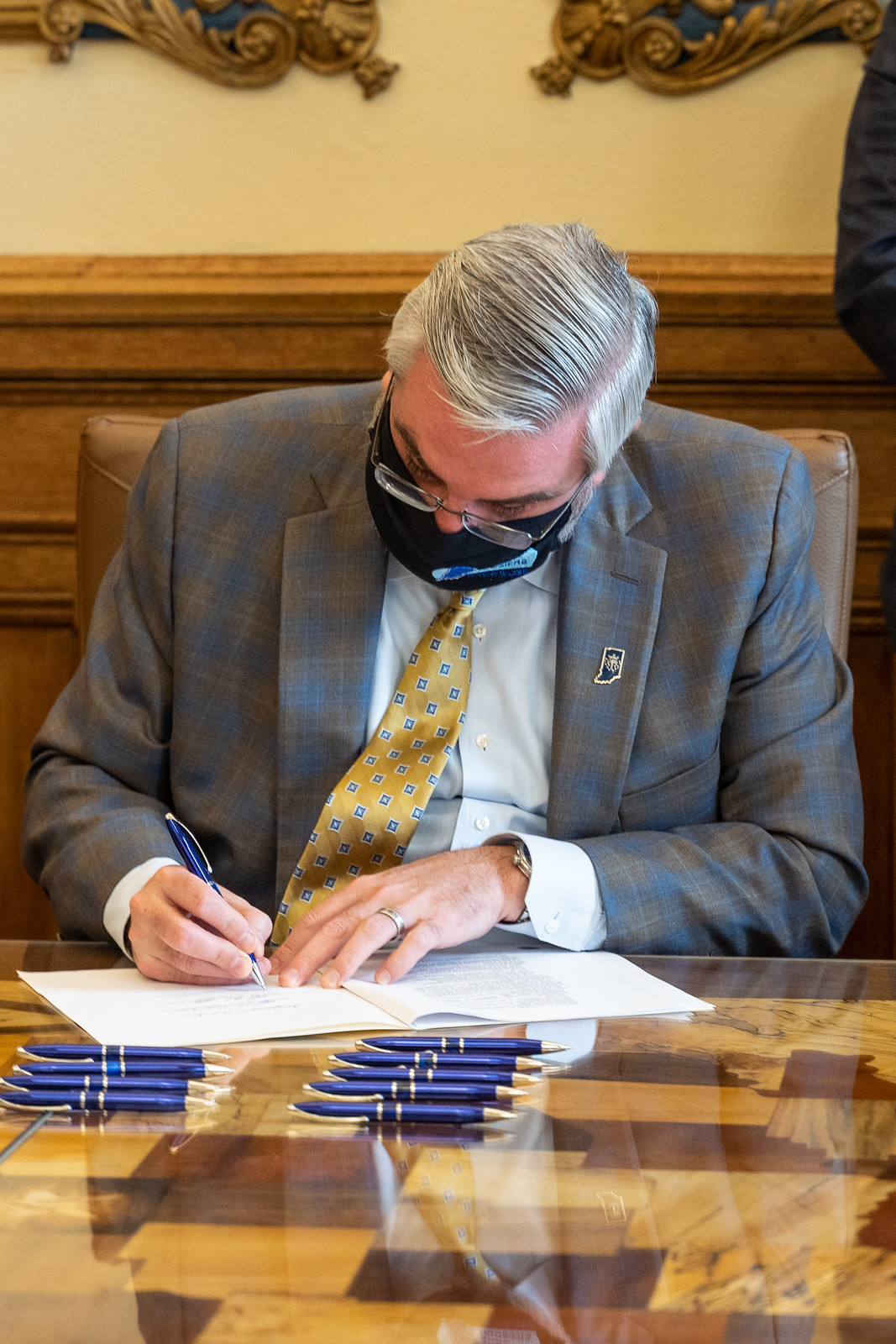 Gov. Eric signs a bill today that includes important liability protections for small businesses here in Indiana.
A small business owner himself, Sen. Messner is an engineer who co-owns Messmer Mechanical Inc., a mechanical contracting business in Jasper. Messner manages various projects with his customers in the manufacturing and health care industries. Messmer is the author of the COVID-19 liability reform bill and has worked tirelessly for months to get this important legislation through the finish line.