For the legislative and political week August 16-20
Welcome to the August 16-20 edition of the NFIB California Main Street Minute from your NFIB small-business-advocacy team in Sacramento.
They're Back!
Legislators return from their summer recess this afternoon (August 16). They'll beaver away until September 10 when they break for interim recess and then return Jan. 3, 2022, for the second half of the 2021-2022 session.
Quick Information Links
Here is a list of the 32 bills NFIB California has fought for and won, fought against and lost, is fighting to pass, and fighting to defeat. The list is as of July 15 when the Legislature broke for its summer recess. It will be updated periodically.
Member Survey
NFIB California Grassroots Manager Taylor Criddle is building an impressive army of small-business activists and has sent this survey to the 700 California members who have responded to Action Alerts he has sent out this year. The goal is to gauge their willingness to keep it up and perhaps take their activism a step further.
The importance of what Criddle is trying to achieve cannot be understated. It is everything. Although NFIB prides itself on the quality of its legislative advocates it has on staff, no one – No One! – commands the attention of policymakers better than a small-business owner. Here on one page are the reasons why.
Podcasts
Although not part of NFIB California's regular series of podcasts, State Director John Kabateck occasionally teams up with brother Brian to produce a series of KabaTalks podcasts. Their latest KabaTalks podcast features a conversation with Sacramento Mayor Darrell Steinberg, a former president pro tem of the California State Senate. Steinberg discusses his years as a legislator and says that as mayor, his "biggest challenges are with the left."
In the Media
Leadership Council Member Manny Cosme and State Director John Kabateck were quoted in a Sacramento Bee story on the state's unemployment insurance debt it owes the federal government. "My gut feeling is businesses will be left to pay the bill," said Cosme "We would rather pay our employees more or pay something to their benefit than pay all in taxes."
Kabateck also addressed the UI topic in an interview with the Southern California Record.
Federally
NFIB's Federal Ballot launched Thursday, August 12, on the following topics: unemployment benefits, taxes at death, shift scheduling mandates, IRS enforcement, and local waters regulations. NFIB members can vote at NFIB.com/VoteMyBallot.
This week is a congressional recess for both the Senate and House. Legislators will be back in their states/districts.
Last week was a busy one for NFIB:
On Tuesday, August 10, the NFIB Small Business Optimism Index decreased in July to 99.7. Read about it here.
On Wednesday, August 11, NFIB's Holly Wade was key speaker on CNBC's Kate Rogers' Small Business Playbook: Actionable Advice to Grow in the New Economy. Visit CNBC.com/small business.
Also on Wednesday, August 11, NFIB hosted a webinar on "EIDL Microloans and PPP Direct Forgiveness Portal with Veronica Pugin, Senior Advisory to SBA's Office of Capital Access." Watch it here.
On Thursday, August 12, NFIB hosted Small Biz Coffee Corner on Facebook Live with Beth Milito and Holly Wade. Watch it on Facebook.com/NFIB.
Next Main Street Minute August 23.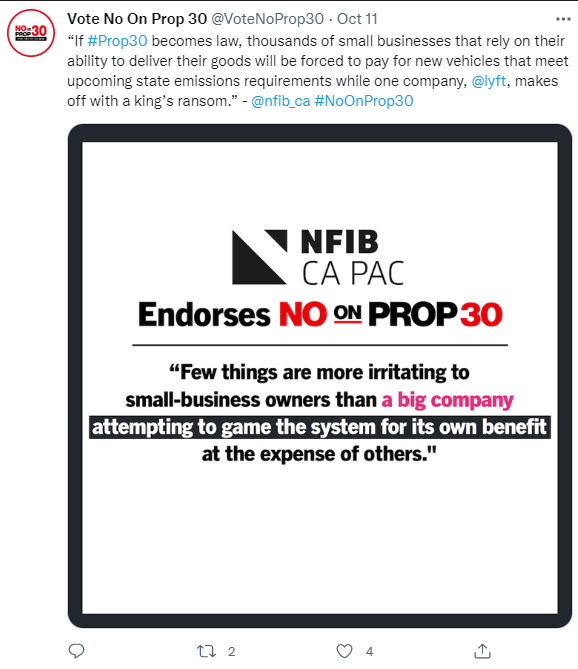 Photo snip courtesy of the California State Assembly website