For the legislative and political week July 5-9
Welcome to the July 5-9 edition of the NFIB California Main Street Minute from your NFIB small-business advocacy team in Sacramento.
Big Legislative Vote
The big news for small business was Wednesday's (June 30) passage of a state budget trailer bill that included Assembly Bill 150, which most importantly contains the pass-through entity elective tax – a work-around the SALT caps placed on tax deductions by the federal Tax Cuts and Jobs Act of 2017.
AB 150 "Creates an elective tax that pass-through entities can annually elect to pay on behalf of their owners and allows an equal credit to those owners that consent to have the tax paid on their behalf … The bill applies beginning in the 2021 taxable year, and ends after the 2025 taxable year."
More about the elective tax can be read on Page 24 of the budget trailer bill that also includes expansions and enhancements to the Main Street Hiring Credit, the California Competes Tax Credit, and the addition of a new Homeless Hiring Credit.
NFIB lobbied extensively for AB 150, which passed both the Assembly and Senate and awaits Gov. Gavin Newsom's signature once other elements of the budget trailer bill have been agreed to.
Unemployment Insurance Trust Fund Taxes
As of July 1, California owed the federal government just over $22 billion on the loans it took out to shore up its unemployment trust fund, money that is used to pay unemployment benefits. It will have to be paid back with increased taxes on employers—there's no other way around it. Or is there?
Not all states are in a similar situation. Most managed their trust funds better. California is one of 20 states in hock to the feds. So is New Mexico. But last Tuesday, Gov. Michelle Lujan Grisham announced she would use some of her state's federal stimulus money to pay off the federal loan entirely.
Would California do such a thing? It has a $76 billion surplus on top of $27 billion in federal funds coming its way, but the governor and state lawmakers seem unconcerned with the problem.
Reports CalMatters, "As workers ask for higher wages, businesses are pleading for financial relief of their own. California is expected to borrow $26.7 billion from the federal government to pay unemployment benefits — a debt that will be paid by businesses via payroll taxes. In ongoing budget negotiations, Gov. Gavin Newsom has proposed covering $1.1 billion of that cost; lawmakers, $2 billion.
Winding Down
July 14 is the last day for policy committees to pass bills on to the next committee. Two days later the Legislature begins its July 16-to-August 16 summer recess.
NFIB California will have an updated list of bills it's fighting for and against, and what happened to them, post-July 14.
Federally
The Small Business Deduction contained in the 2017 Tax Cuts and Jobs Act was a landmark achievement for NFIB. Small business wasn't included in the original proposal until NFIB threatened to withhold its support of the entire Act. Quite simply we won it.
Now, U.S. Sen. Ron Wyden of Oregon wants to substantially curtail the deduction, which is why NFIB President and CEO Brad Close was all over the media last week warning what a terrible idea it would be to touch the Small Business Deduction. Among other media outreach, Close penned this editorial for The Hill and appeared on Fox Business to press the small-business case.
Did you catch NFIB's latest Jobs Report released last Thursday, July 1? It showed "46% of small business owners reported job openings they could not fill in the current period, down two points from May but still above the 48-year historical average of 22%."
Next Up: NFIB Small Business Economic Trends Report (SBET) to be released July 13. Findings from the Jobs Report are one of the 10 index components in the SBET, also known as the NFIB Small Business Optimism Index.
Next Main Street Minute July 12.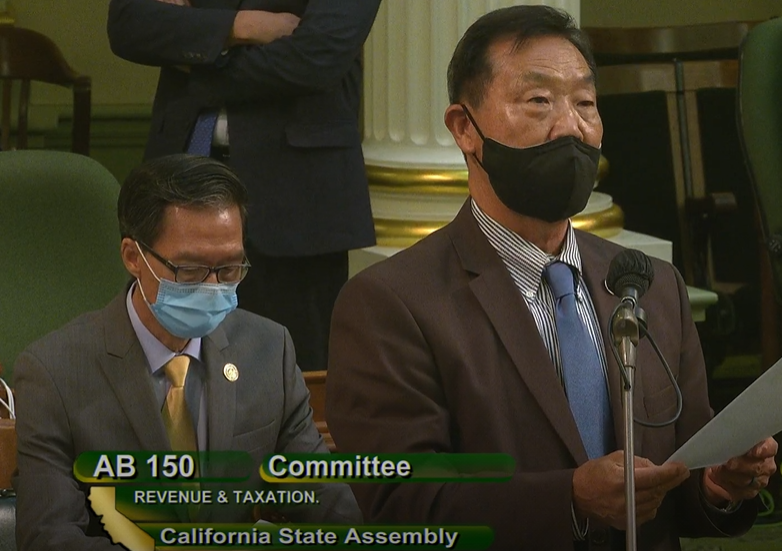 Photo courtesy of the California State Assembly website