For the legislative and political week August 31-September 4
Welcome to the August 31 issue of the NFIB California Main Street Minute from your small-business-advocacy team in Sacramento.
Today is the constitutional deadline for the Legislature to adjourn for the year. Any further meetings would have to be by a special session call from the governor.
Also, Today. At 3 p.m. NFIB will host another of its virtual Fly-In conference calls for its members, this time with U.S. Rep. Jimmy Panetta as the guest. If you haven't already signed up, you can still join by dialing into 1-323-488-2391, punch in 170 335 213# when prompted.
VICTORY!
Thanks to a loud and forceful push-back from NFIB and others in the business community (read NFIB's news release here), Assemblyman Mark Stone late Friday (August 28) threw in the towel on his AB 3262, saying it can't advance in its present form by the end of today.
As more small businesses take to online retailing to survive, the importance of this victory cannot be overstated. AB 3262 would have imposed product liability for online retail marketplaces. The very businesses seeming to benefit are in strident opposition based upon overreach and litigation vulnerability. And in an ever-so-2020 turn of events, Amazon, the ostensible target of the bill, has written a letter of support on it.
And now for the rest …
The eyes of small business will be most keenly fixed on the outcome of four bills in particular: Senate Bill 1383, which would expand medical and family leave protections to businesses with five employees from its current 50-employee threshold; Senate Bill 1159 and Assembly Bills 196 and 664, all dealing with workers' compensation …
Elsewhere
On August 25, State Director John Kabateck joined California State Treasurer Fiona Ma and other panelists for a program titled Minority Owned Small Business and Government Navigating to Survive and Thrive put on by Golden Gate University in San Francisco.
Two days later, August 27, Kabateck had another meeting with Gov. Gavin Newsom's top aides about business re-openings, and the very next day, the governor released his Blueprint for a Safer Economy.
On Friday, August 28, U.S. Rep. Doug LaMalfa was presented with a Guardian of Small Business Award from NFIB on a virtual Fly-In conference call with Kabateck and Kevin Kuhlman, NFIB's vice president of federal government relations. The congressman also answered questions from members.
Nationally
Next NFIB webinar this Wednesday, September 2, Ready for FPP Loan Forgiveness? Let's make sure all your ducks are in a row. Click here to register.
NFIB California Main Street Minutes are published every Monday on the NFIB California webpage. Two additional updates are published the first and third Thursday of each month for inclusion in the bi-monthly newsletters to the membership. Next California Main Street Minute is September 7.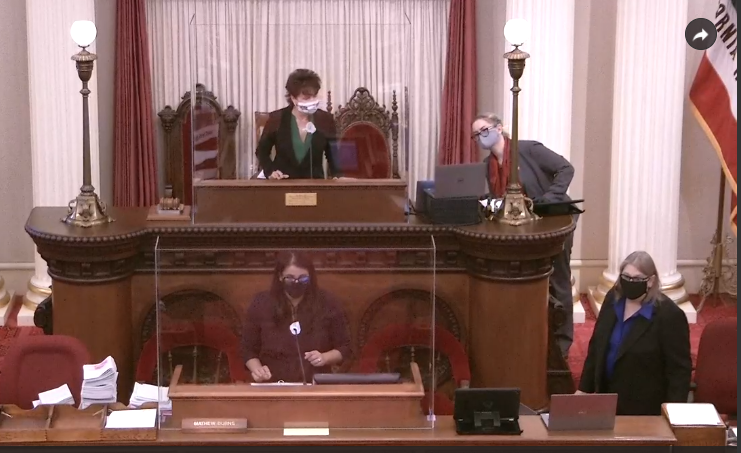 ###